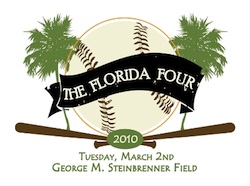 College baseball fans heading to Tampa for some Spring Training action this March are in for a treat. The Yankees and the Tampa Bay Sports Commission announced yesterday that Steinbrenner Field will play host to a pair of college games on March 2 that pits the state's top collegiate teams against each other. The University of South Florida will play the University of Miami while the University of Florida will face off with Florida State in the second game.
"We've been working with the Yankees for a few years now to bring another premier event to our community," Executive Director of the Tampa Bay Sports Commission Rob Higgins said. "We hope it serves as launching pad to Omaha for the four programs. This is a story that will start in March and we hope continues on to June. "
"On behalf of the World Champion New York Yankees, it is with great pleasure and pride that we welcome the Florida Four Baseball Classic to George M. Steinbrenner Field. As a past collegiate coach, it is George Steinbrenner's dream to create this event for Tampa", Felix Lopez, one of the team's senior vice presidents, said. "We welcome the great schools of Florida to our facility and look forward to continuing this event for years to come"
According to our own resident college expert Mike Axisa, both Florida and Miami feature a few players to watch at this tournament. Miami's catcher Yasmani Grandal is a likely first-rounder this year and Chris Hernandez, a lefty hurler, will probably go in the top three rounds. Eric Erickson, also a southpaw, was drafted by the Yanks in the 43rd round of the 2006 draft. Florida features Matt den Dekker, one of Mike's potential first-round targets last year, and Nick Maronde, another lefty Mike named as a signability guy in 2008.
Anyway, this should be a great event. So if you're in the Tampa area or are stopping by the Yanks' complex for some Grapefruit League action, check out the Florida Four. A bunch of talented youngsters are going to be playing for state pride. (Hat tip to Maury Brown)