While some Spring Training battles involve a starting position, most center on the final few roster spots. The Yankees have a few such situations this year, including righty off the bench (Thames or Hoffmann) and utility infielder (Pena or Nunez). One spot not in dispute is backup catcher. Throughout the winter we have assumed that Francisco Cervelli will assume the role Jose Molina filled for the past two and a half years. The Yankees have made no moves to indicate otherwise, signing only Mike Rivera to fill the Chad Moeller/Chris Stewart/Kevin Cash emergency spot. The position belongs to Cervelli, uncontested.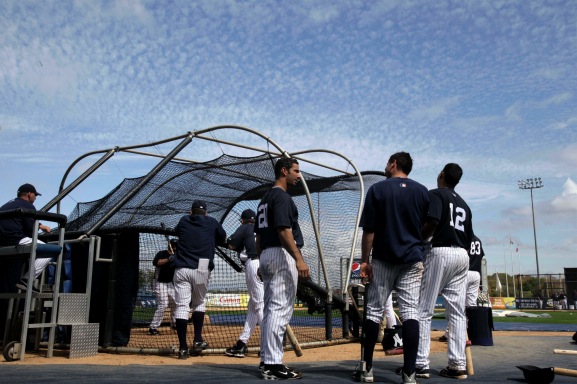 Photo credit: Kathy Willens/AP
With Jorge Posada, one of the league's best offensive catchers, getting the majority of the playing time this might seem like a small issue. Yet it's exactly because of Posada that the backup catcher could play a large role on the 2010 Yankees. Jorge turned 38 at the end of last season, an age when many catchers have already called it a career. That's not to say that his production will fall off a cliff in 2010, but we also probably shouldn't expect his 2009 production. He had a stellar year, posting his second highest OPS since 2003 and his best ISO since 2000. Even if he hits at, say, 80 percent of that, he'll still be well above average for a catcher.
With Posada's age and recent injury history, however, it's tough to ignore the possibility that he either misses significant time, or does see a stark decline in production. Again, that's not to say that he will, but rather that I think the chances of his decline are great than they are for, say, Derek Jeter, the second oldest Yankees position player. Posada has spent 134 days on the disabled list over the past two years with injuries to his shoulder and hamstring. He also experienced a number of maladies later in the year, including a finger injury that he said bothered him in the last month and a half. His health is far from a guarantee, and if something does happen to him it means more Francisco Cervelli. While that helps on defense, it will certainly hurt the offense.
The potential doom scenario has made me wonder how much the Yankees would have benefitted from adding a more solid backup catcher this off-season. As it stands, if Posada gets hurt the Yankees will have Francisco Cervelli and his 106 career plate appearances playing every day, with journeyman Mike Rivera backing him up. That means the Yankees would go from having catchers well above replacement level, perhaps five or six wins combined, to catchers much closer to replacement. A Cervelli/Rivera combination might produce 2 WAR, a steep drop-off from Posada/Cervelli.
Unfortunately, acquiring a competent backup isn't as easy as it might sound. If a catcher can hit, chances are he'll find a starting gig somewhere, or else find a team with a weak incumbent he can supplant with a quality performance. The only way, then, for a team with a starter like Posada to acquire a viable backup is via trade. We did see one such trade this off-season, when the Indians traded Kelly Shoppach to the Rays after he realized a drop-off from his 2008 numbers. So why didn't the Yankees make a more aggressive play for Shoppach, knowing that he could probably fill the starting role more capably than Cervelli?
Catchers like Shoppach, even after a down year, don't come cheap. If the Yankees wanted to acquire him, and assume the risk that he won't recover to his 2008 form, they'd have to sacrifice a player or players on the farm. While teams can benefit from trading prospects for veterans, such deals have to come in the right situation. The Yankees only have so many farmhands they can trade to fill holes on the major league roster, and acquiring a backup catcher just isn't that high on the priority list. Perhaps it moved a bit higher this year because of the risks Posada poses, but not high enough to sacrifice someone like, say Zach McAllister or Ivan Nova.
While having a more reliable backup catcher would have been nice, the upgrade wasn't worth the acquisition cost. If Posada's performance declines or he gets hurt the Yankees will suffer a bit with Cervelli behind the plate, but it's not a total loss. While he'll never be Posada with the bat, Cervelli looks like a very good defensive catcher. That will close the performance gap between the two. For now, the Yankees will have to rely on Posada to catch another 100, 110 games. With their minor league catchers moving up the ranks, it might be the last year they need him to take on that workload.