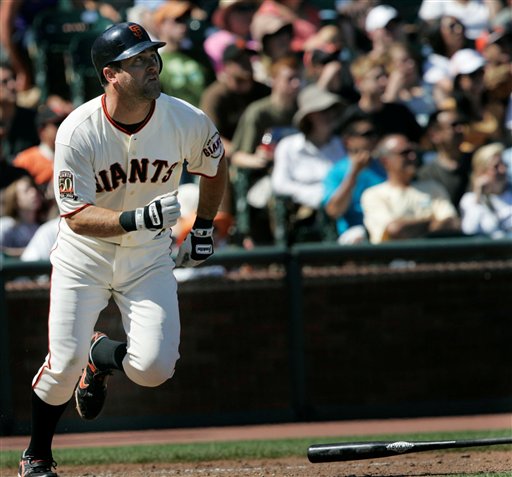 As the Yankees sit around twiddling their thumbs while running out the clock on the offseason, the only thing left for them to do is fill out the edges of their roster with fringy players on minor league contracts. One such player let it be known that he'd like to secure one of those contracts, as Rich Aurilia announced to the world that he'd like to keep his career alive with either the Mets or Yankees. He grew up in Brooklyn, had his number retired by my old little league, and starred at St. John's before turning pro, so it only makes sense that the 38-year-old wants to ride into the sunset while playing near home. Unfortunately for Aurilia, he makes no sense for the Bombers.
Essentially a league average player for most of his career, Aurilia enjoyed a great … um … career year back in 2001, whacking a career high 37 homers with a career high 146 OPS+. His next highest totals are 23 and 115, respectively, so make of it what you will. HowEVA, over the last three years, during which the Giants paid him a grand total of $9M, Aurilia compiled a .261-.310-.376 batting line with a .308 wOBA in close to 1,000 plate appearances. Ramiro Pena hit .287-.317-.383 with a .312 wOBA for the Yanks last year, which puts Aurilia's sucktitude in perspective. He was so bad in 2009 (.213-.256-.279) that the team had to make up injuries to get him on the disabled list and off the roster. "Regardless of what the transactions said, I was healthy," said Aurilia, who hit the DL twice in the second half for vaguely described foot issues.
As if it's bad enough that he can't hit anymore, Aurilia doesn't even provide much versatility these days either. Once a legit utility infielder, he's been relegated to mostly first and some third base in the last few years. The last time Aurilia played either middle infield spot was 2008 (three whole innings at second), and the last time he played either with any regularity was 2006. Jeff Zimmerman's age-adjusted UZR projections are kind, projecting Aurilia to post exactly league average UZR's at the three non-shortstop infield spots in 2010. Regardless, there's no way you could count on Aurilia to be anything more than below average anywhere on the field. And do I even need to bring up his atrocious baserunning skills (-3.2 EqBRR since 2007)? Eh, I guess I just did.
If Aurilia is really looking for an opportunity to make a big league team for that one last chance at a ring, then he's (oddly) better off going to the Mets given their unsettled bench and perpetual risk for a spot opening up by a catastrophic and hilarious injury. Either way, we'd all just be waiting for the inevitable "Rich Aurilia To Retire" post at the end of March. If Aurilia wants to stay in the game and near home next year, the best thing he could do is accept a coaching position with either Double-A Trenton or Short Season Staten Island. Other than that … you're out of luck Richie.
Photo Credit: Marcio Jose Sanchez, AP