While A.J. Burnett's first season in pinstripes was in many ways a success, he left some room for improvement. He knows it, too. As he said the other day, he needs to, "Not walk as many people and go deeper into games." In 2009 Burnett posted his highest walk rate since 2000 and the lowest innings per start of his career (both discounting his injury shortened 2003). He would clearly benefit from improvements in both, though I do think that he left out one important aspect: his ground ball rate.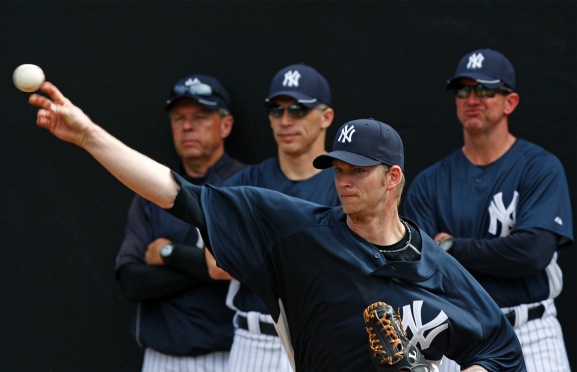 Photo Credit: Kathy Willens/AP
Burnett has never been known as a control pitcher. In some years, such as 2006 and 2004, he's posted BB/9 rates below 3.00, which is a good mark for a starter. Yet his career rate is 3.78, meaning he's had many years above that mark. He also sat below the mark in years where he failed to reach 140 IP. Chances are, Burnett won't miraculously stop issuing free passes in 2010. Instead, I imagine he'll fall back somewhere in the range of his last five years, which is 3.52 walks per nine.
What Burnett could do to help his case is to start inducing more ground balls. Or, rather, to induce ground balls like he did before 2009. Last season he posted the lowest ground ball rate of his career, 42.8 percent. Over his career he's kept nearly 50 percent of balls in play on the ground, which helps a pitcher who hands out free passes. Unsurprisingly, Burnett induced more double plays in 2005, when his ground ball rate was 58.4 percent, than at any other point in his career. In 2009 he induced one double play for, roughly, every 60 batters faced. Prior to 2008, when he saw his ground ball rate drop below 50 percent for the first time his career, he was around one every 38 batters. In 2008 he was at one in every 50 batters.
Keeping the ball on the ground can also help Burnett reach his second stated goal, to go deeper into ballgames. While walking fewer hitters will undoubtedly help, so will inducing ground balls. In his best ground ball years, Burnett kept his hits per nine rate below 8.0. With a decent infield behind him, Burnett shouldn't have problems with too many ground balls finding holes. Perhaps if this was the 2005 Yankees defense it would be an issue, but it's not as much in 2010.
At FanGraphs, Matthew Carruth examines ground ball rates and what they mean for pitchers. In terms of the big picture, pitchers with higher ground ball rates saw lower FIP and runs allowed rates. That's not to say that every pitcher follows this guideline, but Burnett seems to. In the last five years his highest ground ball rates have come in 2005 and 2007, which also happen to be the years he's posted his lowest ERAs.
We'd all like Burnett to cut down on his walks and pitch deeper into games. The first, in fact, begets the second. Part of the problem with walks, however, is that Burnett has never been a low walks guy. But he has been a ground ball guy. If he can get back to that, and bring his walk rate back to career norms, he should not only pitch deeper into ballgames, but also pitch more effectively overall.