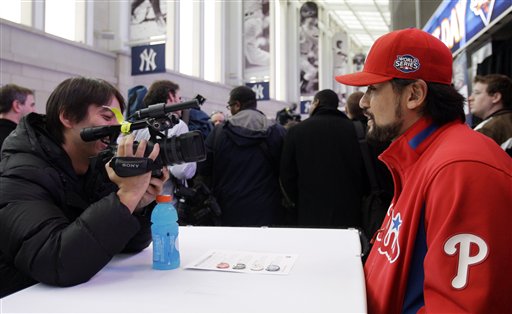 Like most of you, I was surprised to find out the Yankees had signed Chan Ho Park to a one-year deal when I woke up this morning. We heard some rumblings about the team having possible interest in Park last week, but I wrote it off as the typical "let's get the Yankees involved to drive up the price" shtick. Joe will take a more in-depth look at Park later on tonight, but for now let's just try to figure out how he fits into the bullpen and how it'll affect everyone else out there.
First off all, aside from Park, the other reliever most impacted by this move is Edwar Ramirez because he's the guy likely to be designated for assignment to free up a 40-man roster spot. Chances are he'll clear waivers and be outrighted to Triple-A Scranton. Since this will be the first outright assignment of his career, Edwar won't have the chance to decline the assignment and elect to become a free agent. He's going to Triple-A whether he likes it or not.
With the addition of Park, the Yankees have six relievers all but locked into spots in their seven man bullpen. Before this morning's move, Damaso Marte and David Robertson figured to get the bulk of the late inning work in front of Mariano Rivera, while Al Aceves soaked up the middle innings and Chad Gaudin did the mop up/long relief thing. The roles might change slightly with Park aboard (bullpen chaining FTW!) but the players figure to remain the same, so that seventh and final spot is in a state of flux, and there's certainly no shortage of options to fill it.
Just looking at our Depth Chart, you have Jon Albaladejo, Mark Melancon, Romulo Sanchez, Boone Logan, Sergio Mitre, and the loser of the Phil Hughes/Joba Chamberlain fifth starter battle all as candidates for that spot. Obviously some have a more realistic chance of breaking camp with the team than others. Mitre is out of options, so the Yankees would have to risk losing him on waivers before they could send him to the minors, however everyone else I mentioned could be sent down at the end of Spring Training without incident.
Looking at how the first two weeks of the season lay out, I bet the Yanks will send the winner of the fifth starter battle to Triple-A while the loser hangs out in the big league bullpen. They won't need a fifth starter until their 11th game of the season, so instead of carrying that extra starter and having him go stale during the two week layoff, he'll go down and make a start or two in Scranton to stay ready. The Yanks can then use the roster spot that would go to the fifth starter to carry an eighth reliever for the time being. Considering how they plan to take it easy on their front four starters out of the gate, plus the general unpredictably of April pitching, having that eighth reliever around to eat some innings early on will come in handy.
With the addition of Park, that extra spot appears to go to Sergio Mitre almost by default. He's out of minor league options, and he's capable of pitching multiple innings if needed. Joe Girardi also has the option of using that extra spot to take a second lefty reliever in Logan, especially since their first six games are against the lefty heavy lineups of Boston and Tampa. I just can't see them taking a chance on losing Mitre for six measly games in April. I know Mitre stinks, but there's value in his ability to eat up low-leverage innings out of the pen, especially early on when the starters are still getting their feet wet in meaningful games.
So, assuming everyone stays healthy through camp, here's what I expect the bullpen to look like on Opening Day…
Closer: Mo
Setup: Hughes/Joba (I fully expect it to be Hughes)
LOOGY: Marte
Middle: Aceves
Middle: Robertson
Middle: Park
Long: Gaudin
Long: Mitre
Those two weeks buy the Yankees some time. They can evaluate Mitre a little longer, and at the same time he can try to prove his worth not just to his current team, but to another one that might need a starter at some point. Moving his salary will get the team back under their $200M budget, so that all works out. I guess in an ideal world, the Yanks would send Mitre to the Dodgers for Jamie Hoffmann's rights, which would allow them to send the outfielder to the minors. Given what Joe Torre's fifth starter situation looks like, maybe it's not that far fetched.
What happens after those two weeks is beyond me, but these things always find a way to work themselves out. I don't think the Yankees will move Gaudin or Mitre now just because; this move was about adding depth, not shuffling bodies around. No one foresaw The Great Chien-Ming Wang Disaster Of 2009, so who knows what to expect in 2010. On paper though, the Yankees' bullpen is very deep with strikeout power arms, beyond just the core group of guys that figure to do the bulk of the work all season. It's quite a difference from what the bullpen looked like just a few years ago.
Photo Credit: Eric Gay, AP