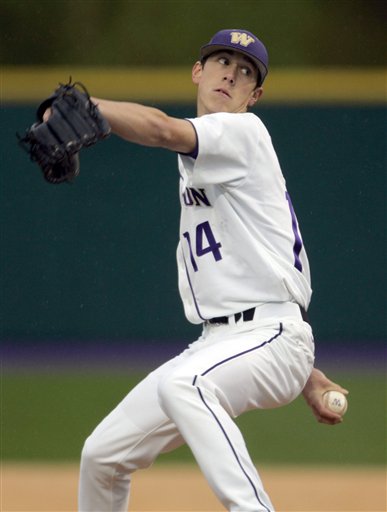 Major League Baseball's amateur draft has some pretty quirky criteria for eligibility. If you graduated high school but haven't attended college, you're eligible. If you have a high school diploma and go to a four year school, you have to wait until age-21 to go back in, but if you go to a two year school you can re-enter the next year. Heck, if you're 18-years-old and have your GED, you can be drafted as a high school junior like Jeremy Bonderman was. Trust me, there's even more craziness that I don't care to get into.
For the purposes of this post, all you need to know is that any four year college player who turns 21-years-old within 45 days of the draft is eligible to be selected, regardless of class. Most players don't meet this criteria until their junior or senior years, but some make it earlier, hence draft eligible sophomores. Every so often you'll see a draft eligible freshman, like Royals' 2009 fourth rounder Chris Dwyer out of Clemson (the Yanks drafted him out of high school in 2008), but those guys are few and very far between.
Because they have the opportunity to go back to school for their junior year and re-enter the draft the next summer, DES's have more negotiating leverage than most college draftees. A college junior can't pull that trick because if they go back and complete their senior year, they're out of college eligibility and will have absolutely no leverage in negotiations. Kentrail Davis, the top DES last year, received an over slot $1,200,000 bonus from the Brewers as the 39th overall pick, which is pretty typical for these kind of players.
As you probably guessed, DES's have a better chance of falling in the draft due to signability. The Yankees took advantage of this to land Graham Stoneburner in the 14th round last year, giving him a well above slot $675,000 bonus to turn pro. This year's crop of DES's features one possible top ten pick and one really intriguing arm for later on in day one of the draft, so let's dive in…
Cole Cook, RHP, Pepperdine
A semi-local kid who was born in New York City but later moved to Southern California, Cook 's father spent ten years on Broadway before making the jump to television and moving his family west in the late-90's.. He goes by the screen name of Peter MacKenzie, and based on his IMDB page, chances are you've seen him in something. But I digress.
Cole took a redshirt as a freshman in 2008, then emerged as the team's best arm the next season. He led the Waves in wins (7), innings pitched (83), strikeouts (79), batting average against (.195), and strikeout-to-walk ratio (3.95) in 2009, which earned him a spot on the All-WCC Freshman Team and the Louisville Slugger All-Freshman Team. Coming into the spring as the team's ace, Cook has posted a 3.55 ERA (~2.20 FIP) with a 39-11 K/BB ratio in 45.2 innings over six starts this season.
Big and strong at 6-foot-6 and 220 lbs., Cook's best pitch is his 91-93 mph fastball that runs back in on righties. He backs it up with low-80's changeup and a pair of breaking balls: a sharp high-70's slider and big loopy curveball. Both breaking balls are kinda sketchy, and chances are he'll have to scrap the curve all together so he can focus on developing the slider down the road. Despite low walk totals and good control, Cook has to iron out his mechanics to firm up his stuff and be more consistent with his pitches in general. He uses a lower arm slot, something similar to Justin Masterson, which a) makes him very tough on righties, and b) is further reason to go with the slider. His makeup is off the charts, as he uses his older brother's battle with leukemia for motivation.  Cook is considered a second round talent at the moment, but could easily pitch his way into first round consideration or bonus demand his way down to the double digit rounds.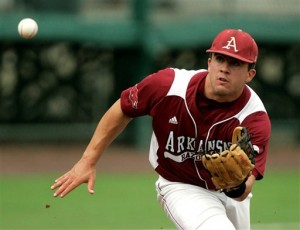 Zack Cox, 3B, Arkansas
Arguably the top college hitter in the draft (NHD), Cox was part of the impressive crop of Kentucky high schoolers that featured four top three rounds talent in 2008. With all due respect to Robbie Ross, Danny Webb, and Nick Maronde, Cox is clearly the best of the group, and that was obvious even after he hit .266-.342-.558 as a freshman (solid, but unspectacular for a top college prospect). The righty hitter has displayed hitting prowess this spring, leading the Razorbacks in basically every offensive category with a .435-.527-.641 line and nearly twice as many walks (18) as strikeouts (10).
A shortstop in his younger years, Cox slid over to third base and may or may not stay there long-term. Regardless of where he ends up in the field, his bat will play. With supreme contact skills and an advanced approach, Cox is a good bet to hit for a high average and post strong on-base percentages in the future, though his power is more likely to come in the form of doubles than homers.  He's pretty much maxed out physically at an even six feet and 215 lbs., so there's not much projection left. What you see is what you're going to get, and that's a great hitter. He's a top ten talent, and it's unlikely the added leverage of being a DES will drop him to the bottom of the first round.
One more DES worth mentioning is Mark Canha of Cal, who brings defensive versatility and a well-rounded offensive game to the table. He's similar to Xavier Nady, another Berkeley product, and has hit .368-.467-.529 while being a perfect 5-for-5 in stolen base chances this year. Capable of playing the outfield, Canha has been stationed at first base this year in deference to more athletic outfielders. He's expected to be a mid-round talent, somewhere in the 5th to 8th round range, but could easily fall more if teams don't think he's worth his asking price.
Given their perpetual spot near the end of the first round, the Yankees have to use other avenues to acquire top talent. While high schoolers are most commonly associated with the concept of signability, DES's also bring some talent to table. Cox may be a bit of a pipe dream, but Cook is a very interesting arm that could be available by time the team's third or fourth pick comes around.