It's really not as easy as Derek Jeter makes it look. Last season, the Yankees became the first team in baseball history to win the World Series with a 35-year-old shortstop, though you wouldn't have been able to tell Jeter was that old by his .344-.432-.563 postseason batting line. The Captain has spoiled us for more than a decade, though history tells us that the end may be coming sooner than we expect.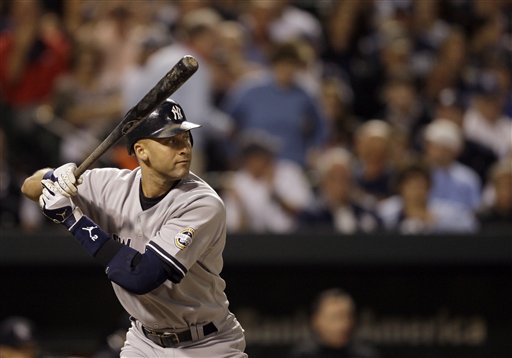 Since baseball's expansion era began in 1961, just six players age-35 or older have managed to post better than a 100 OPS+ while playing at least 100 games at the shortstop position. The best individual season of that group came just last year, when Jeter hit .334-.406-.465 with a .390 wOBA (132 OPS+) in 150 games at the position. The next best season was Barry Larkin's .338 wOBA/118 OPS+ campaign in 2000, when he played just 102 games, so you can see just how absurdly historic Jeter's season was for an older shortstop. The historical data gets even grimmer when you look at shortstops age-36 or older, because just three players in the last half-century have managed to be above average offensively while playing the position for at least 100 games.
Those three players, like Jeter, are all either in the Hall of Fame or will be very soon. The careers of Ozzie Smith and Luis Aparicio are defined by their outstanding defense, and even though Larkin was the complete package of offense and defense, he battled injuries throughout his entire 19-year career that limited him to just seven seasons of 140 or more games played. Larkin's age-36 season, that .338 wOBA/118 OPS+ one I mentioned in the last paragraph, was the last time he was an above average every day player. Roberto Alomar, another great all-around middle infielder, was a shell of himself by the time he was Jeter's age. History clearly does not portend good things for the Yankees' captain.
Older players are generally unable to provide the level of quickness and athleticism required at the shortstop position, yet amazingly Jeter has managed to improve his defense despite entering his mid-30's. After bottoming out at -16.0 range runs in 2007 (-16.7 UZR), Jeter improved to -3.2 range runs in 2008 (-0.7 UZR) and +3.7 range runs in 2009 (+8.4 UZR). All of that progress was made after GM Brian Cashman told the Captain that he wanted him to improve his defense over dinner. Because they're weighted over the last three season, Jeff Zimmerman's age-adjusted UZR projections see Jeter regressing back down to a -2.0 UZR defender next season. It's almost impossible to see Jeter repeating last year's defensive excellence, though hopefully he doesn't crash that hard.
Always a threat on the bases, Jeter's a high percentage basestealer (85.7% success rate last year, 79.% last year) that's good for anywhere from 10-30 steals per season. He's been consistently worth about one run above average when you consider all aspects of baserunning (advancing on sacrifice flies, moving up on grounders, etc), so there's no reason to suspect him to be any worse than that next year. Sure, he'll probably lose a step or two, but running the bases is more about smarts than pure speed.
Moving ahead to offense, let's see what the five freely available projection systems have in store for the Yanks' captain. Remember to click for a larger view.

After posting a .390 wOBA for the fourth time in his career last season, the projections have Jeter dropping off to a .359 wOBA in 2010. While that doesn't match the career low .343 wOBA he put up in 2008, it would be his second worst offensive output since 1998. While an 8% decline in offense is significant, keep in mind that only three non-Jeter shortstops bested a .359 wOBA in 2009. Jeter's offensive production would continue to be very good for the position, but no longer elite.
Rounding it all up, we have the various projections calling for the Cap'n to put up a .359 wOBA in 660 plate appearances, -2.0 UZR on defense, and let's call it another +1.0 run on the bases. The works out to 4.3 WAR, about a three win drop off from Jeter's ungodly 2009 campaign. If he's a +3.2 UZR defender (halfway between his 2009 mark his 2010 projection), then it bumps him up another half-win to 4.8 WAR. Given the historical suckiness of 36-year-old shortstops, the Yankees should be ecstatic if they get a four-plus win season in 2010.
Of course, the elephant in the room is Jeter's expiring contract. History has shown that the Yankees should avoid doing anything but going year-to-year with Jeter from here on out, but that's just not feasible. He's the face of the franchise, and if he has the kind of season he's projected to have in 2010, it'll be near-impossible for the team to sign him on favorable terms. Either way, the contract is going to take both sides into uncharted territory regarding shortstops Jeter's age.
Photo Credit: Rob Carr, AP