On a team loaded with older players and bloated contracts, the designated hitter position was one the Yankees often used to hide a particularly decrepit player during the mid-aughts. Hideki Matsui fit that bill in 2009, though unlike many of his predecessors, he was tremendously productive with the bat. However, with his ticking time-bomb knees now residing in Orange County, the Yanks to turned to a familiar face to be their DH, and are also asking him to do something different than be a lumbering run-producer, in the traditional sense of the term.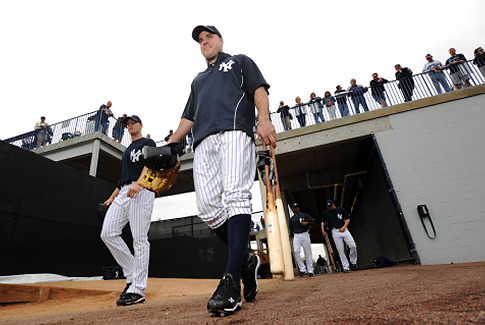 As a group, Yankee DH's hit .269-.362-.497 with a .371 wOBA last season, with Matsui receiving approximately three-fourths of the playing time at the position. Among players who came to the plate at least 400 times as a DH, Godzilla hit the most homers (27), was second in RBI (86), batting average (.270), and slugging percentage (.506), and was third in doubles (20), on-base percentage (.361), and OPS (.866). On top of all that, he was the World Series MVP after a .615-.643-1.385 (.815 wOBA) performance against the Phillies. But instead of replacing him with another middle of the order thumper to bat behind Mark Teixeira and Alex Rodriguez, the Yanks grabbed a player to hit in front of them.
Nick Johnson, the former Yankee third round pick, was brought back to town on a one-year deal worth $5.75M (plus some incentives and a mutual option) with the idea of deploying his supreme on-base skills in front of Tex and A-Rod. Johnson is one of just 11 players with an OBP of .400 or better since he made his big league debut in the second half of 2001, yet he's the only one of the group to never appear in an All-Star Game or earn eight figures in a single season. Like Matsui, the lefty swinging Johnson can more than hold his own against southpaws (.290-.423-.427, .386 wOBA career) and has shown the ability to produce in high leverage situations (.290-.434-.482, another.386 wOBA). With more walks (432) than strikeouts (410) since 2003 and the ability to murder fastballs, Johnson seems like an ideal two-hole hitter for a lineup designed to work the count and grind the opposing starter into a fine powder by the fifth inning.
But there's a catch. Johnson's military-style plate discipline and lack of a platoon split and relatively cheap contract comes with the caveat of questionable health. He's missed 557 of 1,098 possible days (50.7%) due to injury since the Yankees traded him away after the 2003 season, including all of 2007 and most of 2008 with a broken leg and wrist issues. Joe chronicled all of Johnson's health issues a few months ago, and thankfully it appears most of his ailments were flukes. However, with an injury history that long, it's impossible to feel comfortable with the idea of Johnson playing 150 games and getting 650 plate appearances next year. The Yankees hope that keeping Johnson away from the rigors of playing the field will help keep them healthy, which sounds great in theory.
That wrist injury from 2008, a torn sheath tendon suffered on a swing that required surgery, could be the culprit behind Johnson's lack of power in 2009. His eight homers were the fewest he's ever hit in a season in which he came to plate at least 300 times, majors or minors, and his .114 isolated power was the same as notable noodle-bats Jacoby Ellsbury and Ryan Sweeney. It's not uncommon for a player to lose some power for a year or so following wrist surgery, and the Yankees are going to have to hope Johnson regains some pop as he gets further and further away from the injury.
Here's what the projection systems have in store for Johnson…

We have some variation amongst the systems regarding playing time, obviously the result of Johnson's sketchy medical history. Luckily, they see his power rebounding to essentially league average (.151 IsoP), and his overall .273-.408-.424, .377 wOBA performance is well above average. Combine that with zero defense and -3.0 runs on the bases (Johnson's average during his three seasons of at least 500 plate appearances), and you've essentially got a two win player (1.9 WAR, to be exact). If he managed another 100 or so plate appearances, he'd be worth 2.4 WAR. Remember that DH's get docked big time because of the complete lack of positional value.
Now, if Johnson were to miss significant time due to injury, his likely replacement would be Triple-A masher Juan Miranda. CHONE projects a .340 wOBA for Miranda in 460 plate appearances, which is above average but not by much. I've already said that I don't think he would be much of a DH option for 2010, and I'm sticking to it. Another name that is sure to pop up is that of superprospect Jesus Montero. CHONE projects over 300 plate appearances of .314 wOBA hitting from the 20-year-old next year, but I can't see the Yankees rushing him up to occupy a very easy to fill spot when it would be in his and the organization's best interest to play every day and work on his defense in Triple-A. Montero's a possibility, but he shouldn't be considered anything more than an outside one.
The Yankees could have gone a number of ways when filling their vacant DH spot. They could have re-signed Matsui and his chronically bad knees, or they could signed one of the many slugging DH types perpetually available on the open market, or they could have used it as a revolving door to keep some of the older players on their roster fresh. Instead, they opted to bring in a player who's skill set can help maximize the already immense production of their 3-4 hitters by setting the table near the top of the lineup. Now they just need him to stay healthy.
Photo Credit: Antonelli, NY Daily News