Although they'll always be known as a team that relies on stars and big name players, the core of the most recent Yankees' dynasty came from within. The team developed three borderline Hall of Fame players at premium up-the-middle positions (Bernie Williams, Jorge Posada, Andy Pettitte) in under a decade, and that alone would have been a strong enough foundation for perennial championship contender. The Yankees got greedy though, so they went ahead and developed a surefire Hall of Fame shortstop and the greatest relief pitcher who ever lived as well. That's not just a great run of player development, it's a historically great run.
After the lavish spending that occurred in the early part of the century, GM Brian Cashman re-emphasized the farm system and player development, and in recent years he's begun to see those efforts pay dividends. Last year's World Series roster featured eight homegrown players who made their big league debut within the last five seasons, and six who debuted within the last three years.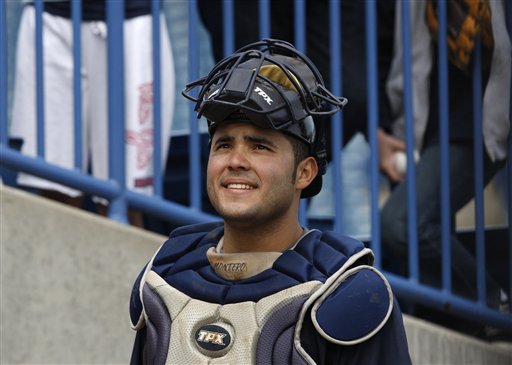 The crown jewel of the farm system right now is the man you see above, 20-year-old catcher Jesus Montero. Opinions about his ability to remain behind the plate vary, though most believe he's destined to move to a less valuable position down the road. His bat will work no matter where he plays, because he compliments top of the line power with a solid approach and the innate ability to get the fat part of the bat on the ball. As a 19-year-old he hit .337-.389-.562 with 17 homers in 92 games split between High-A Tampa and Double-A Trenton before a fluke injury (broken finger on his catching hand) ended his season in August, and just before Spring Training he was named the fourth best prospect in the game by Baseball America. The Yankees have Montero penciled into the starting catcher's job for Triple-A Scranton this season.
It's unlikely the Yanks would call Montero up for any sort of extended playing time during the 2010 season, but they have several other players on the cusp of contributing, one of whom we caught a glimpse of last season. Mark Melancon, the team's best relief prospect, walked as many batters as he struck out (ten) in his 16.1 inning cameo, but his minor league track record (2.69 FIP, 8.7 K/9, 2.0 BB/9, 57.6 GB%) screams future success. With a low-90's fastball and an out-pitch curveball, the 25-year-old Tommy John surgery survivor will be the first arm called up whenever the bullpen needs some help, and there's a good chance he'll be this year's version of David Robertson.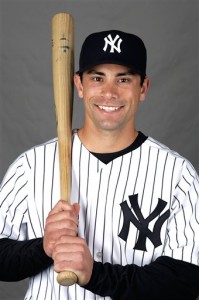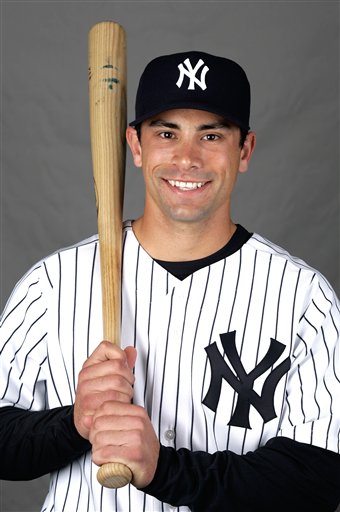 Another player the Yankees are sure to call on at some point is utility man Kevin Russo (left), who has opened eyes this spring with a .276-.353-.379 batting line. A 2006 draft pick like Melancon and Robertson, the 24-year-old broke out in 2008 and has hit .318-.379-.424 since, playing three infield spots as well as the outfield corners. The undersized Russo (5-foot-11, 190 lbs.) has battled hamstring injuries and bad luck in his pro career (a batted ball in BP broke some bones in his face), but he's the first in line for a promotion when Ramiro Pena falters or the bench otherwise needs some reinforcements.
The Yanks also have young rotation depth in 23-year-old Ivan Nova (3.83 FIP, 1.53 K/BB last year) and 22-year-old Zach McAllister (3.03 FIP, 2.91 K/BB), both of whom will open the season in the Triple-A Scranton rotation and project as back of the rotation workhorses. Jason Hirsh is a little older than those two at 28, but he's a former top prospect with the Astros and Rockies who has big league experience and has done nothing but get outs since joining the Yanks last season. All three players also double as prime pieces of trade bait should the Yankees decide to go that route. The 24-year-old Greg Golson offers elite defense and speed if a stopgap outfielder is needed, and I'm pretty sure we're all familiar with the soon to be 27-year-old first baseman Juan Miranda. All but McAllister and Hirsh are on the 40-man roster.
Those are the players that are in the position to help the big league team in 2010, but the Yankees also have several prospects further down the ladder with a chance to make a name for themselves this year. Catcher Austin Romine will finally step out of Montero's shadow this year for Double-A Trenton, and look to improve on last year's .347 wOBA with High-A Tampa while handling the rigors of his first full season as a clear cut number one catcher. With a strong all-around package of offense and defense at a premium position, the 21-year-old Romine is the early favorite to be the team's catcher of the future.
His battery mate every five days will be former Stanford lefty Jeremy Bleich, who despite less than stellar stats at Double-A Trenton (4.40 FIP, 1.76 K/BB) showed great improvement with his stuff last year as he got further away from a 2008 elbow injury. Drafted as a polished finesse pitcher, the 22-year-old's velocity flirted with 95 last season, and anytime a lefty throws that hard, you pay attention. He'll look to regain his trademark command this year to get back on track.
Dominican bonus baby Jose Ramirez, 21, took the short season circuit by storm last year when he held opponents to a .161 batting average and posted a 3.46 FIP and a 3.31 K/BB, and he'll bring his mid-90's gas and knockout changeup to Low-A Charleston in 2010. Lefty Manny Banuelos emerged as Charleston's ace last season when he posted a 2.76 FIP and a 3.71 K/BB in 108 innings, earning himself a trip to the Futures Game. Still a year away from his 20th birthday, he'll jump to High-A Tampa and try to further establish himself as a cornerstone piece for the future. Last year's top draft picks, outfielder Slade Heathcott and catcher J.R. Murphy, will spend their first full season in the organization proving they were worth their seven figure signing bonuses.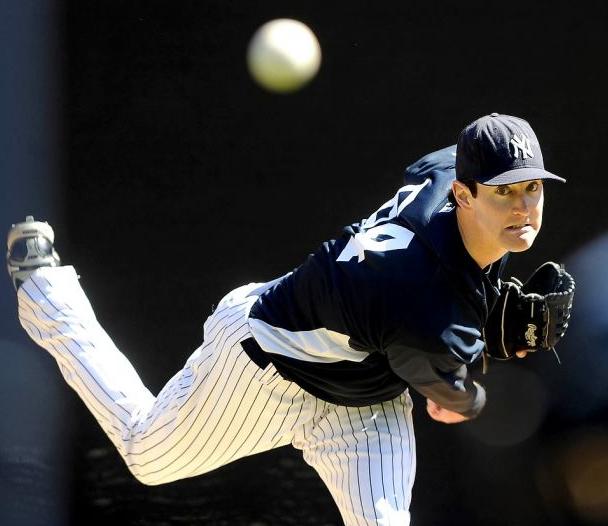 Of course, when it comes to farm system this year, all eyes will again be on 2007 first rounder Andrew Brackman (right), who disappointed in 2009 to say the least. The now 24-year-old posted a 4.66 FIP in Low-A Charleston, walking close to six and a half batters for every nine innings pitched, and his stuff was a far cry from what it was in college. The silver lining was that he continued to miss bats (8.69 K/9) and showed improved control and arm strength in a late season stint as a reliever, which he was able to carry over into Instructional League and again into Spring Training. The Yankees will bump Brackman up to High-A Tampa in part because his big league contract will force him to stick in the Majors for good by 2013, and they're looking for him to really step up and grab the reigns in a farm system devoid of star power beyond it's top prospect.
Trades, attrition, and graduation have thinned out the farm system that was rated as one of the game's five best by Baseball America as recently as 2008, but the Yankees still have a bonafide superstar in the making in Jesus Montero, as well as several complementary pieces just a phone call away from the Bronx. The 2009 draft brought a much needed influx of high upside position players and power arms, while several Latin America prospects and pre-2009 draftees are poised to make the jump from good to very good and possibly even great prospects as they enter into their early-20's and finish maturing.
The current Yankee team is still built around that same homegrown core from the late-90's, though they're surrounded by more star power than ever before. Should they need some reinforcements during the season or prospects to dangle as trade bait, the farm system offers plenty of variety. As the Yankees look to start their next dynasty, they aren't going to have the luxury of producing five players as productive as the quintet they produced in the 90's, though it's possible no team will ever have that much player development success in such a short period of time ever again.
Photo Credits: Jesus Montero via Kathy Willens, AP. Kevin Russo via AP (uncredited). Andrew Brackman via Barton Silverman, NY Times.