Centerfield and catcher have historically been the two positions of strength for the Yankees, but first base hasn't been too shabby either. Long after Lou Gehrig and his .474 career wOBA (!!!) called it quits, we had Don Mattingly winning an MVP in the 80's, Tino Martinez winning World Championships in the 90's, and Jason Giambi posting .400+ on-base percentages like nobody's business in the 00's. Until last season, Mattingly, Martinez, and Giambi were the only three regular first baseman the Yanks had since 1983.
Mark Teixeira figures to be the regular first baseman well into the 2010's after signing an eight year, $180M contract last offseason. His first season in pinstripes could not have gone more according to plan; he led the American League in HR (39), RBI (122), and total bases (344) while posting a .402 wOBA, his third consecutive season north of .400. He also solidified the infield defense, making spectacular stops on balls in the hole and saving teammates countless errors by scooping up errant throws around the bag. And, of course, the Yankees won the World Series.
Now that Year One in the Bronx is complete, what does Year Two hold for Big Tex? Well, hopefully more of the same, that's for sure.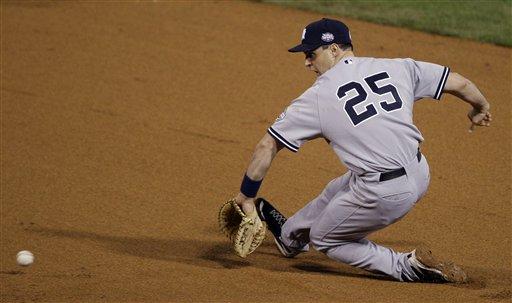 In typical Mark Teixeira fashion, he's likely to come out of the gate slow. Last season he hit .182-.354-.338 with just six extra base hits and a puny .317 wOBA through his first 99 plate appearances. For his career, Tex is a .249-.349-.433 hitter (.342 wOBA) in March/April, and there's no reason to expect 2010 to be different. During his introductory press conference, Tex said it takes him longer to get going because he has two swings to work on in Spring Training (one from each side of the plate), which makes sense. With one year in pinstripes under his belt, hopefully the April swoon won't be so dramatic this season, something more along the lines of his career performance in March/April than last year's.
Teixeira will turn 30 exactly one week after Opening Day in Boston, so he's still comfortably in the prime of his career. Since turning 27-years-old, Teixeira has hit .309-.398-.560 with a .403 wOBA for (amazingly) four different teams, and he's improved his contact rate every year (78.4% in '07, 83.0% in '08, 83.5% in '09) which in turn has helped reduce his strikeout rate to just 11.5%, a phenomenal mark for a power hitter. On top of all of that, Tex has been supremely durable since breaking his ankle at Georgia Tech in 2001, coming to plate at least 575 times every season of his big league career.
We know he's a stud defensively, and UZR backs that up. Even though he posted a -3.7 UZR in 2009 (which raised some eyebrows), Tex's three-year UZR is +2.6, much more in line with his real ability (imagine that, a better answer when looking at a larger sample). Anyway, age-adjusted UZR projections peg Teixeira as a one UZR defender in 2010, which is probably a little light. Regardless, we all known how fantastic he is with the leather, and at his age, there's no reason to expect a defensive decline.
Despite being one of the best all-around players in the game today, one area where Tex really drags the team down is with his baserunning. It's not that he's gets caught trying to steal often – he's been successful in all four stolen base attempts he's made in the last three years – he's just generally awful rounding the bases on balls in play. Last year he cost the Yankees 2.67 runs on the bases according to EqBRR, which essentially negated all of the good things Brett Gardner did with his legs. This isn't a one-year fluke either. He's been consistently bad throughout his career whenever he's not holding a bat or wearing a glove, so this is something that's sure to continue (if not get worse) in 2010. Thankfully, if Tex is going to be bad at something, he picked the part of the game that has the smallest impact in the grand scheme of things.
For such a tremendous player, Teixeira is pretty boring guy to preview. He's a robot; a player in his prime that's great at pretty much everything, and there's every reason in the world to expect another elite season of production out of him in 2010. Let's see what the projection systems are saying. Remember to click for a larger view.

After posting a .403 wOBA over the last three seasons, the five freely available projection systems (sorry, PECOTA fans) see Teixeira "dropping off" to a .401 wOBA in 2010. Even though the aggregate triple-slash projection is a slight step down from last year, it's right in line with Tex's career performance. I suspect his power numbers will be better than the projections think, simply because he'll come to plate as a lefty in the New Stadium so many times that he's bound to pick up a few cheapie homers during the course of the season.
So let's round it all up. If we're projecting Tex at .401 wOBA, +1 UZR, and -2.5 EqBRR over 654 plate appearances, he'll essentially be a five win player in 2010 (4.8 WAR, to be exact). It would be a small drop from last season's 5.2 WAR, but would still be among the best in the game. As I've been saying all along, there's every reason to expect the Yankees' first baseman to continue to be extremely productive in the coming season.
Photo Credit: Julie Jacobson, AP