On a team full of superstars, it's easy to overlook the production of Robinson Cano. The youngest full-time player in the lineup, the Yanks' second baseman is coming off a bounceback 2009 season just as he enters the prime years of his career. Yet despite hitting at least .306 with at least a .182 IsoP in three of the last four years, not everyone is sure what to expect out of the enigmatic Cano next season.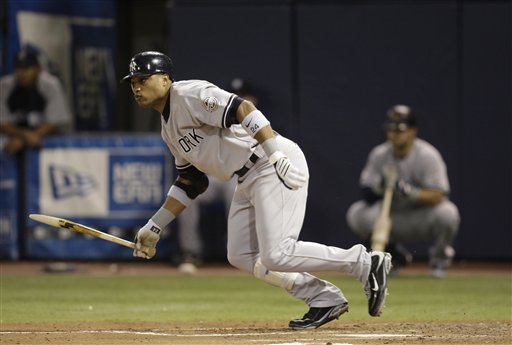 When Cano first arrived in the big leagues, it was amidst a full blown crisis in May of 2005. His game was a breath of fresh air to a team desperately in need of one. He was young player on an old club, and he produced enough with the bat to finish second in the Rookie of the Year voting. After posting a pair of fine seasons in 2006 and 2007, Cano slumped to .271-.305-.410 with a .307 wOBA in 2008, career lows across the board. Thankfully the one year decline in production lasted just that long, one year. He rebounded to hit .320-.352-.520 with a .370 wOBA last season, and the great Chase Utley was the only full-time second baseman to provide more with the stick.
At 27-years-old, Cano is hitting what should be the best years of his career. To take that next step towards greatness, however, he'll need to improve his performance with runners in scoring position. To date, Cano has been just a .256-.291-.398 (.290 wOBA) hitter with men on second and/or third, though last year he dropped all the way down to .207-.242-.332 (.251) in those spots. Luck (.267 BABIP with RISP career, .210 in 2009) only has so much to do with it, and it's up to Cano to make the necessary adjustments to become more of a traditional run producing threat. As the offensive core of the team ages, the Yankees are going to need Cano to step into the middle of their order pretty soon.
In the field, we all know Robbie's capable of making awe-inspiring plays, yet advanced metrics haven't been too kind to him in recent years. His three year UZR is essentially league average at -0.6, dragged down by relatively high error totals. Jeff Zimmerman's age-adjusted UZR projections peg Cano as a -2.0 run defender next season, though it's easy to envision a scenario in which he wows with the leather and actually plays well-above average defense. I've already touched on his baserunning earlier in the winter, and the progress is encouraging. With some more experience and improvement in 2010, Cano should add a run or two to the Yanks' ledger with his legs.
So what should we expect from Cano offensively next season? Let's turn to some projections for an answer. Remember to click for a larger view.
As these things tend to do, the five freely available projection systems average out to something extremely close to Cano's career output. The projected .358 wOBA is exactly what he posted in 2007, and a touch down from his 2009 output. Just two full-time second baseman besides Cano hit for a wOBA that high last season, so we're still talking about top tier production from the premium position. Combine that with a -2.0 UZR and +1.0 baserunning runs, and we're looking at 3.6 WAR player.
That projection is almost a full win off Cano's 2009 pace, though he could easily outperform it as he enters his age-27 season. Slated to earn $9M in 2010, Cano is no longer cheap. In fact, he'll be the third highest paid second baseman in the game this season, so the training wheels are off. It's time to the Yanks' second baseman to get over that hump and go from being a very good complementary player to a true centerpiece. Improving with runners in scoring position would go a really long way towards helping him do that.
Photo Credit: Charlie Neibergall, AP