I can only imagine how Twins fans felt when they learned this morning that Joe Nathan will likely miss the 2010 season. Not only will they have to place a less reliable reliever in the closer's role, but they'll have to replace the last man in their bullpen with an even lesser reliever. This certainly changes their season outlook. It might even end up costing them prospects if they eventually determine that they need to bring in a closer from another organization. They're still the favorites in the AL Central, but the gap just got a bit narrower.
Since his trade to Minnesota and move to the closer's role, Nathan has pitched six magnificent seasons. his highest ERA in that span was 2.70, which came five years ago. He has converted 247 of 272 save opportunities in that span while posting a 0.93 WHIP, 11.1 K/9, and a 236 ERA+. There's no doubt he ranks among the best closers in baseball of the past decade. In fact, there might be only one who ranks ahead of him. That, of course, is our own Mariano Rivera.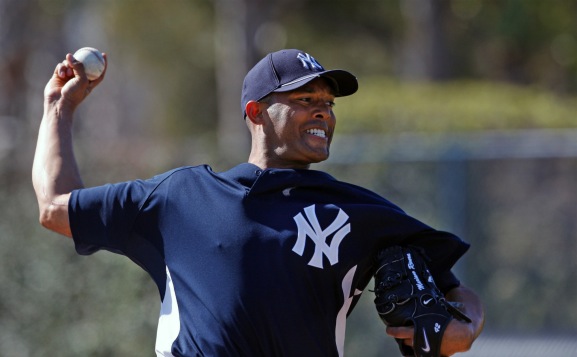 Photo credit: Kathy Willens/AP
Over the past decade, only 24 pitchers have pitched 500 games in relief (I'll count Nathan, who is the 24th and has 499). Mariano ranks third with 651, but ranks second in innings pitched at 713.1, just behind David Weathers. Yet he has walked the third fewest batters, 137, despite pitching 171 more innings than Keith Foulke (130) and 180 more than Trevor Hoffman (124). He has the lowest ERA, by 0.32 points. He has also pitched 133 more innings than the next lowest pitcher, Billy Wagner. Mo's 38 home runs allowed ranks second in this group. The pitcher ahead of him, Mike Stanton, pitched almost 200 fewer innings.
The reason Mo has been able to post such brilliant performances is that he's stayed healthy. In only one season since 1996 has he appeared fewer than 61 times. That's 13 healthy seasons out of 14 as a Yankee regular. How many other closers come even close to that? Even Trevor Hoffman has fallen below the 60-appearance mark four times since 1996, including both of the last two seasons. The only other current closer who comes close is Francisco Rodriguez, who has hit the 60-appearance threshold in ever season since 2003 (he had 59 that season, but close enough).
Closers come and closers go. Constant through all of it is Mariano Rivera. We don't need a special occasion to gush about his greatness, but when situations like Nathan's do arise it allows us to truly appreciate Mo. He is without peer.