Years of futility have helped the Orioles rebuild their team. While the fans have suffered through 12 straight losing seasons, the front office has used that to its advantage. High draft picks have led to a number of marquee players in the organization, many of whom will play a prominent role in 2010.
Lineup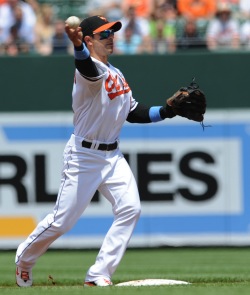 After appearing in the ALCS two years in a row, the Orioles finished below .500 in 1998. At 79-83 they had the 13th worst record in the league. They also lost a number of free agents, netting them six of the first 50 picks in the 1999 draft. Five were busts. The only one that panned out was No. 50, a shortstop named Brian Roberts. It took a while for him to develop, but he took over second bas full time in 2004, and broke out in 2005. Once the subject of myriad trade rumors, Roberts now appears entrenched in the organization. He begins a four-year, $40 million extension this season. Unfortunately for the Orioles it appears he'll open the season on the DL, but once he returns he'll slide into one of the top lineup spots and likely provide his usual production.
While the Orioles didn't get much out of their first five picks of the 1999 draft, they took a key player in the sixth round. There they selected left-handed pitcher Erik Bedard. Heading into the 2002 season he was the No. 90 prospect in baseball, and answered by posting a 1.97 ERA at AA Bowie. He did face some injury issues, though, which kept him out for much of the 2003 season. By 2004 he was with the big league club for good. His value to the current lineup, though, came after the 2007 season. The Orioles, with Andy MacPhail at the helm, traded him to the Bill Bavasi-led Mariners for, among other minor leaguers, Adam Jones, George Sherrill, and Chris Tillman.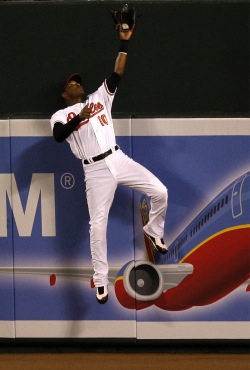 Jones, a supplemental first round pick by the Mariners in 2003, has shown improvement during his first two years in Baltimore. He came with high expectations as the No. 28 prospect in baseball heading into the 2007 season, and in 2008 he played full time for the Orioles. He wasn't great, posting just a .313 wOBA, but his value was still in his potential. He came closer to fulfilling that last season, posting a .343 wOBA. UZR rates him as positive over those two seasons, though we're still dealing with a small sample. If he stays healthy again in 2010 we could see big things from Jones atop the Orioles lineup.
With their No. 7 pick in the 2003 draft the Orioles selected Nick Markakis. He spent just three seasons in the minors, and played zero games at AAA, before breaking camp with the team in 2006. Markakis had a stellar 2008, posting a .389 wOBA, a 23-point improvement over 2007. That was mostly due to a spike in his walk rate, up to 14.2 percent. That dropped back down to 7.9 percent in 2009, though, and Markakis's wOBA fell 40 points to .349. It was an all-around down year for him, as his ISO fell 25 points and his UZR ranked in the negatives for the first time in his career. It's tough to keep down a hitter like Markakis, though. I expect him to rebound to somewhere around his 2008 production this season, holding down the middle of the Orioles lineup.
In the second round of the 2005 draft the Orioles selected outfielder Nolan Reimold, who raked his way through the minors. After mastering AA in 2007 and 2008 he moved onto AAA in 2009, where he posted a .530 wOBA. The Orioles saw it fit to call him up and give him 411 plate appearances, in which he posted an impressive .365 wOBA. Yet he won't get the start in left this season, as he had a poor spring after undergoing surgery to repair his left Achilles tendon. While he'll eventually take over, Felix Pie will get a shot at every day at-bats to start the season. He definitely showed improvement in 2009, and could become a valuable role player, or trade bait, for the Orioles down the road.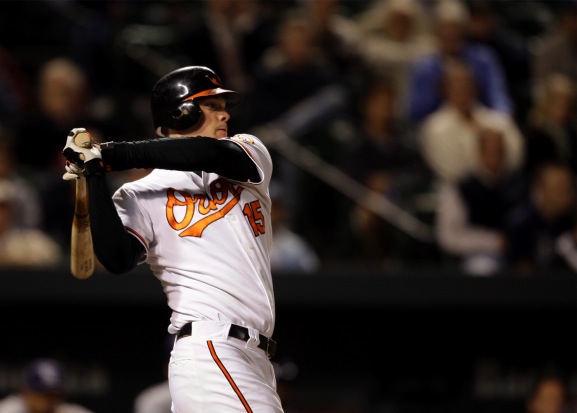 Matt Wieters was a more highly regarded prospect than Mike Moustakas, Josh Vitters, and Daniel Moskokos, all of whom went before him in the 2007 draft. But Wieters is a Scott Boras client, and the Royals, Cubs, and Pirates apparently didn't want to pay his bonus demands. The Orioles took advantage. He didn't sign in time to play in 2007, but he more than made up for it in 2008, posting a 445 wOBA in advanced-A and then a .472 wOBA in AA. That earned him the top spot in Baseball America's Top 100 for 2009. The Orioles opened him in AAA but called him up after 163 PA, installing him as their primary catcher. He hit well, though he didn't quite live up to the considerable hype surrounding him. Even so he posted a .330 wOBA. Watch for him to break out in a big way this season.
Sometimes players come back to you. The Orioles traded Miguel Tejada before the 2008 season, four years after they signed him to a six-year, $72 million contract. He finished out the final two years in Houston, where he hit well but seemingly dropped off defensively, especially last season. With no multiyear offers and no teams willing to play him at shortstop, he re-signed with the Orioles this off-season as their primary third baseman. A player the Orioles received in the Tejada trade, Luke Scott, figures to be the primary DH. He posted a .343 wOBA in his first year, followed by .355 last year. He's a man without a position, though, because the Orioles' outfield is filled with younger, more promising players.
First base presents an interesting situation for the O's. They signed Garrett Atkins this winter, who has steadily declined since his .410 wOBA in 2006. That number fell to .368, then to .337, and finally to .291 last season. He played pretty poor defense at third, though with Tejada on board the Orioles moved him across the diamond. He might not last long as the starter, though. Michael Aubrey, whom the Orioles acquired from the Indians for a PTBNL last June, could make a case for playing time, perhaps acting as a platoon partner. The O's could eventually turn to Brandon Snyder, their No. 6 prospect. After hitting very well throughout the minors he stumbled a bit at AAA, so he'll get a chance to get up to speed there. There's also a chance, though I'm not sure how great, that the O's could call up their No. 2 prospect, third baseman Josh Bell, acquired from the Dodgers for George Sherrill, and move Tejada to first.
Pitching
Any rebuilding team needs to stock up on high-tier pitching prospects. The success rate from them is pretty low, so having a number of these pitchers means a greater chance that one or two will pitch in the bigs eventually. The Orioles feature a nice blend of veterans and youngsters, and as the year progresses they could perhaps insert another prospect or two into the rotation.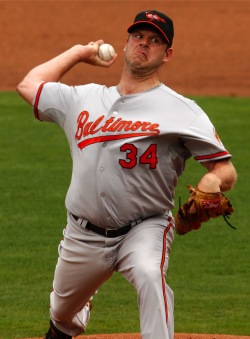 Adding to the veteran presence atop the rotation, the Orioles traded for Kevin Millwood this off-season. They didn't have illusions of him putting them over the top, of course. He was cheap, costing them just reliever Chris Ray and their Rule 5 pick, and he affords the Orioles more flexibility in developing their younger arms. For instance, with Millwood in the rotation the Orioles can afford to leave Chris Tillman in the minors to get a bit more seasoning. David Hernandez, who is a bit older and not as highly regarded a prospect, will take the final rotation spot. Again, the Orioles are lucky to have flexibility. I'll save space here by pointing you to FanGraphs for more on the decision to start Hernandez in the rotation.
Jeremy Guthrie, formerly the staff ace, pitches behind Millwood this season. A 2002 first round pick by the Indians after being drafted in 1997 by the Mets and in 2001 by the Pirates, Guthrie did not live up to the hype in the minors. Out of options in 2007, the Indians waived him and the Orioles pounced. Guthrie rewarded them by improving his walk rate, which was the primary component in his revival. He posted ERAs of 3.70 and 3.63 during his first two years with the O's, though those marks were out of line with his FIPs, 4.41 and 4.53. A spike in BABIP and fly ball rate led to more hits and home runs last season, and Guthrie's ERA spiked to 5.04 against a 5.31 FIP. If he brings the ground balls back to his career level, though, he could see a bit of improvement in 2009, though I imagine he'll be more around 4.50, as his FIPs from 2007 and 2008 indicated, rather than his mid-3s ERAs.
At my girlfriend's sister's rehearsal dinner last year I sat at a table with the bridesmaids and their dates. I didn't know any of them, so I tried to work in a baseball conversation with the guy sitting next to me. Turns out he's a huge Orioles fan and was impressed that I knew Brad Bergesen, who happened to be pitching that night against the Red Sox. (It was also the night that Joba dominated the A's.) Bergesen, a fourth-round pick in 2004 and a high school teammate of Phil Hughes, came along slowly, but in 2008 he made great strides, leading to his call-up in 2009. A comebacker off the shin cut short his 2009 season, and a shoulder injury suffered while shooting a commercial caused a minor setback, but Bergesen has looked good this spring and will slot in behind Guthrie.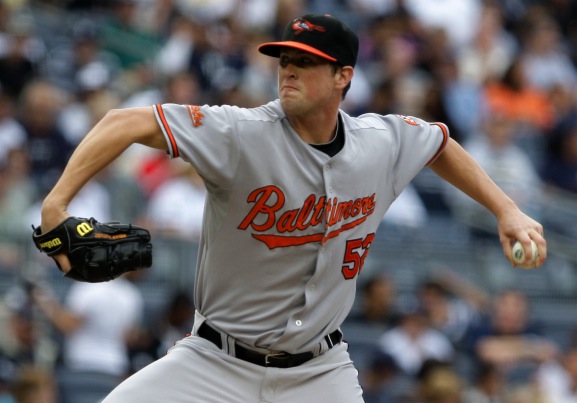 The Orioles shut down Brian Matusz in mid-September last year in order to keep him under his innings limit, which was apparently somewhere around 160. That also kept him under the 50 innings that would have erased his prospect status, so he checked in at No. 1 on the Orioles' list this year. The No. 4 overall pick in 2008, Matusz signed late and missed the minor league season. His first full professional season, then, was 2009 and he cracked the Major League rotation. That should speak volumes about his potential. He features an above average fastball, curveball, and slider, and when an Orioles official said his changeup wasn't up to par he made it the focus of his next start, throwing it more than 20 times. That's a luxury he won't have in the majors, though his above-average command of his other three pitches should help. The Orioles also laud his intelligence and intensity, which they think can help him top their rotation for years to come.
The name Mike Gonzalez might ring a bell for Yankees fans. During the 2006-2007 off-season it became clear that the Pirates would trade him, and rumors of a deal involving Melky Cabrera circulated. The Braves won out, though, sending Adam LaRoche to the Pirates and installing Gonzalez as their closer. That worked for 17 innings, after which Gonzalez underwent Tommy John surgery. He came back strong in 2008, minus a few too many home runs, and was even better in 2009. His walk rates in both seasons fell below his career average, and his strikeouts were above. Baltimore signed him to a two-year deal over the off-season, probably so he can actually hold down leads for the young pitchers. He might help out if the Orioles make a Rays-like run in 2011 as well.
The rest of the bullpen doesn't appear strong at all. With Ray gone Jim Johnson will assume the primary setup role. He was excellent in 2008, throwing 68.2 innings and posting a 2.23 ERA and 3.38 FIP. That was completely unsustainable, though, as he allowed no home runs all year. That's impressive, but most pitchers will allow home runs on about 10 percent of their fly balls. Johnson evened out and then some in 2009 with a 12.1 percent HR/FB. He does keep the ball on the ground and struck out 6.30 per nine innings. Behind him Mark Hendrickson will be the long man and Koji Uehara will slot in somewhere once he comes back from his hamstring issues. Matt Albers, Cla Meredith, and Alberto Castillo, among others, could get shots, but I don't think the O's are looking for the next big setup man among them.
Conclusion: Better than the Jays
The Orioles still have a way to go before they contend, though if they catch a few breaks they could make a run as early as 2011. After a dozen consecutive losing seasons, I'm sure their fan base can handle one more, especially with how this team is shaping up. They have two potential top of the rotation arms in the rotation to start the year and then have another who nearly cracked the Opening Day rotation. Beyond that their Nos. 3, 4, 5, 7, and 8 prospects are all pitchers. If they head into next season with Matusz, Bergesen, and Tillman with one or two of those prospects in tow, we could see big things in 2011.
As for 2010, I'd say that unless something big goes wrong that the O's will climb out of the AL East cellar and finish ahead of the Jays. I've done a lot of writing about the Jays this off-season, and while I do like their outlook, they've cleaned out the team for the time being. The Orioles have better hitting and better pitching in the current talent column, and really they have better future talent as well. The Jays are doing an admirable job in trying to correct J.P. Ricciardi's mistakes, but with two financial powerhouses and two more well-run franchises residing in the same division they could find themselves in last place for a few years running. Hey, someone has to finish there.