Over the next few days we will preview the teams the Yankees will play most frequently in 2010. Yesterday we took a look at the Red Sox, and today we continue on with the other AL East powerhouse, the Tampa Bay Rays.
Run Production
You might not have realized it, but the Rays had one of the game's best offenses in 2009. They hit .263-.343-.439 on the season, and their .343 team wOBA ranked behind only the Yankees (.366), Red Sox (.352), and Angels (.346). The 803 total runs they pushed across the plate is probably a little light considering their strong peripherals, yet the lineup remains largely unchanged heading into the new season.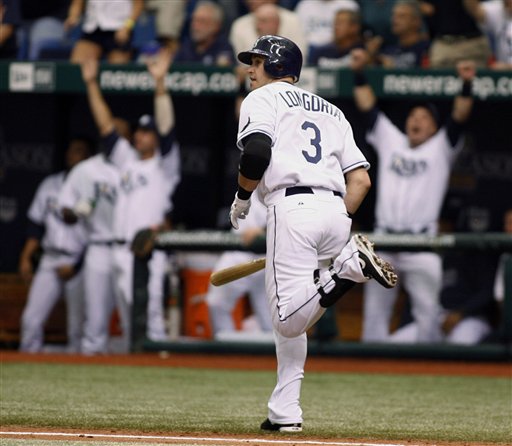 Tampa's offense is built around a dynamic middle of the order. Third baseman Evan Longoria leads the charge as the three hole hitter, and his .380 wOBA from last season is especially remarkable when you consider that he was stuck in a brutal two month long slump that saw him hit .205-.311-.404 (.301 wOBA) from May 31st to July 31st. Longoria finished the year strong (.293-.373-.523, .372 wOBA) after the calendar flipped to August, and he's not just going to be asked to anchor the lineup again, he's going to be asked to do even more. At 24-years-old, he's already a star and one of the most productive hitters in the game.
Backing up Longoria most of the time will be former Yankee farmhand Carlos Pena, who has enjoyed a career resurgence since joining Tampa prior to the 2007 season. He's the definition of a three true outcomes player, as 48% of his plate appearances over the last three years have ended with a walk, a strikeout, or a homer. As he enters his age-32 season, the Rays are going to need just one more .250-.380-.550 season with 30+ homers out of Pena before he heads off into the world of free agency after the season.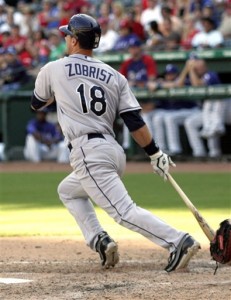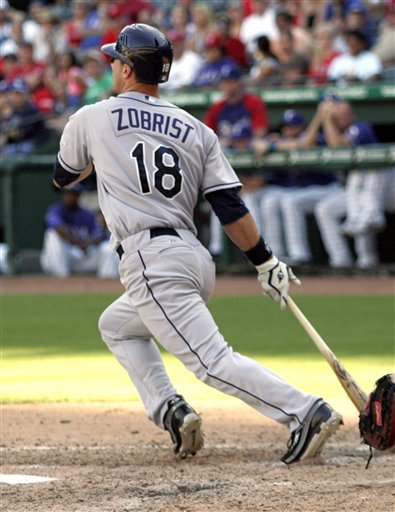 Pat Burrell was signed last offseason to complement Longoria and Pena in the middle of Joe Maddon's lineup, but it ended up being career utility player Ben Zobrist who stepped up and broke out in a big way. Always a patient hitter who hit for decent power in the minors (.318-.429-.459 career hitter in the bush leagues), the switch hitting Zobrist refined his swing prior to the season with Jaime Cevallos (a.k.a. The Swing Mechanic). The result was a huge breakout that saw him hit .297-.405-.543 with the third best wOBA (.408) in the AL. Not yet in his arbitration years, Zobrist will join Longoria to form what might be the division's most productive hitting tandem over the next half-decade.
The table for that trio will be set by Carl Crawford, who is inarguably the greatest player in franchise history. He's bested a .360 wOBA in three of the last four years (he was hampered by a hand injury the one year he fell short), and we're all well aware of his stolen base exploits. At 28-years-old there's no reason to expect a drop off. Heck, he might even be in store for a huge year considering he's up for free agency next winter.
Burrell's fall from grace came harder and faster than anyone expected (.304 wOBA after topping .374 the previous four years), and everyone assumes the worst for 2010. He was brought in to help balance out a lefty heavy lineup, which seemed like a fine idea considering he averaged a .415 wOBA against southpaws from 2005 to 2008, though he managed to hit just .202-.336-.252 (.278 wOBA) against lefties last season. Tampa actively looked for a replacement DH this offseason despite owing Pat The Bat $9M this season. It seems like a pretty safe bet that the Rays will get better production out of their designated hitter spot this year, whether it's Burrell who provides it remains to be seen.
Shortstop Jason Bartlett is unlikely to repeat his .364 BABIP and thus his .389 wOBA from a year ago, and a fall back to his previously below average offensive levels would be a big hit. After breaking out with a .387 wOBA in 2007, B.J. Upton hasn't been the same since hurting his shoulder in 2008, and bottomed out at a .310 wOBA last season. The range of what he's capable of doing in 2010 is as wide as any player in the game – I don't think anyone would be surprised if he wOBA'd .310 or .390. Dioner Navarro's .258 wOBA has essentially been replaced by Kelly Shoppach, who can swing and miss with the best of 'em, but will also provide league average offense from the catcher position.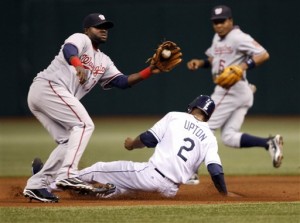 The last spot in the lineup will most likely be filled by Sean Rodriguez, who came over in last summer's Scott Kazmir trade. Coming into the camp, the idea was that he and Matt Joyce would battle it out for either the second base or rightfield job with Zobrist occupying the other spot, but Joyce's sore elbow and Rodriguez's molten hot spring (.439-.484-.860 in a team high 57 at-bats) all but assures him of being in the lineup come Opening Day. He won't maintain his spring performance into the season, obviously, though replicating the departed Akinori Iwamura's .338 wOBA seems likely.
The bench will feature former All Star Hank Blalock, who is just a year removed from consecutive seasons of .361 and .383 wOBA's. He'll backup Longoria, Pena, and get some starts at DH against righties. Fourth outfielder Gabe Kapler was ever so slightly above average with the bat last season, doing most of his damage against southpaws (.394 wOBA). Prospect list veteran Reid Brignac may be the club's utility infielder, or it could fall into the lap of Elliot Johnson. Neither will contribute much with the stick.
Of course, doing damage with the bats is just half of Tampa's offensive game. Once they reach base, they make lots and lots of stuff happen with their legs. Crawford (60), Upton (42), Bartlett (30), and Zobrist (17) stole more bases by themselves than any other team in the league last year, and are likely to run wild again. Longoria and Rodriguez are both capable of double digit steals as well. According to Baseball Prospectus' EqBRR, the Rays also generated another five and a half runs for themselves in non-stolen base baserunning situations, among the best in the league. Tampa Bay's offensive game extends far beyond the batter's box.
Run Prevention
While defense has taken baseball by storm as the new undervalued commodity, the Rays have been doing the catch the ball thing for years. Their 2007 squad was the worst defensive team in baseball that year, costing themselves 57.7 runs in the field, nearly ten runs behind the second worst team. That all changed in 2008 through a series of moves, including position changes (Upton to center, Iwamura to second), trades (Bartlett), and promotions (Longoria), and the end result was a team that saved 74.2 runs defensively, the best in the game. That 131.9 run (!!!) swing is the main reason the team went from 96 losses and 944 runs allowed in '07 to 95 wins and 671 runs allowed in '08.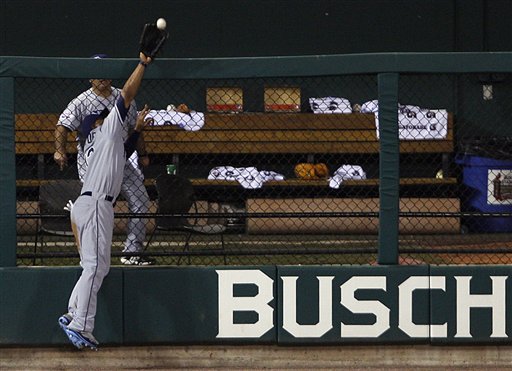 Although not to the same extreme as the Mariners, Tampa's defense remains their calling card. They saved 69.5 runs defensively last season, with Longoria and Crawford rated as the two best defensive players at their position over the last two years. Upton places second for his position despite his occasional lack of hustle. UZR hasn't quite figured out first basemen, though Pena remains one of the game better defenders at the 3-position. Bartlett's reputation as a defender greatly exceeds what the advanced metrics say, but he's no worse than rock solid at short. That leaves second base and rightfield as the unknowns.
Zobrist led all big league position players with 8.6 WAR last season, thanks in part to beefy small sample size UZR's. In 714 innings at second, he was +16. In 329.1 innings in right, he was +11.5. In 165.1 innings spent at all the other positions, he was -1.1.  He's unlikely to maintain those kinds of ratings as the number of defensive innings grows, but he, like Rodriguez, came up through the minors with a reputation of being no worse than a solid glove man. Even we assume league average defense from that pair, Tampa will again boast one of the games best defensive clubs.
Of course, run prevention starts on the mound, and the Rays have the game's best young rotation. Jamie Shields is the old man of the bunch at 28, and he's followed by Matt Garza (26), Jeff Niemann (27), David Price (24), and Wade Davis (24). Those five will combine to make about $9.5M in 2010, or what the Yankees will pay A.J. Burnett for the first four months of the season.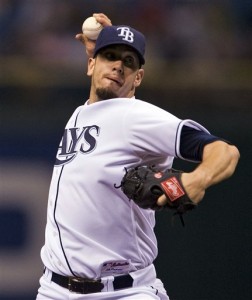 Unsurprisingly, Shields will be the team's Opening Day starter for the third time in three years. The changeup artist has made at least 31 starts and logged at least 215 innings every year since 2007, keeping his xFIP consistently under four. Just ten pitchers in baseball have eclipsed Shields' 12.8 total WAR over the last three years, and he's as safe a bet as anyone to give his team 200 above average innings.
Number two starter Matt Garza isn't as much of a known quantity as Shields, but he's been pretty much everything the Rays could have hoped for since acquiring him prior to the 2008 season. He added more than two full strikeouts to his K/9 last season (8.38), and is in position to toss up one strikeout for every inning pitched in 2010. Garza's xFIP went from 4.48 to 4.21 last season, and natural development should have him close to four-flat this season. Many starters hit their stride in their third full season, so Garza's a prime breakout candidate.
Niemann, the fourth overall pick the year the Yankees drafted Phil Hughes, finally stuck in the big leagues after battling arm injuries and at time inconsistency in his minor league career. The 6-foot9, 260 pound monster posted a better than league average ERA, FIP, and xFIP in 30 starts last season, and should improve upon his modest 6.23 K/9 with more experience. Like Shields and Garza, he's a safe bet to not just repeat last season's performance, but improve on it.
Following his bullpen exploits in the 2008 postseason, Tampa sent Price to the minors to start 2009 so he could work on his changeup. Although he made 23 more than respectable big league starts last season (4.49 xFIP), he often ran high pitch counts that taxed the bullpen. That didn't last for long though, as Price got on a roll and completed at least six innings in nine of his last eleven starts. Again, we have another guy likely to improve on last season's performance just through natural development.
Despite a rather poor spring (12-10 K/BB in 15.1 innings), Davis will break camp as the team's fifth starter, relegating the incumbent Andy Sonnanstine to bullpen duty. Baseball America ranked the hard throwing righty the 34th best prospect in the game coming into the season after six dazzling September starts that featured a 3.54 xFIP and a complete game shutout of the Orioles. Expectations are high for the long-term, but right now he just needs to be the team's fifth starter. Sonnanstine, who may have been dealing with a case of World Series hangover when he posted a 5.42 ERA and a 4.85 xFIP last year, will be the de facto long man.
Even counting Sonnastine, the Rays enjoyed great health from their starters last season. Shields, Garza, and Niemann all made at least 30 starts, Price chipped in 23 after being called up in May, and Kazmir also gave the team 20 starts before being traded. Given the general injury risk involved with pitchers, it's unlikely that they'll go through the 2010 season needing just seven starters again. Then again, you could have said the same thing about the 2008 season when they used just six starters. Sonnanstine would likely be the first to move into the rotation should a spot starter be needed, but Tampa also has Jeremy Hellickson waiting in the minors as one of the game's top pitching prospects. Righty Aneury Rodriguez, acquired from the Rockies for Jason Hammel, provides more solid depth as well.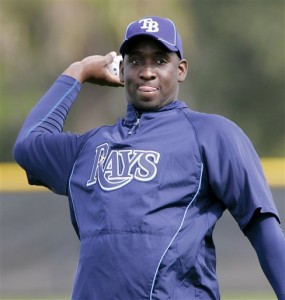 The biggest move of the team's offseason was actually a series of trades that landed the team a bonafide closer in Rafael Soriano. After burning through the old and ineffective (Troy Percival, Jason Isringhausen), Maddon went with a closer by committee approach that saw J.P. Howell getting the majority of the saves and save opportunities. Unfortunately, Howell is already on the shelf with a fatigued shoulder, weakening the setup crew. Soriano is a given at the end game, having used his high-90's heat and devastating slider to pick up 27 saves and post a 2.99 xFIP in Atlanta last season. Getting the ball to him could prove to be a bit cumbersome.
Veteran Dan Wheeler is death to righties (3.40 xFIP) but gets tattooed by lefties (6.51), while former Yankee Randy Choate is the exact opposite (2.56 vs. LHB, 4.92 vs. RHB). Grant Balfour plays the role of good fastball, bad control reliever, and is  more likely to repeat his 4.21 xFIP in 2009 than his 2.96 mark from 2008. Lance Cormier was a revelation in long relief last season, but Howell's injury may press him into shorter, higher leveraged innings. Padres' castoff Mike Ekstrom and Four-A'er Dale Thayer represent the replacement level up-and-down fodder. The wildcard is Joaquin Benoit, who signed a minor league deal after missing the 2008 season with shoulder surgery. During his last two healthy years, he struck out more than a batter an inning and kept his FIP close to three. It's a good thing Tampa's rotation is so strong and deep, because they're going to need to soak up as many innings as possible to limit the amount of time the Balfours and Thayers and Cormiers of the world have to blow the lead before getting to Soriano.
The Rays have mastered the concept of player development and building from within, which is the only way they're going to compete with the bullies of the AL East. You could make a pretty good rotation just out of the pitchers the Rays have traded away in the last two years (Kazmir, Edwin Jackson, Hammel, Mitch Talbot), and they have plenty more where that came from. With talk of a reduced payroll in 2011 and Pena, Crawford, Soriano, Burrell, and Balfour all set to become free agents after the season, this is probably the last hurrah for this Rays' team as presently constructed. This current team is very, very good and could easily win 90 games and make a run at the division crowd, and don't be surprised if they make a midseason move to get them over the hump.