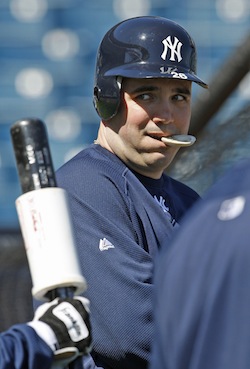 Updated (9:50 a.m.) When Nick Johnson was scratched from the lineup yesterday afternoon with a sore back, the Yankee Universe let out a collective groan. Here it goes again; the injury bug bites Nick Johnson.
Of course, the injury ended up being nothing very much, and the Yankees say the team is just taking it slow during day two of Spring Training. Nick caught his cleat while taking some swings in the cage, and he could have played had it been the regular season. He'll sit out a day or two and find himself right back in the lineup this week. Lest we forget, Jorge Posada's surgically repaired shoulder was giving everyone conniptions last spring as well. There's always a sore something somewhere.
But Johnson's injury got me thinking. What if Nick were to go down? What would the Yankees do with that DH slot? Johnson has been summoned to replace Hideki Matsui as the Yanks' go-to guy for DH. The team rightly doesn't want to use the DH as a rotating half-day rest slot for their veterans because that would necessarily force Ramiro Peña or Francisco Cervelli, weak offensive options, into the lineup nearly every day. So Johnson, a high OBP guy with a lefty swing designed for Yankee Stadium, seemed an ideal choice.
In a sense, the Yankees don't need a lot from Nick Johnson. Hideki Matsui hit .274/.367/.509 with 28 home runs last year in 142 games, and he put up a WAR of 2.7, eighth best in a powerhouse lineup. If Johnson, a 2.5-win player last year, can give the Yanks a pair of wins for $5.5 million, the team will be quite pleased.
A problem emerges, though, if Johnson can't do that. If he doesn't make 135 starts, doesn't get his 500 plate appearances, doesn't produce a few wins out of the DH slot. If he gets injured and misses significant time, always a distinct possible with him, the Yankees will be out a DH.
Behind Johnson, the options for designated hitter are slim. The team has Randy Winn, Marcus Thames and Jamie Hoffmann in camp fighting for two roster spots. Last year, Winn was a 1.7-win player based on WAR, but that's because he was 16.5 fielding runs above average. His offensive output — a .302 wOBA with 2 home runs in 538 plate appearances — makes him a non-option for the DH spot. Marcus Thames had a 0.1 WAR last year. No matter how that breaks down, he wasn't doing much hitter at all. Jamie Hoffmann has played just 72 games at AAA.
Beyond these guys making waves in camp, Juan Miranda would offer the Yanks another lefty option for DH. He's the first guy called up when the team needs a bat, and as his prodigious home run in Tampa at the end of 2009 showed us, he can certainly hit. He's a career .280/.366/.474 hitter in the minors and blasted 19 home runs last year at AAA. He isn't too vulnerable to lefties either, hitting .291/.367/.507 against them in just under 200 ABs last year. His Major League Equivalents don't scream out success, but he's an option.
The Yankees do have a rather tantalizing ace in the hole, but would they dare use it? Jesus Montero is, acccording to a video interview he did with YES, working hard to get to the Majors, and by all accounts, he has put on a hitting clinic in batting practice this spring. In his one in-game at-bat, he singled. He has the power and the stick to DH, but the Yanks shouldn't rush him. He needs his AAA seasoning, and when the 20-year-old shows he can mash at AAA, the Yanks can begin to think about it. In the meantime, the team has three in-house choices, and Gary Sheffield remains a free agent.
For now, we'll rely on Nick Johnson to carry the designated hitter slot for six months this year. He gets an Interleague Play break when the Yanks hit the NL in May and June, and with Robo-Tex manning first, Johnson won't be asked to exert himself in the field. He should be able to withstand the pressures of the season, but if any player can't stay healthy at DH, it's Nick Jonson. And, please, no more cleats in the batting cages.
Photo by Kathy Willens/AP