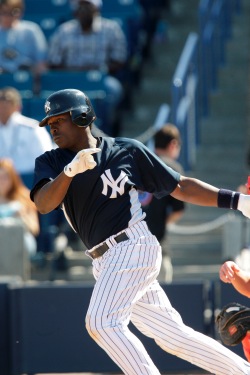 It has been a long four months, but today we will finally get some live Yankees baseball. Though we won't see much, it's still exciting to see the players back in uniform, facing competition. In addition to the regulars, who will play only a few innings, we'll see some of the up and comers, plus a few of the random non-roster invitees. For those of us who want to watch baseball for the sake of watching baseball, it is heaven.
I encourage everyone to watch spring training baseball for the pure enjoyment of the game. I do not, however, encourage anyone to draw insights from what they see in these games. The pitchers and hitters are still working back into their grooves. A.J. Burnett, for example, will not throw his curveball in his first few spring starts. I'm sure the hitters will all be focusing on what they've worked on with Kevin Long and figuring out what works. How can we judge these players if they're not playing the same way they will when the season starts?
Even if the players were in full shape and approached the games in the same manner as they did during the regular season, we still fall into the small sample trap. Last year Cody Ransom led the Yankees with 82 PA in spring training. An everyday player will get more PA than that in April alone. So not only are we working with a flawed sample here, but it's also minuscule. There are no reasons to draw any conclusions whatsoever from the spring numbers.
Last spring, Mark Teixeira came to bat 67 times and hit .433. In his first 67 PA of 2009 he hit .235. Melky struck out only three times in 69 PA. Brett Gardner hit three home runs in his 74 PA, which equalled the number he hit in 248 regular season PA. Robinson Cano slugged .667, and Jorge Posada slugged just .404. Even worse, Swisher slugged .352. Johnny Damon was 2 for 5 in steal attempts, but perfect in the regular season. Finally, my personal favorite, Angel Berroa hit .371 and slugged .597 — and still didn't make the team.
Let today bring us enjoyment. Let the rest of the spring remind us of the greatness of baseball, and what we can look forward to for the next seven months. Live Yankees games are back, but let's not read much into them yet.
Photo credit: Gene J. Puskar/AP