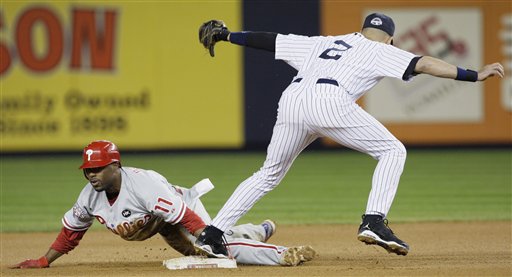 We get dozens of links through our tip box each day, but most of the time it's something we've already found or a piece of minor news. However, this morning a reader sent in a link to this Bill Conlin column from today's Philly Inquirer, claiming that the Phillies have "what is potentially the greatest all-around infield of a modern era that began in 1947 when Jack Roosevelt Robinson kicked down the door that had barred players of color from the major leagues."
Now don't get me wrong, the Phillies' current infield alignment of Ryan Howard, Chase Utley, Jimmy Rollins, and Placido Polanco is very, very good. It's obviously a championship caliber quartet and one of the best in recent memory,  but is it the best infield of the modern era? No. It's not even the best infield in the game today.
Conlin notes that the Yankees' infield "slammed 112 homers [in 2009], three more than the Phillies with [Pedro] Feliz at third. But the Phils' Fab Four won the RBI war, 393-373." Of course, we all know counting stats – especially RBI – are stupid. They lack context for things like park effects, league difference, injuries, the whole nine. Just looking at raw triple-slash stats, the Phils' four main infielders collectively hit .273-.344-.473 with a .358 wOBA in 2009. The Yanks, meanwhile, saw their four main infielders hit … wait for it … .310-.384-.519 with a .390 wOBP as a group. That's a .903 OPS infield. It's like having four Josh Hamilton's circa 2008 on the diamond, but just a touch better. The Yanks infield had 44 more hits and 20 more walks than the Phillies' infield last year despite coming to the plate 158 fewer times. Obviously, this is no contest offensively.
Conlin suggested the Phillies potentially have the best all-around infield, meaning things like defense and baserunning count too. And of course they do. We watched Jason Giambi negate much of his offense with his defense for the better part of a decade. The easiest way to examine this is to look at WAR, so let's do that. Everything comes from Sean Smith's database…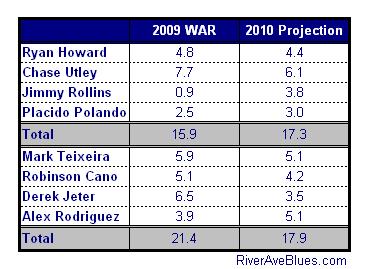 I'm not sure if the 2010 projection has Polanco at second or third base, but it doesn't matter since the move from a middle spot to a corner spot carries a negative positional adjustment. Either way, the Yankees were better last year, and project to be better this year. Unlike FanGraphs' WAR, CHONE's accounts for baserunning, so we don't need to worry about adjusting anything. The 2010 projections for the two infields are pretty close, just about half a win apart, so it is possible the Phillies' infield outperforms the Yanks',. That would require a considerable fall from grace by Jeter and a major rebound from Rollins, though.
Also, just look at this subjectively. Howard can mash, but so can Tex, and the Yanks' first baseman is one of the best defenders at his position in the game. Utley is clearly a better player Cano, and the same could be said about A-Rod and Polanco. Jeter's not going to put up the same kind of homerun totals that Rollins will, but he's a better offensive player because of a massive advantage in on-base percentage. Jeter closed the gap defensively the last two seasons, but Rollins has the better rep. Even if you feel like being extremely generous and consider Tex-Howard and Jeter-Rollins to be washes, the difference between A-Rod and Polanco is greater than the difference between Utley and Cano.
I can understand why fans and the media in Philadelphia are excited. They've got a great lineup, added Roy Halladay, and have won two straight pennants, but when it comes to infield might, they're going to have to play second fiddle the Yankees. Again.
Photo Credit: Elise Amendola