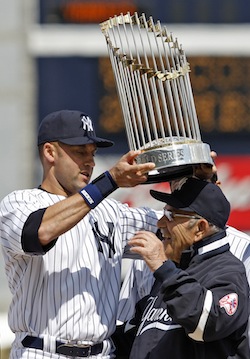 Even though Derek Jeter doesn't plan to address his contract status until the end of the 2010 baseball season, it's become quite the hot topic around the game. He's becoming a free agent at age 36 and mans a position that few his age have played with much success. At the same time, he's the face of a franchise and has been since 1996.
Over the last few weeks, as we've discussed Jeter, the general consensus has been that he'll sign a deal for four years for somewhere between $20-$25 million a year. The Yankees probably won't get that value from him on the field, but the good will and Jeter's popularity should help mitigate the expense. What if Derek wants more though?
That's the question Jon Heyman ponders today, and his sources indicate that Jeter may ask for as much as six years. His argument relies on putting down A-Rod.
The Yankees generally have treated their own big stars very well. But six years for a shortstop who's 35 now is seen as a stretch, even by the execs who say they expect that to be the asking price. "Casey Close is a good agent. You don't get if you don't ask," one executive said. Close declined comment.

Six years may seem extreme. But there is logic to it. Jeter saw his famous frenemy Alex Rodriguez get a 10-year, $275-million deal from the Yankees two winters ago that will take him to age 42. Jeter will be 36 by the end of the year, so six more years would take him to 42, same as A-Rod.

After seeing A-Rod get a contract taking him until he's 42, why wouldn't Jeter want the same? A case could be made that Rodriguez is a more natural fit as the DH, so playing into his 40s might be easier. But both are hard workers, extremely fit and without injury history. And Jeter's the one who's a Yankees legend.
Interestingly, Heyman also notes that the Yanks and Jeter nearly had a $118.5 million contract in place in early 2000, one year before he signed his big $189 million deal, but George Steinbrenner "nixed" that one. No word on how many years that would have covered.
That last historical tidbit is neither here nor there, but Heyman's speculation on a six-year ask is worth considering. After all, the worst the Yanks can do is reject the proposal. I wouldn't feel too comfortable giving Jeter six years, and it shouldn't take that much to keep him around.
Above: Derek Jeter attempts to balance the World Series trophy on top of an unsuspecting Yogi Berra. (AP Photo/Kathy Willens)