Curtis Granderson can help a ball club in a number of ways. He can play a solid center field. He can hit for power. He can get on base at an above-average clip, and afterward he can motor around the bases. But as we learned in 2009, the mere ability to do something doesn't necessarily bring results. Granderson can get on base at an above-average clip, but in 2009 he didn't. Since he's done it before, we don't say that he can't, but rather that he didn't. In the same way, just because he hasn't hit lefties well in the past doesn't mean he can't.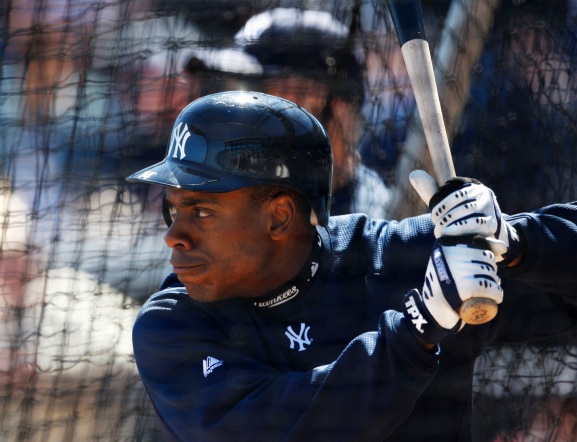 Photo credit: Kathy Willens/AP
It appears that questions about Granderson's ability to hit lefties will surround him this spring. We've already heard stories about him working with Kevin Long on ways to better approach lefty pitchers. Those are encouraging, but far from a sign that Granderson will put his woes behind him. Still, that won't stop certain newspapers from taking one small detail and making a huge deal out of it. Apparently, according to the NY Post, hitting a line drive in batting practice off Kei Igawa represents progress. Oh, the crazy storylines of the spring.
I agree with SG's statement that Granderson will probably never hit well against lefties, but that he can certainly outperform his career numbers to this point. One aspect of splits that often goes unmentioned is the small sample they provide. Granderson has come to bat 2,896 times in his career, but only 24 percent of those have come against lefties. That leaves his total at 685, or just under a full season's worth of plate appearances. We don't judge a player based on a single year of his career, so why would we judge Granderson based on one year's worth of data?
Because of this small sample against lefties, we need to regress the figures in order to get a better idea of Granderson's true skill against lefties. Thankfully, Matt Klaassen of FanGraphs already did the calculation, which adds 1,000 plate appearance of league average splits to Granderson's existing 685 PA. If Granderson hits to his CHONE projected .359 wOBA, we can expect that to be .374 against righties and .311 against lefties. That .311 number is still below average, and it's even blow the .323 wOBA he posted against lefties in 2008. It is, however, a bit more optimistic than CAIRO, which pegs him at .299 against lefties, and certainly better than his .266 career wOBA split.
Deliberate and focussed practice could help Granderson even further against lefties. Again, echoing SG, we can't really expect Granderson to make leaps in his split figures, but it's certainly possible. We saw such a transformation first hand in Paul O'Neill. While in Cincinnati O'Neill hit lefties poorly, routinely posting OPS numbers in the .500 range. Even in his first year with the Yankees he struggled against lefties. But then, at age 31, he came around, posting OPS numbers in the .700 range or better for the next five seasons. We might set ourselves up for disappointment by expecting Granderson to make the same transformation, but we know that it is certainly possible.
The discussion of Granderson's skills and results against lefties reminds me of what a good all-around player he is. We're not questioning his defense, his speed, or his ability to get on base. Instead, we're focussed on his performance in fewer than a quarter of his plate appearances. I think we'll all be satisfied with his performance in the other 75 percent, and maybe even a bit more satisfied with that 25 percent sample.