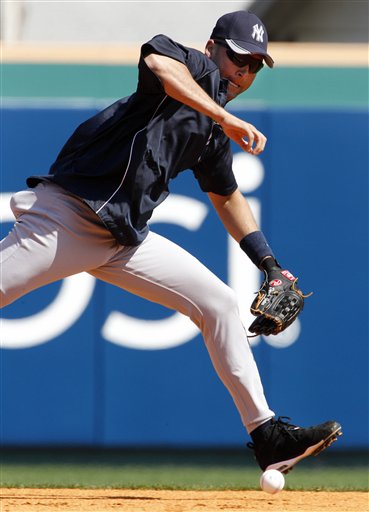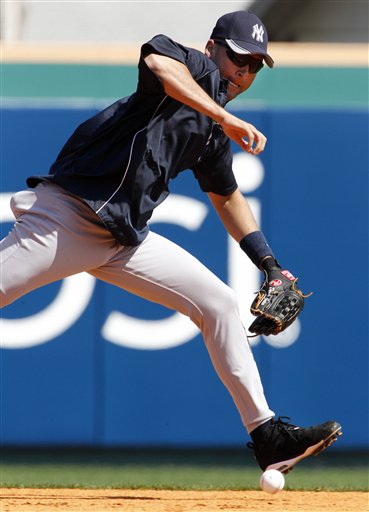 GM Brian Cashman and the rest of the Yankees' brass have been preaching the mantra of "get younger and more athletic" for years now, and they have done so in each of the last two offseasons. They effectively replaced the trio of Bobby Abreu, Jason Giambi, and Johnny Damon (combined 2010 age: 111) with Nick Swisher, Mark Teixeira, and Curtis Granderson (combined 2010 age: 88) while handing the 26-year-old Brett Gardner something close to a full-time job this year.
The improvement made with this transition is noticeable in more ways than one. First of all, it's easier on the bottom line, even with Tex's massive deal. Swisher and Granderson will combine to make $750,000 less this year than what the Yankees paid Damon by himself last year. Secondly, the younger players are less susceptible to the daily aches and pains associated with a 162 game season, and generally recover quicker than players on the wrong side of 35. Durability is a big part of it. For the purposes of this post, we're going to focus on the third way the young players are an improvement over the old dudes, and that's defensively.
Last year, the Yankees posted a team UZR of -18.5, 18th best in the game (or more accurately, 12th worst). Sadly, that was a massive improvement from their -44.5 UZR in 2008, which was third worst in all the land. With Damon, and to a lesser extent the perpetually average Melky Cabrera elsewhere this year, the Yankees stand to improve some more on the defensive side of the ball.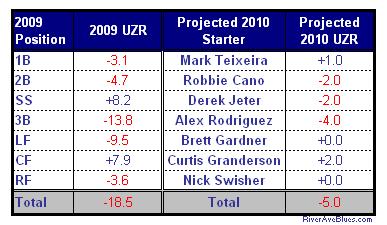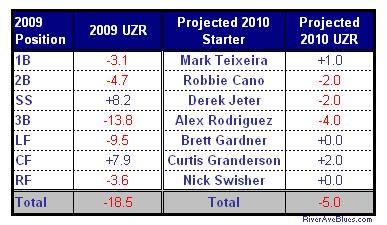 Using Jeff Zimmerman's UZR projections, we can get an idea of how the Yanks' projected starters for the 2010 season should do with the leather. Remember, these are just projections based on a weighted regression of the last four year's worth of data, and are in no way predictions. They're just a fancy estimated guesses, really. The table, obviously, is on the left.
Because we're looking at the total defensive production from the individual positions in 2009 and comparing it to just the projected starters for the upcoming season, we're really comparing apples to … slices of apples.  More accurate than oranges, but not whole apples. Guys like Ramiro Pena, Randy Winn, (ugh) Marcus Thames, and who knows who else will make their mark throughout the season, for better or for worse. For us though, this is fine.
The real improvement comes in the outfield, which is good because new fourth starter Javy Vazquez and new fifth starter Phil Hughes are fly ball pitchers, as are bullpen mainstays David Robertson, Damaso Marte, and Al Aceves. Despite his struggles down the stretch last year, Granderson has been an above average defensive centerfielder his entire career, which is what the UZR projections see him being in 2010. Sliding Gardner over to left instantly improves the position, even if he undershoots his projection by a few runs. Nick Swisher will probably be the same Nick Swisher in right, and while it may not always be pretty, it's still damn effective.
As for the infield, well that crew remains unchanged from last year except for one thing: they're all a year older. Zimmerman's projections are age adjusted, which is why they see 36-year-old Derek Jeter's defense dropping significantly despite the improvement he's made in recent seasons. Shortstops that age who don't decline with the glove are few and far between. Ditto 35-year-old third basemen. I expect Jeter and A-Rod to be collectively below average next year, though I'm hopeful it'll just be slightly below rather than oh-my-goodness-this-is-Sarah-Jessica-Parker-ugly defense.
Cano and Tex are firmly in the primes of their career, and even though their UZR doesn't always jive with what our eyes tell us, I think we can all agree they're no worse than league average as a tandem. The Yankees will be fine on the right side of the infield both offensively and defensively as long as no one gets hurt.
The Yankees have come a long way since 2005, when they trotted out what was arguably the worst defense in baseball history. They've managed to do so while importing some long-term pieces on affordable contracts that are more than total zeroes with the bat. They figure to be even better in 2010, which can only help the pitching staff that posted the second best xFIP (4.23) in the American League last season.
Photo Credit: Gene J. Puskar, AP