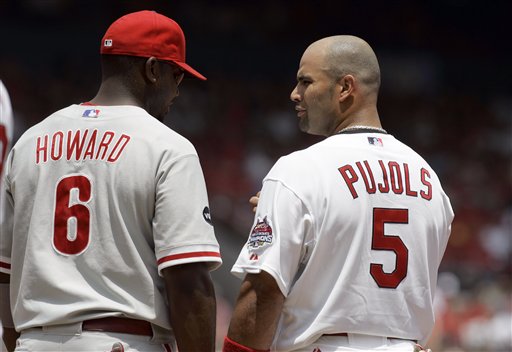 This one made me laugh. Apparently the Phillies have internally discussed the idea of trading Ryan Howard to St. Louis for Albert Pujols. The plan was to try to sell the Cardinals on the idea that Howard, born and raised in St. Louis, would be easier (and cheaper) to sign long-term than Pujols. Both players can become free agents after the 2011 season, and are basically the same age. Of course, Pujols is the far, far superior hitter. Yeah, Howard has the bigger homerun totals, but Pujols does literally everything else better with the bat.
Phillies' GM Ruben "fielding percentage FTW" Amaro flat out denied the rumor, which is good. Hopefully he realizes how stupid he would look if he actually proposed such a deal to St. Louis.
Anyway, here's tonight's open thread. The only local sports team in action tonight are the Isles, and if you turn the game on right now you could probably catch the last period. I'm sure there's college basketball on somewhere. Oh, and in case you haven't heard, LaDainian Tomlinson signed with the Jets. Otherwise, have at it.
Photo Credit: Jeff Roberson, AP