When two or more general managers consummate a trade, they believe that their team will benefit. Why else would they agree to it? As we've learned throughout baseball history, though, trades don't always work out for both sides. GMs who end up on the losing end of a few deals find themselves looking for new jobs soon enough. Those who come out on the winning end extend their tenures. It seems, however, that few, if any, GMs can consistently come out ahead. There are just too many variables involved. Every so often, a trade is going to smack you in the face.
We'll soon enough get to Brian Cashman's biggest blunders. Today, though, we'll focus on his heists. That is, his best deals during the 12-plus-year reign as Yankees' GM. This will not only include the players received, but the players sent. I'll look at this using the WAR of the players acquired, for the length of his contract when traded, and the value of the players sent, either by the same measure, or, in the case of prospects, for the six years of team control.
3. Nick Swisher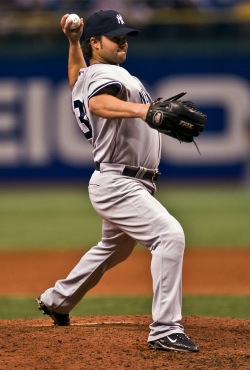 After the 2008 season the Yankees had plenty of remodeling to do. A number of starters, including Jason Giambi and Bobby Abreu, were slated to hit free agency and the team showed no desire to retain either one. Considering the numbers both produced in 2008, it wasn't an easy task to replace them. Xavier Nady was in the fold, though, presumably ready to man right. In a buy-low move to fill first base, Brian Cashman traded Wilson Betemit, Jeff Marquez, and Jhonny Nunez for Nick Swisher and Kanekoa Texeira. He later acquired Mark Teixeira to play first base, rendering Swisher's role unknown. After Nady tore his UCL, though, Swisher slid right into Abreu's spot.
Swisher relished his new job, posting a .375 wOBA, the highest mark of his career. Always a patient hitter, he actually increased his walk rate in 2009 to 16 percent, also the highest of his career. Power came in abundance, too, as his .249 ISO was, again, the best mark of his career. This, combined with league average defense, produced 3.6 WAR, which is 4.2 higher than the sum of Betemit, Marquez, and Nunez (Betemit produced -0.6 WAR before his release). Marquez notably fumbled the season. It's hard to imagine him pitching worse than the 9.85 ERA he produced in 2009.
There's still time for the White Sox to see more from this trade, but it's doubtful that they ever make up the 4.2 WAR difference from the first season, let alone keep up with Swisher's pace. Marquez was never projected as a top of the rotation starter. If he's lucky he'll spend a few years in a major league team's bullpen. Nunez could get another shot with the Sox, but again, it would take an enormous breakout for him to get within a few wins of Swisher's eventual WAR total with the Yanks.
2. Bobby Abreu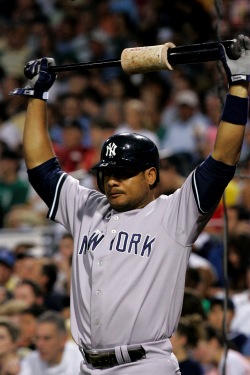 The 2006 season was not an easy one for Yankees' outfielders. On April 29 Gary Sheffield collided with Shea Hillenbrand at first base. He picked up two RBI on the play, but also had to leave the game. The issue was with his forearm, but after he tried to return in early May it was clear he'd need at least a long rehab period, and possibly surgery, to correct the problem. Then, just two weeks later, Hideki Matsui broke his wrist while sliding to make a catch in the outfield. There was a chance both would miss the rest of the season.
The injuries forced the Yankees to call up Melky Cabrera, who looked lost during his cup of coffee in July 2005. He started off the season hot as can be in Columbus, hitting .385/.430/.566 through his first 135 PA. With the injuries and few bodies to fill the outfield — the Johnny Damon signing loomed large here — Melky was the obvious choice. He and Bernie Williams would have to bear the load. They did it pretty well, but the Yanks still could have used some help. Thankfully, Brian Cashman was on the case.
For some reason, the folks in Philadelphia just did not like Bobby Abreu. Even though he'd played in at least 152 games in each of his first seven seasons with the club, and even though he'd posted a .415 OBP and .522 SLG in that span, they still did not warm to him. He had an expensive contract and the Phillies just weren't contending that year. Heading into July they were 36-43, 11 games back of the first-place Mets. Rumors swirled all month that they desired to trade Abreu, and the Yankees, with two outfielders on the DL, were often connected. Those rumors, though, involved the Phillies demanding Phil Hughes in return.
The team's tune changed later in the month, and eventually they traded Abreu to the Yankees for three prospects – including their 2005 No. 1 draft pick – and a lefty reliever. The trade, obviously, was all Yankees. The No. 1 pick and the lefty reliever, C.J. Henry and Matt Smith, are no longer playing for any system. One prospect, Carlos Monasterios, continues to dawdle in the low minors. The only promise the Phillies have from that trade is Jesus Sanchez, who converted to the mound last season. He performed well, and with some improvement he might be a salvageable prospect.
Still, the Yanks clearly won here, with Abreu producing 5.8 WAR over his 2.5 seasons in pinstripes. Corey Lidle takes that number down a bit, as he was worth -0.2 WAR during his half season. Matt Smith, the only player to appear in the majors for the Phillies, produced 0.3 WAR in 2006, followed by -0.3 in 2007. If Sanchez can come up and produce that might change the outlook on this trade. As it stands, though, Cashman pulled nearly six wins out of thin air.
1. Alex Rodriguez
When I first came up with the idea for this post, I thought Abreu would be the one. After looking through Cashman's trade history, it appears that many of his best trades were for the short-term — David Justice stands out. The Abreu trade, to my mind, seemed the most one-sided. But then I saw the A-Rod trade and thought that it was worth examining. As it turns out, it was the most lopsided deal he ever made.
We all know the story. In the winter of 2004, after he had sent the Yankees to the World Series with an 11th inning walk-off home run off Tim Wakefiled, Aaron Boone tore his ACL playing basketball. Since his contract expressly prohibited that type of activity, the Yankees voided the deal. That left an opening at third base. The Yankees traded a minor leaguer to Texas for Mike Lamb, who had spent most of his time in 2003 demolishing AAA after hitting at about league average over the previous two seasons. The Yankees, though, probably wanted a bit more certainty from the position.
Then, about 10 days after acquiring Lamb, the Yankees worked a deal with Texas to acquire Alex Rodriguez. Most of us have stories of where we were and who we were with when we heard the news. It was a pretty big event in recent Yankees history, not only for who the Yankees acquired, but whom they traded. In exchange for the best player in baseball, the Yankees sent Alfonso Soriano to Texas. This might have made the deal seem a bit less palatable. It was not, though.
At the time of the trade Soriano had three years left of team control. He had produced tremendously for the Yankees in 2003, a 4.8 WAR. Yet the Yankees added nearly two wins over 2003 with A-Rod's acquisition, as he produced 6.7 WAR in 2004. Soriano dropped precipitously, though, producing just 1.8 WAR that season. Over the next two he added another 7.5 WAR before hitting free agency, bringing his total to 9.3. A-Rod's contract technically ran through 2010, but had the opt-out clause after 2007. For the period the Yankees controlled him, he produced 30.1 WAR. The difference, 20.8 WAR, represents an enormously lopsided deal.
On all three of these deals the Yankees came out tremendously ahead. In the first two the other teams had little or nothing to speak of. In the last, the player received vastly outproduced the player sent. It's kind of crazy that A-Rod's deal was the most lopsided, considering the Yankees sent a productive player in exchange for him. But, as his 30.1 WAR indicates, he's just that good.
Photo credits: Swisher — Steve Nesius/AP, Abreu and Rodriguez — Gene J. Puskar/AP