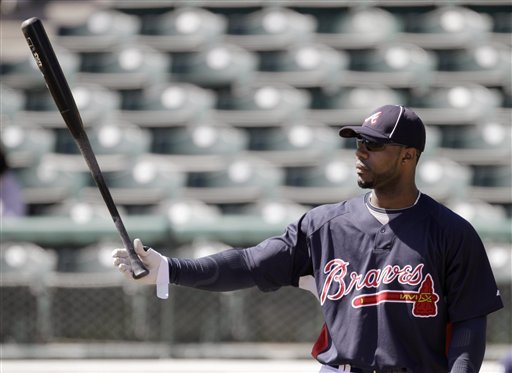 Aside from the general joy of watching baseball, there's usually not much to get excited about when watching Spring Training games. Great pitching matchups last all of two innings, and by time a hot shot prospect enters the game, all the regulars are gone. But every so often something will come along that's worth getting excited for, and tonight is one of those nights. Hitting third for the Braves tonight is the best prospect in baseball, rightfield Jason Heyward.
The 20-year-old is hitting .429-.619-.786 in seven spring games so far, and he did this just two days ago. He's a lefthanded version of Jesus Montero at the plate, except with a better eye. Old buddy Melky Cabrera didn't make the trip over, which is a shame. Either way, should be fun to watch Heyward's handful of plate appearances.
Here's the lineup…
Winn, DH
Swisher, RF
Teixeira, 1B
A-Rod, 3B
Posada, C
Thames, LF
Hoffmann, CF
Pena, SS
Corona, 2B
Scheduled Pitchers: A.J. Burnett, and some other guys
Derek Jeter was in the original lineup, but he came down with the flu. First pitch has already been push back to 7:30pm ET because of the weather, but yo can watch on either YES or MLB Network once it gets underway. Until then, got ahead and open thread this sucker.
Update (7:48pm): The game has been canceled.
Photo Credit: Rob Carr, AP