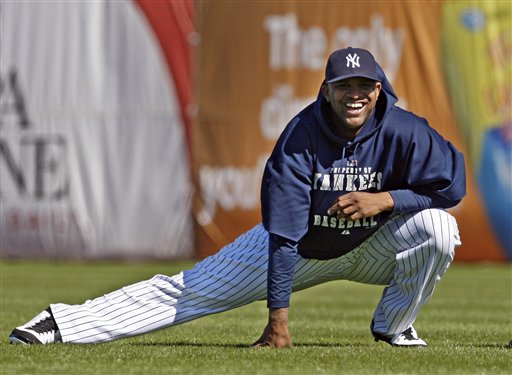 On two occasions last season, CC Sabathia handed the ball directly off to Mariano Rivera for a Yankee win, and he did it one more time in the postseason. He'll do so again today, but under much different circumstances. Sabathia will be making his fourth start of the spring, and he'll be relieved by Mo, who will be making his second appearance. You'll see teams bring their closers into the early innings of exhibition games to make sure they face big leaguers and not Double-A fodder.
A few old friends will be coming to town today, as Austin Jackson is leading off for the Tigers and a Phil Coke's mullet is scheduled to come out of the pen. Lefty prospect Andy Oliver is also scheduled to pitch for Detroit; I wrote about him for the 2009 draft, and he's the guy who got the NCAA's panties in a bundle by having the common sense to use an agent to negotiate a seven-figure contract on his behalf. The nerve.
Here's the lineup…
Jeter, SS
Johnson, DH
Teixeira, 1B
A-Rod, 3B
Cano, 2B
Thames, LF
Hoffmann, CF
Cervelli, C
Golson, RF
Scheduled Pitchers: CC Sabathia, Mariano Rivera, Jon Albaladejo, Ryan Pope, Eric Wordekemper, and Royce Ring.
Also scheduled to play: Eduardo Nunez, P.J. Pilittere, Mike Rivera, Kevin Russo, Jorge Vasquez, Jon Weber, and David Winfree.
First pitch is scheduled for 1:05pm ET, and can be seen on YES. In case you didn't already know, the Yankees play another split squad game tonight, and that one will be on TV as well thanks to MLB Network lifting the blackout. We'll have another game thread later on.
After the jump, today's game chat. Come join in.
Photo Credit: Kathy Willens, AP