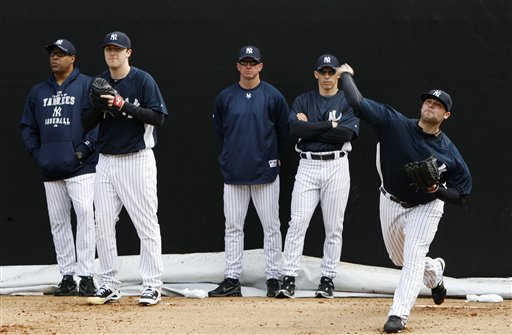 Photo Credit: Kathy Willens, AP
Two games, two walk-offs so far for the Yankees. Of course, they were on the wrong end of it yesterday, losing to the Roy Halladay and the Phillies. If people in Philadelphia want to consider that revenge for the World Series, then be my guest. Whatever helps you sleep at night.
The battle for the fifth starter's spot will resume today after Chad Gaudin, Sergio Mitre, and Al Aceves stated their case on Wednesday. Phil Hughes will start this afternoon and toss two innings before giving way to Joba Chamberlain and his two innings. Next time out, Joba will start and Hughes will relieve. Apparently they're just going to alternate each time out.
Here's today's starting nine, which isn't far off from what we'll see on Opening Day…
Jeter, SS
Granderson, CF
Teixeira, 1B
A-Rod, 3B
Posada, DH
Thames, LF
Cano, 2B
Swisher, RF
Cervelli, C
Scheduled Pitchers: Phil Hughes, Joba Chamberlain, Jeremy Bleich, Grant Duff, Dustin Moseley, Hector Noesi, David Robertson, Kevin Whelan
Also scheduled to play: Reegie Corona, Greg Golson, Reid Gorecki, Juan Miranda, Jesus Montero, Eduardo Nunez, Kevin Russo, Jorge Vazquez, Jon Weber
First pitch is scheduled for 1:05pm ET, and you can watch on either YES or MLB Network. Also, make sure you join in on our live chat, which you can find after the jump.