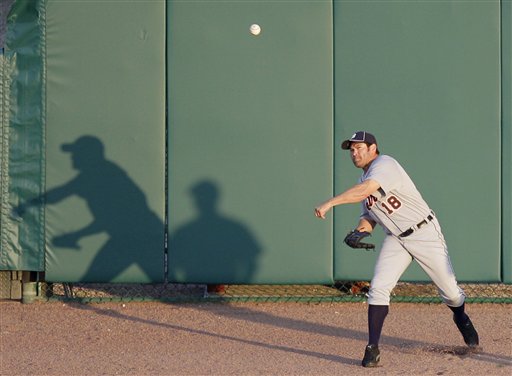 Johnny Damon is back in Tampa today, for what I believe is the first time since he signed with the Tigers. I'm sure that he'll get a nice round of applause when he comes to the plate as the second batter of the first inning, which about sums up the excitement of an otherwise meaningless Sunday afternoon game in March.
Detroit brought the heat today; their scheduled pitchers include Justin Verlander, Joel Zumaya, and Jose Valverde. Phil Coke's mullet is on the travel roster as well. Here's the lineup that'll have to deal with that nonsense…
Jeter, SS
Johnson, 1B
Posada, C
A-Rod, 3B
Cano, 2B
Swisher, RF
Granderson, CF
Winn, LF
Cervelli, DH
Scheduled Pitchers: A.J. Burnett, Mariano Rivera, and Phil Hughes. Zack Segovia, Amaury Sanit, and Josh Schmidt are also available if needed.
Also scheduled to play: Reegie Corona, Greg Golson, Brandon Laird, Juan Miranda, Ramiro Pena, Austin Romine, Jon Weber, and David Winfree.
First pitch is scheduled to 1pm ET, and the game can be seen on YES. The weather in Tampa isn't great, so there's a chance of a rain delay or a straight up cancellation of this one. I hope not.
Update: So much for that, the game's been cancelled. I guess go ahead and treat this sucker as open thread.
Photo Credit: Charlie Riedel, AP