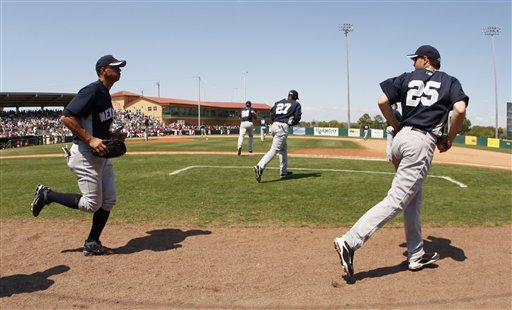 For what feels like the tenth time this spring, the Yankees will take on the same team they beat in the World Series last year, the Phillies. With the pitching all messed up because of yesterday's rain out, a bunch of guys already threw an intrasquad game back in Tampa. A.J. Burnett will start against the defending NL Champs, and he'll be relieved by fifth starter candidate Phil Hughes. Both guys should be good for 75-80 pitches this time around, so chances are they'll handle today all by themselves.
Here's the lineup…
Gardner, LF
Granderson, CF
Teixeira, 1B
Swisher, RF
Cervelli, C
Pena, SS
Russo, 3B
Nunez, 2B
Pitcher's Spot
Scheduled Pitchers: A.J. Burnett and Phil Hughes. Not sure who else is available if needed.
First pitch is scheduled for 1:05pm ET. Even though it's a road game, YES will have it for you. If you're out of market, you're in luck because ESPN will be broadcasting the game as well. Enjoy.
Photo Credit: Charlie Riedel, AP