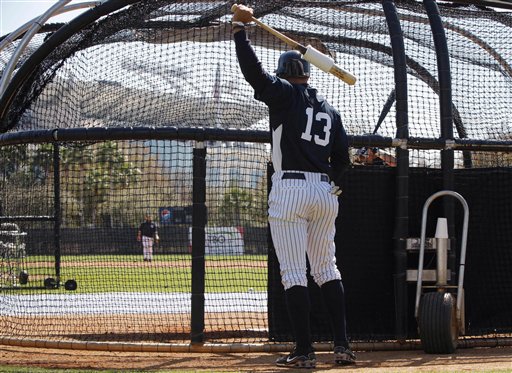 The last time we saw our beloved Bombers take the field, we watched them walk away with their 27th World Championship. Hard to believe that was less than four months ago, isn't it? Seems like an eternity.
The team has undergone some major changes since the wonderful night, waving goodbye to a few stalwarts while welcoming in both long-term cornerstones and short-term stopgaps. Despite that, the goal remains the same: to be the last team left standing when it's all said and done in November.  This game means nothing in grant scheme of things, everyone's just going to be shaking off some rust and trying not to hurt themselves, yet we'll live and die with each pitch anyway because we love our team.
The three long-shot candidates for the fifth starters' spot are all scheduled to take the mound, though only to start an inning. If one of them can't finish off a frame, a throw-away reliever will be brought in to clean up the mess before the next guy comes in. Here's today's lineup, at least for the first few innings, anyway…
Derek Jeter, SS
Curtis Granderson, CF
Mark Teixeira, 1B
A-Rod, 3B
Marcus Thames, DH
Jamie Hoffmann, RF
Brett Gardner, LF
Frankie Cervelli, C
Ramiro Pena, 2B
Scheduled Pitchers: Chad Gaudin, Sergio Mitre, Al Aceves, Jon Albaladejo, Wilkins Arias, Jason Hirsh, Royce Ring, Amaury Sanit, Zach Segovia
Among those slated to take the mound for the Pirates are former Yanks Ross Ohlendorf and Steven Jackson. First pitch is scheduled for 1:05pm ET, and you can watch on either YES or MLB Network. Enjoy the game.
Photo Credit: Kathy Willens, AP