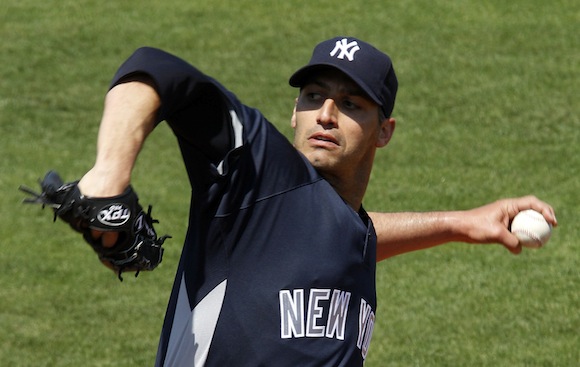 Andy Pettitte gets some work in during Spring Training. (AP Photo/Gene J. Puskar)
Since 1994, the New York Yankees have been the cream of baseball's crop. They reached the playoffs every year except one, won the AL East 11 times, captured seven AL titles and brought home the World Series trophy five times. Yet, throughout the years of success, the Yankees have not done a very good job of developing pitchers internally.
On Gene Michael's and Bob Watson's and Brian Cashman's various watches, the Yankees' system has mostly come up barren when it comes to arms. They brought along Mariano Rivera but nearly traded him before realizing what they had. His emergence is generally considered a fortuitous happening, and the Yankees can take some, but not all, credit for him. If George had his druthers, Mariano would have been elsewhere.
Beyond Mo, though, a handful of others made small impacts. Sterling Hitchcock bounced around the league for a bit but wasn't much more than a below-average left-hander. Ramiro Mendoza, an unsung hero from the late 1990s, served as the team's long reliever and spot starter with great success. Only Andy Pettitte has turned into something special.
Number 46 was also one of those Yankee pitchers who was nearly traded, but except for three years in the mid-2000s, Pettitte has been a pinstripe stalwart since 1995. Over 12 seasons with the Yanks, he is 192-109 with a 4.02 ERA and a 113 ERA+. In 40 post-season starts, he is 18-9 with a 3.90 ERA, and last year, Andy won the clinching games in the ALDS, ALCS and World Series.
Yet, Pettitte is no longer a young man. The 2010 season will be his age 38 year, and he is clearly feeling the call of retirement. He wants to spend more time with his family, and after spending a few years going through the "will he or won't he" dance of re-upping with the Yanks, he confidently returned for 2010. Still, this is shaping up to his informal swan song. If Andy Pettitte retires after this year, few will be surprised.
For the Yankees, then, Pettitte's looming departure underscores the need to find out what the team has in Joba Chamberlain and Phil Hughes. Right now, the only starters the Yanks have under contract for 2011 are A.J. Burnett and CC Sabathia. Burnett will be 34, and CC will be pitching in a potential opt-out year. The Yanks could open up the checkbook for a Josh Beckett or Cliff Lee type, but the team can't spend $80-$100 million on five starting pitchers.
So with Joba and Phil, as much as I don't like ultimatums, 2010 is the year to see what these two can do. Joba is off of his innings limit but seems to be losing the fifth starter race while Phil Hughes will be entering his second straight season in the majors after some injury-filled developmental years. It is important to remember, too, that Joba will turn 25 later this year and Phil Hughes will turn 24. We demand results now while forgetting their age.
What the Yankees are looking for is an internal low-cost solution, one that can replace Andy Pettitte and maybe another than can replace Javier Vazquez after this year. Can Joba or Phil be pitchers who are 3.5-5.5 wins above replacement? That's what Pettitte has done for the Yankees over his career, and it's not a reach to see either or both reaching that range. It is, of course, a matter of patience and a leap of faith for the team to stick with the pitchers, but as the Yanks try to get younger on the field and leaner in the wallet, those who replace Andy Pettitte could be linchpins for years to come.