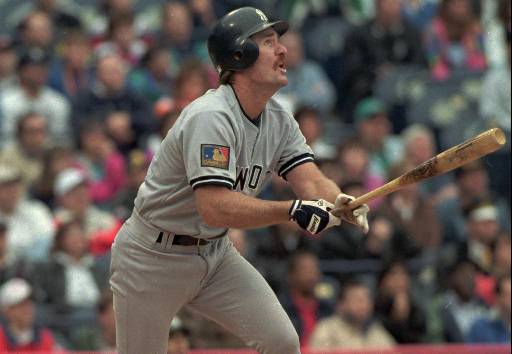 Even before Moneyball helped make the importance of on-base percentage mainstream, the Yankees were building their lineups around patient hitters that worked deep counts and saw a ton of pitches. The idea was to wear down the opposing starter as quickly as possible, then go to town on the inferior relief pitchers. Then-GM Gene Michael acquired players like Paul O'Neill and Wade Boggs in the early-90's for this very reason, for their ability to work the count and grind away during an at-bat.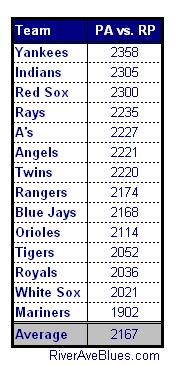 The Yanks' lineup is still very much designed this way, as GM Brian Cashman has imported patient hitters like Bobby Abreu, Nick Swisher and Nick Johnson in recent years. As a team, the Yankees hit .281-.352-.471 with a .365 wOBA against starting pitchers last season, but once the bullpen door opened, forget it. They hit .286-.377-.487 with a .374 wOBA against relievers in 2009, which essentially means the team turned into nine Victor Martinezes once the opposition's relief corps came into play. It also helped that they had more plate appearances against relief pitchers than any other American League team last year (table on the right), a function of wearing down the starters.
But last year's team is different than this year's team. Johnny Damon and Hideki Matsui will not be in the lineup, and to a lesser extent the same could be said about Melky Cabrera. They'll be replaced by Johnson, Curtis Granderson, and some mash-up of the Brett Gardner, Randy Winn, Marcus Thames, Jamie Hoffmann quartet. Damon and Matsui combined to see exactly four pitches per plate appearance in 2009, while Johnson and Granderson combined to see 4.42 pitches per plate appearance. The latter didn't have the same kind of lineup support either.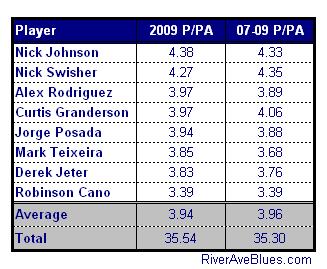 Looking at the chart to the left, the Yankees' eight projected regulars (not counting the unsettled LF situation) going into 2010 averaged just under four pitches seen per plate appearance last year, which quite frankly is a ton.  You're talking about more than 35 pitches thrown to just the first eight batters each time through the order. Depending on who's playing left on a given day, you could add another 3.75-4.00 pitches to that total. Now we're talking about close to 39 pitches seen each time through the order. Simple math tells us that on average, the other team's starting pitcher will have thrown about 117 pitches if he was lucky enough to make it through the order a third time
Seeing lots of pitches is nice, and it's important to remember that the whole point of seeing all those pitches is to tire the other team's starting pitcher. The more tired he is, the less effective and more prone to making mistakes he'll be. The sooner that happens, the quicker the bullpen has to join in on the action. There's a reason middle relievers are middle relievers, and that's because they aren't good enough to do anything else. Pounding away on the soft underbelly of the opposition has been the Yankees' M.O. since before most of us were born.
Yesterday's walk-off win in the exhibition opener reminded us just how wonderful the 2009 season was. You'll need two hands and a foot to count the number of walk-off wins they had, and a lot of that had to do with the Yankees ability to wear down opposing starters and get into the bullpen much sooner than the other team would like. As good as Damon and Matsui were for the Yankees, Granderson and Johnson are an even better fit for the lineup. I'm not saying they'll rip off 15 walk-off wins again, but I wouldn't be surprised if they improved upon last year's .295-.379-.511 batting line (.383 wOBA) and +116 run differential from the seventh inning on in 2010.
Photo Credit: Roberto Borea, AP