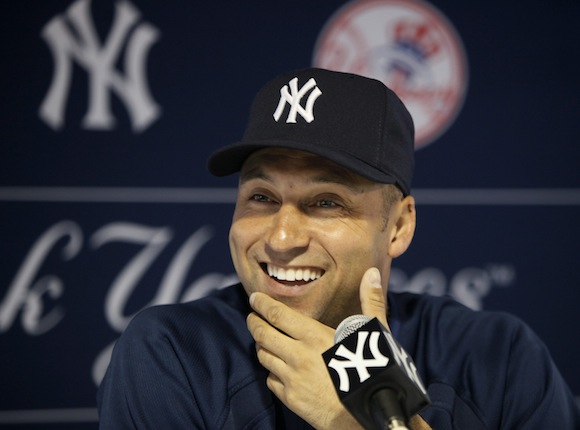 Derek Jeter is all smiles during his Spring Training press conference. (AP Photo/Kathy Willens)
When Derek Jeter signs his next contract, it will represent his last big payday. He might not retire at the end of the three- or four-year extension he'll sign with the Yankees in eight or nine months, but by the time 2015 rolls around, Derek will be 40 and playing on a year-to-year basis.
But what if the Yankees and Derek reach a different kind of agreement? In a Post column that makes serious use of a RAB meme, Kevin Kernan suggests that Jeter, who wants to be a part-owner of a baseball team one day, should be given an ownership stake in the Yankees and thus be a Yankee For Life®. The crux of Kernan's article rests on this concept that Jeter bleeds pinstripes and that he always should and always will. It's similar to false dichotomy between those who are True Yankees in the eyes of a judgmental media and those who are not.
If we wade through that argument, however, Kernan may have presented a solution to the Yanks' needs to retain Derek Jeter but not as a salary that ties up too much of the team's payroll on players who are fast approaching 40. Jeter, according to Kernan, told him that being an owner of a team is "definitely a goal of mine." Jeter has never mentioned the Yankees, and considering that he's building a massive mansion in Tampa, he could easily target a Florida team. But aren't the Yankees' team offices also based in part in Tampa? It almost makes too much sense.
In probing Jeter, Kernan got the usually taciturn captain to open up. Jeter wants to "get to call the shots," he says, and he wants to oversee a disciplined organization similar to the Yankees. After all, it's all he has known throughout his baseball career.
Those who know Derek can see the owner in him emerging. Team adviser Reggie Jackson has worked with Jeter for the better part of his career. "Jeter will be an owner one day," Jackson said to The Post. "That will happen. He wants to be an owner. I'm sure he knows enough people to help with money. He knows the path."
That path might be even easier than Jackson or Jeter think right now. If Jeter is intent on becoming an owner, the Yankees could figure out a way to include that in his next contract. Jeter may be a wealthy man. After all, he's in the last year of a deal that will pay him $189 million, and he earns a little bit less than $10 million a year in endorsements. But that still leaves him approximately $1 billion short if he wants to purchase the Yanks outright.
So what are the Yankees to do? In an ideal world, the team would be able to give him an ownership stake in his next deal. They could start to line him up for an adviser role with the team that includes a nice title and some real power and retains him within the organization. It would make him a Yankee for Life® indeed.
The Collective Bargaining Agreement has another take on the matter. Per the CBA and the Uniform Players Contract, Jeter is barred from having an ownership stake in the team. Term 4.(c) of the boilerplate cannot "own stock or have any financial interest in the ownership or earnings of any Major League Club" and will not, "while connected with any Major League Club, acquire or hold any such stock or interest except in accordance with Major League Rule 20(e)."
According to my research, there is a way that the Yanks could give Jeter some ownership stake. I don't have the full text of Rule 20, but sources indicate that a player may have an ownership stake with the express permission of the Commissioner and as long as that stake is sold if if the player leaves that team.
The Bombers might not be able give Derek an outright share in the team. But the team could work something out with Bud Selig or the two parties can work out something agreeable to both teams. After all, would we want to see Derek owning any other team?