As you've probably heard by now, the Nationals unexpected released Elijah Dukes yesterday morning, apparently after weeks of trying to off-load him in a trade. GM Mike Rizzo maintains that the move was strictly baseball related, however he also noted that shedding Dukes and his off-the-field issues will certainly benefit the team. "The clubhouse will be more united," Rizzo said. "We'll have a better feel around the ballclub. We'll gain just by that alone."
Clearly, Rizzo feels that having Dukes around had a negative impact on the team. It's no secret that he's a troubled person with a scary background that includes at least three arrests for battery, one for assault, and of course the infamous "You dead, dawg" incident. The Nationals went to great lengths to keep him in check after acquiring him from Tampa prior to the 2008 season, including hiring an ex-cop to the made up position of "Special Assistant: Player Concerns" to keep Dukes out of trouble by accompanying him wherever he went.
So after all that, why would I want the Yankees to sign him?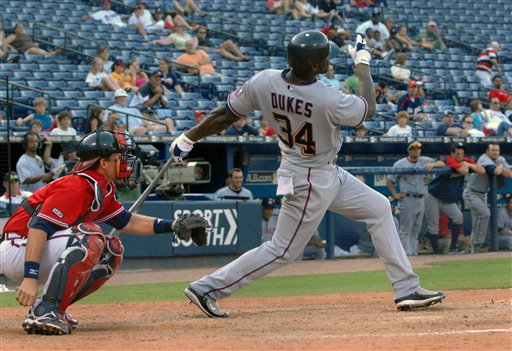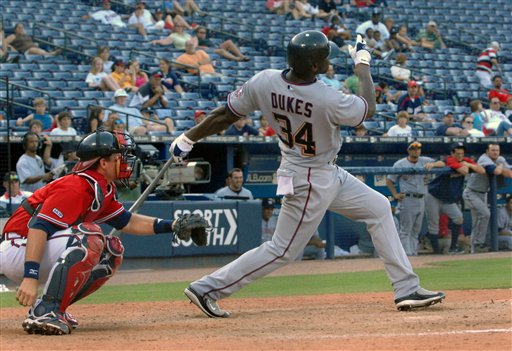 Right now, the Yanks have as good of a "clubhouse culture" as they've had in years, and while I can understand not wanting to poison that with a person like Dukes, I think this is exactly the kind of support system that could help him thrive. Joe Girardi and Jorge Posada provide the tough love, A.J. Burnett and Nick Swisher would allow him to loosen up and be himself, and even guys like Alex Rodriguez and Joba Chamberlain, who've had their fair share of off-the-field troubles, can help him relate. I hate to bring race into it, but CC Sabathia and Curtis Granderson are two African American guys widely considered to be class acts and great people, and I can't help but think they would be a positive influence on Dukes.
Of course, that's just me speculating. I know nothing about Dukes and his personality other than what we assume based on his troubles, and who knows how receptive the team would be to having someone like that round for six-plus months of the year. Darryl Strawberry and Doc Gooden came aboard in the mid-90's after their off-the-field problems, and while that was a different situation because they both had strong track records in the big leagues and problems that were self-destructive, they were welcomed because they could help them on the field. More recently, A-Rod and Jason Giambi went through the ringer and came out better for it.
Of course, none of this would be worth it if Dukes was unable to contribute something on the field better than what the Yankees already have in-house. He's a freak athlete that was a legit prospect at linebacker with NFL potential before deciding to try his hand at baseball out of high school, and that athleticism affords him tremendous bat speed and power potential. That power is evident in Duke's .180 IsoP in 970 big league plate appearances, which is on par with what notable mashers like Carlos Lee and Shin-Shoo Choo put up last year. He also has a selectively aggressive approach, meaning he's more than happy to work the count, but will jump all over something early in the count if he likes it. All of his offensive prowess was on display in 2008, when he put up a .382 wOBA and accumulated 2.8 WAR in just 81 games.
On the defensive side of the ball, Dukes is capable of manning all three outfield spots, though he doesn't have an much range as you'd expect from someone with his kind of athleticism. His arm is strong, but it's clear the majority of his value lies in his bat. Leg injuries have been a problem in recent years, as Dukes has missed a total of 108 days in the past two years with hamstring issues in both legs. Hopefully that's something that can be ironed out, or at least controlled, with a better conditioning program.
CHONE projects a .358 wOBA for Dukes in 2010, which is better than anything projected for Brett Gardner or Randy Winn. His projected 2.1 WAR is identical to Gardner's, though he's going to do it with his bat and Gardner will do it with his glove. If nothing else, he's a massive upgrade over Marcus Thames and/or Jamie Hoffmann as the fifth outfielder. With just two years of service time, Dukes was slated to make $440,000 before the Nationals cut him, and that's about what it'll take to sign him. He also has minor league options remaining, which always come in handy. And, on top of all this, it would be an extremely easy to move to back out of. If Dukes acts up at all, they can cut him and lose nothing but a few hundred grand.
The Yankees are not above giving second chances, and given the personnel in the clubhouse right now,  I think this would be the time to try to cash in on Dukes' talent. The Nationals are in a different place than the Yanks right now, which is why they parted ways with him. They're trying to change an entire culture of losing that's deeply entrenched within the franchise, and they felt getting rid of Dukes and his off the field issues were part of the process of changing that losing culture. His past is ugly, absolutely, but there's nothing that can be done about it now. If he's willing to put the work in, he could certainly help the Yankees. And the Yankees could certainly help him.
Photo Credit: Gregory Smith, AP