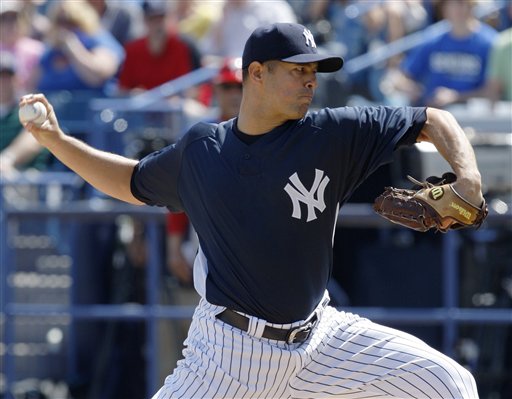 I don't know about you, but I couldn't help but laugh when Jimmy Rollins sent Javy Vazquez's first pitch of the exhibition season (his first pitch!) into the rightfield bleachers yesterday afternoon. "It was funny," joked Vazquez after the game. "I've faced the Phillies a lot and Jimmy likes swinging at the first pitch once in a while, but my first time out in spring training, he should give me a chance to let it go a little bit." The solo shot yesterday was like a gift from the confirmation bias gods, fueling the irrational hatred dwelling inside the lovers Javy scorned back in 2004. Of course, most realize that people change over time, especially when you're talking about a period of six years. The Javy Vazquez we watched give up that grand slam to Johnny Damon is not the Javy Vazquez that suited up for the Yankees yesterday.
One thing that caught my attention following the game yesterday was that Vazquez said that he used to be "a little stubborn" in his younger years, trying to be macho by blowing his fastball by hitters. Believe it or not, this is not something unique to Vazquez. He claimed that he's since changed his pitching style, steadily mixing in more offspeed pitches to keep hitters off balance. We saw some of those offspeed offerings at work yesterday, whether it was the changeup Chase Utley swung over or the bender Raul Ibanez watched drop in on the outer half.
Since we have the data at our disposal, I figured we should take a look at Javy's pitch selection from 2004, and compare it to his pitch selection from last year. This info is begging for a pie chart, so here it is (remember to click for a larger view)…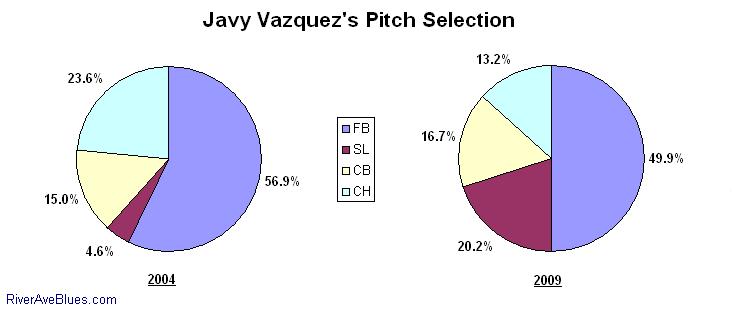 You can clearly see that Vazquez has scaled back his fastball usage, and is now throwing his three offspeed pitches at near equal parts. The slider went from being his most ignored pitch to his second most utilized in that five year stretch, and that same changeup that got Utley yesterday went from his second most used pitch to the least used. With a guy like Javy, who throws upwards of 3,300 pitches per year, we're talking about a difference of almost 230 fewer fastballs, 350 fewer changeups (think of that as ten fewer per start), and 520 more sliders (15 more per start) in a five year period (on average). Here's a look at the year-by-year change, so you can see this has been a slow and steady process spanning the better part of a decade.

The change in pitching pattern isn't just a superficial crutch, something the optimists among us are clinging to in hopes that Vazquez will actually pitch well this year. There's evidence that the change has benefited him, just take a look at the pitch values to the right. Those values are runs per 100 pitches thrown, so last season Javy's fastball was worth eight-tenths of a run above average for every 100 heaters he threw. As you can see, all four of Javy's pitches were above average last season, and the improvement since 2004 is considerable. At least seven-tenths of a run per 100 pitches, and on average it's closer to 1.70 runs across the board. Obviously not all of that improvement can be attributed to mixing up his pitches better, but it's certainly part of it.
Of course, don't let me fool you into thinking the Yankees are going to be getting the 2009 version of Vazquez. He had the luxury of feasting on National League lineups in a favorable ballpark during his one season in Atlanta, and he won't enjoy those comforts in the Bronx. The 2009 season was one of the three best of Javy's career in terms of WAR, and it's unreasonable to expect him to repeat that kind of season when he's less than five months away from his 34th birthday.
So on the surface, yeah, the Yankees did acquire the same Javy Vazquez in mid-December that they had in 2004. He's still from Puerto Rico, still throws with his right arm, all that jazz. But no, this is not the same pitcher the Yanks had back then. This version of Vazquez is much more refined, much better at setting up hitters, and as a result, must more effective. That homer by Rollins temporarily brought back some bad memories, but don't worry. Soon enough, you won't even be able to recognize the guy when he's on the mound, and I mean that in the best way possible.
Photo Credit: Kathy Willens, AP