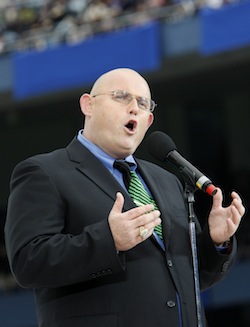 When last we heard from Ronan Tynan, Will Leitch had profiled the troubled singer. Exiled from Yankee Stadium this fall after his anti-Semitic remarks became public, Tynan has since seen his public bookings dry up and his persona grow diminished in the eyes of his former fans.
The Times today checked in on Tynan and found that the one-time Yankee celebrity is moving up to the land of the enemy. He has sold his Upper East Side apartment and will be decamping for Boston shortly. Writes Corey Kilgannon:
He insists he has not given up on New York — he will keep a rented apartment here. Nor is he angry at the city. He said he was moving mainly for a change and because he had family and friends in Boston.

When pressed, however, he admits that life here has become strained: the barrage of angry e-mail messages and letters; the death threats; the surgeon who wrote saying he would let him die on the operating table, if Mr. Tynan were his patient; the prominent chef who steered him away from a table of customers because one of them was a Jewish man who refused to meet the singer.

"It hasn't driven me out, because I love this city so much, but it has saddened me," Mr. Tynan said in an interview this week at a friend's apartment in Manhattan. "I've cried and I've laughed with New Yorkers, irrespective of creed or whether they're Jewish or Catholic or Protestant."
Tynan continues to claim that his remarks about the "Jewish ladies" were misconstrued and that he's not an anti-Semite because he sang at an Anti-Defamation League. His remarks, still, were out of line.
When the news of his departure to New England popped up in the press this week, one publication wondered if he would come sing for the Red Sox. Tynan refused to speculate, but considering Red Sox Nation's tolerance for anything Yankees, it's hard to see them accepting him.
Photo Credit: AP Photo/Mike Segar