At a position typically short on heavy hitters, Joe Mauer stands out. Over the past three seasons he has posted a .392 wOBA, the best among catchers. Jorge Posada comes pretty close with a .391 mark, but Mauer has about 500 more plate appearances over that span. Behind them, the list gets a bit thin. Only five catchers have produced over 10 WAR from 2007 through 2009 — Brian McCann, Russell Martin, and Victor Martinez in addition to Mauer and Posada. When a team finds a heavy hitting catcher, it is in their best interest to hold on tightly.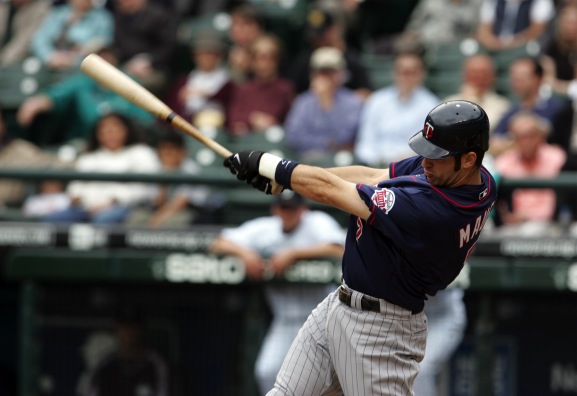 Photo credit: Kevin P. Casey/AP
This is why I still believe that the Twins will work out an extension with Mauer. There's just too much at stake for the team. If Mauer leaves, then what? They've already locked up the complementary talent, Denard Span for the next five years, Justin Morneau for the next four, and even Michael Cuddyer for the next two. What is the complementary talent, though, without the star? Furthermore, what better use for revenue generated from their new stadium? It seems all signs point to an extension.
Of course, just because the signs point one way doesn't mean it will happen. Anything can still happen at this point, and that includes Mauer hitting the free agent market this winter. If that's the case he'll command more than $100 million, and possibly get closer to $200 million. With numbers that large, it's clear that the big market teams will play the largest role in the bidding. Some are already connecting the two parties.
If Mauer does hit the free agent market, though, I don't expect the Yankees to outbid the Red Sox for him. They'll make a play, of course, but I don't expect them to use their resources that way. Yes, Mauer is one of the most valuable players in the game, but the Yankees have spent the past three or so years filing their farm system with catchers. After all that, why go and use an enormous portion of your resources to sign one in free agency?
As it stands, the Yankees have $144 million locked into the 2011 payroll before they work out contracts for Derek Jeter and Mariano Rivera. They'll also have arbitration cases for Joba Chamberlain and Phil Hughes. In other words, they could be near $185 million for just 13 players — and that doesn't include Javy Vazquez or Andy Pettitte. At that point they'd probably need at least one starting pitcher. Other needs could crop up during the season, including left field.
Yet at catcher the Yankees would have Jorge Posada under contract for one more season. They'd also have Jesus Montero with a year of AAA under his belt, and Austin Romine with a season of AA — and possibly with some AAA experience. Below them they feature a number of low-level catchers, too, including J.R. Murphy and Gary Sanchez. Signing Mauer to a six- or seven-year deal would render these developing players essentially useless to the organization. Wouldn't that render a waste the past few years of focus on catcher?
None of this downplays the immediate impact Mauer would have on the Yankees. As the second best catcher over the past three years heads into his sunset years, he would be replaced by the best. It would allow the Yankees to trade Montero for a pitcher, filling one of the rotation vacancies. It would also give them more time to let the other catchers develop, perhaps also using them as trade bait — or even as a oft-used backup in order to help limit Mauer's workload. For all these reasons, I'd never rule out the Yankees signing Mauer.
Rather than adding another nine-figure contract to the ledger, though, I think the Yankees will focus on pitching and left field, once again, next winter. They've put a lot into developing a next generation crop of catchers, so why would they make such an enormous outlay to sign one in free agency, when players are at their most expensive? Why not use that money to sign a player at a thinner position? That's what I think the Yankees will do. I'd love to see Mauer in pinstripes, but given the current structure of the organization it appears their money would be better spent elsewhere.