Yesterday we looked at some high school players that could interest the Yankees, so let's switch it up and go with college players today. In his five drafts as scouting director, Damon Oppenheimer has selected 192 college players and just 58 high schoolers, so a little more than three-fourths have come from the college ranks. Those 192 college players are broken down into 153 from a four-year schools and 39 from two-year junior colleges. Clearly, Oppenheimer favors guys who a little further along in their development.
Personal fave Brandon Workman has seen his stock take a hit not because he hasn't performed (2.89 ERA, 56-12 K/BB ratio in 62.1 IP), but because he hasn't sustained the mid-90's velocity and knockout breaking ball he flashed last season and in the Cape Cod League. He's still considered a top 50 draft prospect, but now he's more towards the back of that list. Here's four other players to keep an eye on…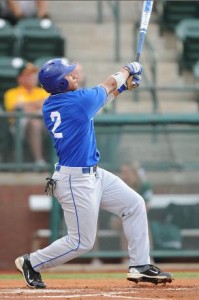 Michael Choice, OF, Texas-Arlington
One of those always fun late bloomers, Choice started the year as a 3rd-5th round kind of player, but he's slugging his way into first round consideration. He's hitting an absurd .395-.563-.758 with 12 homers and a 31-47 K/BB ratio in 124 at-bats, and he's running down everything in centerfield.
Choice has the tools to back up the performance, but he's already big at 6-foot-0, 215 lbs, so a move to a corner outfield spot is probably in the cards. He's big but athletic, so it's not like he's going to become a detriment defensively. Choice definitely takes advantage of the metal bat, which is what he should do, but with wood he's more likely to be a doubles machine than a homerun hitter. The Yankees are unlikely to have a chance to land him because Choice is a great candidate for the Tony Sanchez Plan; a high probability college player that could go early because he'll sign quickly for at-or-below slot money.
Bryan Morgado, LHP, Tennessee
The name might sound familiar, and that's because Morgado was a highly touted prospect for last year's draft that the White Sox were unable to sign in the third round. The draft eligible sophomore returned to Tennessee and has continued to same trend that has plagued him throughout his career: less than stellar stats (5.88 ERA, 60-28 K/BB ratio in 52 IP) but premium stuff.
Morgado's fastball sits in the low-90's but he's run it up as high as 97 in the past, and his power slider is a put-away pitch at times. In a way, he's very similar to Caleb Cotham, the Yanks' fifth rounder last season. Like Cotham, Morgado has a chance to start long-term, but more than likely he'll end up in the bullpen. A lefthander with that kind of stuff is more than a specialist, though not a first round pick. If he falls into the third round again, then you've got yourself good value.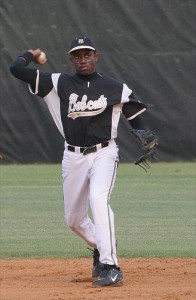 LeVon Washington, OF, Chipola JC (Fl.)
Like Morgado, the Washington was a highly touted prospect in last year's draft, but the Rays were unable to sign him out of high school as the 30th overall pick. By attending perennial junior college power Chipola, he's again eligible for this year's draft.
Washington has dealt with a wrist injury this season after a labrum issue in 2008 that basically sapped all of his arm strength. He's athletic enough to play centerfield on an every day basis, but we're talking about a Johnny Damon/Bernie Williams kind of arm. His swing is good and the ball comes off his bat well, so Washington can definitely hit, and his foot speed gives him the potential to be an exciting power-speed guy down the road. He's still pretty raw, so whoever drafts him is going to have to be patient.
Again like Morgado, he's unlikely to be a first round pick. The second or third round is much more likely, though he'd be wise to sign since his stock has dropped slightly since last year because of the injury troubles. Tampa Bay's scouting and player development program is as good as it gets, so if they were willing to take Washington in the first round, that tells us there's some serious potential here.
Austin Wates, 1B/OF, Virginia Tech
Wates is one of the most intriguing players in this entire draft class. He's hitting .412-.500-.632 with 12 doubles and 13 steals in 14 attempts, but what makes him so interesting is that he's athletic enough to handle centerfield, which he's done on the Cape. For now, his coach has him playing first because he claims Wates is the team's best defensive player at the position. That doesn't make one bit of sense, but it is what it is.
More of a gap-to-gap line drive hitter, Wates' game offers a lot of patience and a lot of speed. He's one of the best baserunners in the class, and he's got more than enough bat to keep pitchers honest. Whoever drafts Wates will (should) immediately stick him in center, but even if he can't hack it there he should be able to handle right, which is still a more valuable position than first base. If he was playing center everyday, he'd be a surefire first round pick, but because he's stuck at first he's sliding down draft boards. The talent is there, it's just not being showcased properly.