Back before MLB tried to increase interest and monetize it's amateur draft (there's nothing wrong with that), the event lasted just two days, with rounds 1-10 coming on the first day. Now it's spread out over three days, with the first three rounds on the first day, the next 17 the next day, and the final 30 on the third day. Now when you call a player a "Day One" or "Day Two" talent, it's much easier to pin down what exactly we have on our hands.
The Yankees have done a nice job of grabbing some very talented high school arms in the so-called middle rounds of the draft (a.k.a. Day Two) in recent years. Bryan Mitchell (16th round, 2009) highlights that crop, but it also includes Brett Marshall (6th, 2008) and Dellin Betances (8th, 2006). Obviously none of those guys have yet to pay dividends, but the chances they develop into impact big leaguers far exceeds that of a player normally drafted in those rounds.
Here's a breakdown of some similar high school arms guys who are expected to come off the board in Day Two …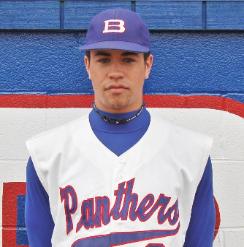 Taylor Morton, RHP, Bartlett HS (Tenn.)
Morton made a bit of a name for himself during last summer's Tournament of Stars showcase event by striking out Bryce Harper, but he was an interesting prospect long before that garnered him some attention. Listed at a sturdy 6-foot-2, 190 lbs, Morton sits in the low-90's with his fastball and has dialed it up as high as 95 on occasion, and there's reason to believe he'll add more velocity as he fills out. Unlike most high schoolers, his best secondary pitch is circle change that comes in around the high-70's and fades away from lefties, and he also offers a loopy low-70's curveball that he'll need to tightened up.
Morton's strength is his strong command, which stems from his athleticism and ability to repeat a sound delivery. He's unique considering that most prep pitchers have nothing that resembles a changeup when they turn pro, so that hurdle has already been cleared. Given the Yanks historical success with teaching their prospects curveballs, there's hope for his third pitch. Committed to Tennessee, Morton is expected to hear his named called somewhere in the 5th or 6th round.
Daryl Norris, RHP, Fairhope HS (Alabama)
Similar to Brett Marshall, Norris has spent most of his high school career as a shortstop and really didn't commit to pitching full-time until late in his prep career. He can definitely hit – he launched 13 homers as a junior – but his future is on the mound thanks to a fastball that is buzzing in at 94 this spring and a pair of solid secondary offerings. Both his low-80's slurve and low-80's changeup need work, but Norris has demonstrated the ability to spin the ball and should improve with more experience.
One of the best quarterbacks in Alabama throughout his high school career, the 6-foot-1, 210 lb Norris is an outstanding athlete and one of the top two-way recruits in the country. He's committed to Mississippi State, where he'll play the field and pitch but not venture out onto the football field, and is considered one of the tougher signs out there this year. The biggest downside is that there's no projection left in Norris' frame, so what you see if what you're going to get. He's a 6th to 8th round kind of talent.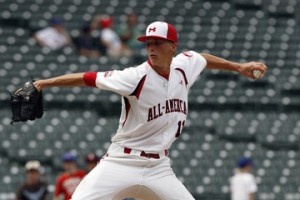 Evan Rutckyj, LHP, St. Joseph's HS (Ontario) (video)
First of all, it's pronounced Root-skee. Secondly, along with fellow lefty Evan Grills of Sinclair HS in Ontario, Rutckyj is arguably the best Canadian pitching prospect available in this draft. Listed at 6-foot-5 and 190 lbs, he brings a 89-90 mph fastball that should gain another foot or so and he fills out and irons out his rough delivery. He also throws a wipeout slider from his low three-quarters arm slot, but his changeup is non-existent at this point.
Like most hosers, Rutckyj is also a hockey player, but he gave it up recently to focus on baseball, where he has more pro potential. There's considerable upside here given his massive frame and easy velocity, but he's a project that is going to require a lot of time and a lot of patience. Rutckyj has yet to commit to a college yet, which could mean that he's eying a JuCo like Jake Eliopoulos, the top Canadian lefty in last year's class, who declined to sign with the Blue Jays as a second round pick and headed to Chipola College in Florida. Rutckyj is expected to be a 6th or 7th rounder this June.
Andrew Smith, RHP, Roswell HS (Georgia)
Smith is an easy guy to notice on the baseball field because he's very polished for a high schooler, and because he pitches with a confidence that borders on arrogance. Working primarily with a fastball that registers 89-91 and has touched 93, Smith pounds the zone relentless and works deep into games. He high-70's curveball is solid but not overwhelming, and he has the makings a nice changeup. The delivery has a little funk to it, something that pro instruction will help clean up.
I've generally seen Smith ranked in the 6th to 8th round range, but the scouting report strikes me as someone a little better than that. I love the polish and the the aggressiveness, and you can dream on his 6-foot-2, 180 lb frame. Committed to a major program in UNC, Smith isn't going to be an easy sign.