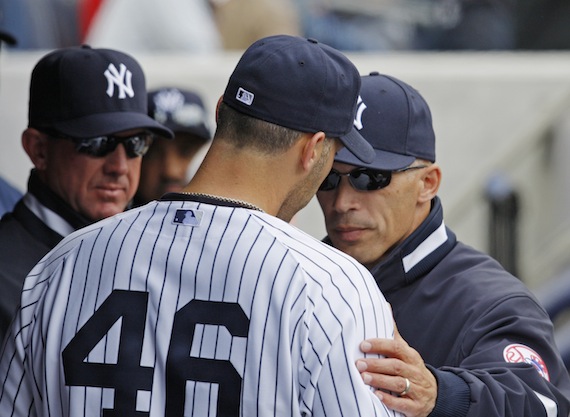 As Andy Pettitte worked into the 8th inning on Sunday afternoon against the Rangers, his pitch count started to creep up toward the century mark, and Michael Kay and John Flaherty turned their attention to Joe Girardi's decision to keep Pettitte in the game. From pitch 96 through 107 — the last Pettitte would throw — Kay and Flaherty continued to mention the pitch count.
After striking out Michael Young, Pettitte had thrown 104 pitches, and Josh Hamilton, a lefty, came to the plate. Three pitches later, Pettitte had retired Hamilton on a foul pop, and after 107 pitches, his day was done. That century mark, though, had been a big moment for Pettitte. In his two previous starts, he had thrown 94 pitches and then 100, but this time, Girardi unleashed him.
During the pitch count discussion, Kay mentioned a conversation he had with Girardi following A.J. Burnett's start. When Burnett's pitch count started to creep up, the guys in the booth again wondered when Girardi would turn to his bullpen, and that time, Girardi allowed Burnett to throw 111 pitches. He had previously thrown 92 and 94 in his two starts. Girardi said he wanted to get his starters stretched out, and in both games, the Yanks had leads large enough to allow the team some leeway. Pettitte could throw 107 pitches without endangering the lead; Burnett could toss 111 low-stress pitches to build up arm strength. It was, in a sense, an extension of Spring Training.
Yet what struck me most was how rigidly Kay and Flaherty were adhering to the 100-pitch mark. It seemed as though the team just had to remove their starters after 100 pitches because of some magically point in the game when the hurlers tire. Should we care that much though about 100 pitches?
In a recent piece on how teams on a budget should treat their cost-controlled arms, R.J. Anderson mused on pitch counts over at Maddon's Mission. He discussed the Rangers' approach toward pitch count. The Rangers, he said, are "implementing better conditioning with the ideology that pitch counts won't matter because their pitchers will be more able to survive higher workloads." Why, he wondered, do we care about the round number of 100 pitches?
For young pitchers, the prevailing philosophy seems to be go hard or go easy but ne'er the twain shall meet. Work your kids until they can't throw anymore and get the most of their cost-controlled years — see, for example, Mark Mulder, Tim Hudson, Barry Zito — or keep their pitch counts under the microscope — see, for example, Joba Chamberlain. But what of the old guys? The Yanks could do well to let them push the envelope.
Last year, Joe Girardi allowed his pitchers to exceed 100 pitches 78 times. Opposing batters hit .237/.332/.316 in those 208 plate appearances. It's a small sample size but not one that indicates we should be too worried when a starter reaches the century mark. In fact, in the AL as a whole, pitchers threw more than 100 pitches 978 times last year, and opponents hit .258/.335/.399. That's an sOPS+ of 106, indicating that pitchers who exceeded 100 pitches generally performed better at that point in the game than pitchers overall had earlier. On the surface, that makes sense because if a pitcher is still in at that point, clearly, he's throwing well.
So far this year, the Yanks have put together a solid bullpen and a nice run of starts from their rotation. Last year, CC Sabathia led the way with 25 starts of more than 100 pitches, and A.J. and Andy threw 23 and 22 respectively. The team can push the envelope, and their starting horses are in good enough pitching shape to go more than 100 pitches every five days. Until the results say otherwise, let them throw.
Photo Credit: AP Photo/Kathy Willens