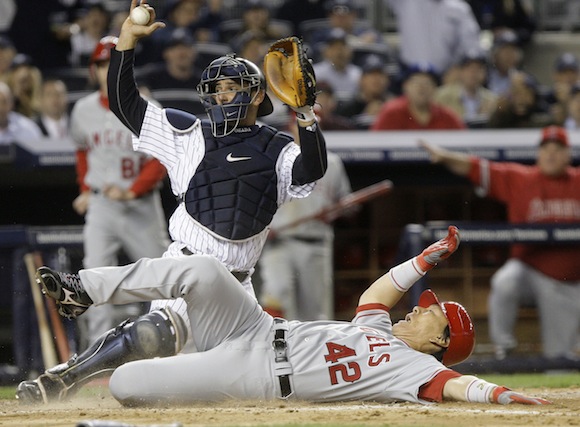 If I told you that the Yanks would start the season going 6-3 against the Red Sox, Rays and Angels – three teams considered to be among the AL's top contenders this year – would you have believed me? The Yanks currently lead the AL in runs scored and have allowed fewer runs than any of their AL East opponents. The franchise hasn't seen a start this good since 2003 when the Yanks went 8-1 over their first nine contests, and everyone is feeling pretty good about things.
At the risk of reading too much into the results from just nine games, there is one stat though that leaps out at me as problematic. Yankee backstops have caught just one of the 13 runners who have attempted to steal against them. Jorge Posada, the Yanks' offensive-minded catcher, has allowed 10 of 11 runners to take a base while Francisco Cervelli, the defensive back-up, allowed both runners to steal against him on Saturday. Although some of the fault lies with the team's pitchers, only the hapless Orioles, who have allowed 14 of 15 runners to steal, have a worse mark in the early going.
Generally speaking, these stolen bases haven't had a tremendous impact on the Yanks' win chances yet. For example, whereas Dave Roberts' infamous stolen base increased Boston's win expectancy from 37 percent to 47 percent, last night's Erick Aybar steal dropped New York's win expectancy from 53.1 percent to 52.1 percent. With two outs in the third, it was hardly a game-changer.
Take a look at each of the stolen bases so far the Yanks have allowed this season, and their corresponding win probability added values. Even with Jacoby Ellsbury's stolen bases and an error on the same play that allowed him to move to third, the Yanks have lost just 0.155 WPA points – or 15.5 percent of a win – by catching just one out of 13 base stealers. A few more runners gunned out will easily negate that positive advantage.
[TABLE=61]
My fears for the season though aren't in the potential for a single stolen base to be a game-changer. Rather, it is in the sheer number of stolen bases the Yanks may allow. So far, Jorge Posada hasn't shown much on his arm this year, and we can't be too surprised. He's 38 – two years removed from shoulder surgery – and has always been an offensive force first and a defensive catcher second. His current 1.147 OPS makes it easy to forget about his defense.
Yet, right now, any time a player with a modicum of speed reaches first base, Posada will be tested. Other than Andy Pettitte, Yankee pitchers aren't adept at holding runners on, and Posada's arm will only encourage opposing managers to run. While it's unsurprising to see Ellsbury, Barlett and Crawford attempt steals, Adrian Beltre ran only 15 times in 2009. He's a player who will test Posada this year.
The Yanks know their limitations. Joe Girardi will try to get Cervelli into as many games as he can over the course of the season both for defensive purposes and to keep Jorge fresh. Additionally, it's far too early in the season for us to make major pronouncements on the team's deficiencies, but as the season gets older, keep an eye on those stolen bases. One or two may end up coming back to haunt the Yanks yet.