After two impressive starts to begin his season, Phil Hughes struggled a bit last night. He struggled with control, often missing high in the zone and way off the plate. This led to not only four walks, but also just two strikeouts. It's tough to get guys to swing and miss when you're missing the zone so often. Despite his woes, he still pitched pretty well, allowing just one run in 5.2 innings. Only six Orioles reached base safely during that span. The bullpen, however, could not finish the job, and the Yanks dropped the series opener 5-4.
Biggest Hit: Posada puts the Yanks on top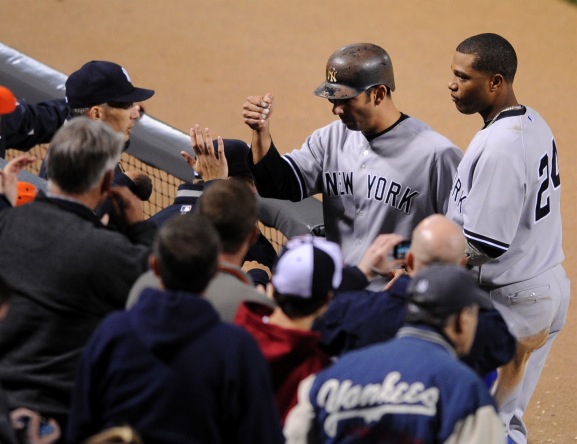 After loading the bases in the third inning it looked like the Yanks might finally break open the game. Posada got things started in the fourth. After fouling off an outside fastball for strike one, he got one right down Broadway and hit it out to Eutaw. That gave the Yanks their first lead of the game, and with none out in the fourth it looked like they might start rolling. That, of course, did not happen.
Kevin Millwood got Curtis Granderson to ground out, and then got Nick Swisher and Randy Winn to both pop out on off-speed pitches. After a scoreless fifth inning Millwood again ran into trouble in the sixth, but we'll get to that in just a moment.
Biggest Pitch: The other Hughes ties it
Through five innings Phil Hughes had thrown 101 pitches. This season Joe Girardi has shown a willingness to let his starters go further, but since Hughes had accumulated those pitches in a pretty short span, I was surprised to see him come out for the sixth. He answered the call, retiring Matt Wieters and Miguel Tejada to start the inning. That fit perfectly with the plan. The next step: bring in the lefty Boone Logan to face the lefty Luke Scott.
In his career Scott has performed worse against lefties than against righties, but he still hits lefties reasonably well (.339 wOBA). With Hughes's night clearly over, Girardi was certainly going with the lefty, and Logan has been the hot hand in his short stay. The at-bat didn't start well, as Logan missed with a fastball high and then a fastball away. He battled back, but on the 3-2 pith missed with a slider low. Girardi then went to David Robertson, who hit Ty Wigginton on an 0-2 count, moving the tying run into scoring position.
Robertson worked his first two pitches low and away to Rhyne Hughes, the Orioles recently recalled first baseman, but he got around on the second one, lining it to left for the game-tying single. I'm actually impressed that Hughes did what he did there. The pitch was a 93 mph fastball low and away. To pull it, and pull it on a line, is no small feat. Hughes should get plenty of credit for that one.
One batter later Nolan Reimold smacked a 2-2 curveball down the third base line to give the Orioles a lead they would not relinquish. As on the decisive pitches to Hughes, I didn't think the ultimate pitch to Reimold was all that bad. The curveball touched the bottom of the zone, but Reimold, a good hitter, just got a good piece of it. Then again, the 0-2 HBP was completely his fault.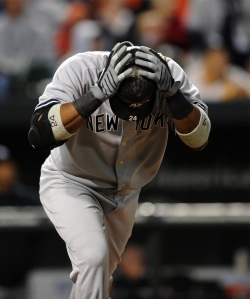 Heartbreaker with the bases loaded
The third inning looked like a triumphant one. Nick Swisher opened the frame by singling on an 0-2 curveball and Randy Winn followed with his first hit of the season. Jeter didn't do his part, nearly grounding into a double play, but Rhyne Hughes didn't make the play cleanly and could only get the out at first. The Yanks then caught a break when Miguel Tejada misplayed a sharp grounder by Gardner, which allowed Swisher to score. The game was tied at one.
After a walk to Mark Teixeira the Yankees had bases loaded, one out for their Nos. 4 and 5 hitters. With the way both A-Rod and Cano have been hitting they figured to get at least a run. A-Rod fouled off the first four pitches of the at-bat before smoking an inside fastball that went right into Tejada's glove. Cano then got a waist-high changeup on a 2-1 count, but he just missed it. Had his bat made contact with the ball a fraction of an inch higher, that ball would have been warehouse-bound. Instead it arced into the mitt of Nick Markakis, thus ending the threat.
It was the Yanks best chance to break open the game. They came close, but I could name you more than one cliche about close not counting.
Baserunning blunders abound
Losses happen. In fact, chances are the Yanks will lose a ton more games this season. That's why they play so many of them. One loss, even to the Orioles, never strikes me as particularly frustrating. What does frustrate me is when the team plays sloppily. When that sloppiness occurs all in one inning, it's even more nerve wracking.
Robinson Cano is not a base stealer. He has been caught more times, 22, than he has reached safely, 19. There is just no reason to send him anymore, unless it's the vaunted Tim Wakefield-Victor Martinez battery. Yet on the first pitch he was off. In his defense, it took a perfect throw to get him. Still, I don't get the logic in ever sending Cano. Why risk the base runner when he's made an out in more than half of his attempts.
Posada then drew a six-pitch walk, which drove Millwood from the game with one out in the sixth. With the way the Orioles bullpen has pitched so far this season, that presented an opportunity for the Yanks. The Yankees didn't exactly take advantage of the opportunity, but they did blow a chance. Nick Swisher hit a ball that got by Tejada, but not far into the outfield. Jorge took a big turn around second, way too far for a player with his speed. Tejada recovered quickly and made a good throw to second, getting the diving Posada.
Posada and Cano are good players. We know, without having to think twice, that Jorge is a poor base runner and that Cano is not a good base stealer. Both had good showings at the plate. Both had their weaknesses exposed. That's what was most frustrating about this game.
Well, that and the Wigginton HBP.
And the ninth
There's not much to say about the ninth inning that can't be told via the game log. Nick Johnson did his job by drawing a one-out walk, bringing the tying run to the plate. Jeter spoiled a good at-bat by swinging at a pitch that was a few inches off the plate. The way the home plate ump was calling the game, that wouldn't have been close to a strike.
An error kept the Yanks alive, with runners on first and third and two out. Teixeira wasted no time in pulling a low fastball down the line to put the Yankees within a run. That brought up A-Rod, hitless in the game to that point. He saw nearly the exact same pitch as Teixeira, and he too put it sharply on the ground. Julio Lugo had him played perfectly, though, and got Teixeira at second to end the game.
It was a nice ending, with the Yankees rallying a bit. The O's did help out, but what they gave away with the error they took right back by playing A-Rod right where he hit it.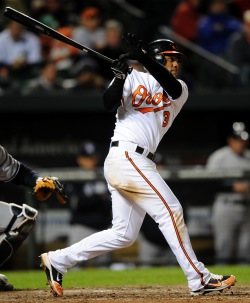 Annoyances
Cesar freaking Izturis. I was talking to Jay from Fack Youk as Izturis knocked in his second run of the game and commented that the Yanks weren't winning this one. "You don't win a game where Cesar Izturis has two RBI," I said.
It was only the 47th time he'd produced two or more RBI in a game. His team's record in those games: 42-4, 43 after last night. He later knocked in a third run, only the 10th time in his career he has accomplished that feat. His teams are now 9-1 in those contests.
Have I mentioned the Wigginton HBP yet? Two outs, 0-2 count. Other than a home run, a HBP is the roughest outcome right there.
I think I've aired my other grievances well enough above.
Joys
Granderson did make a nice catch. He also went 0 for 4 with three strikeouts.
Hughes allowing only one run, and lasting 5.2 innings, when he couldn't put anyone away.
WPA Chart
If only that green line kept moving downward.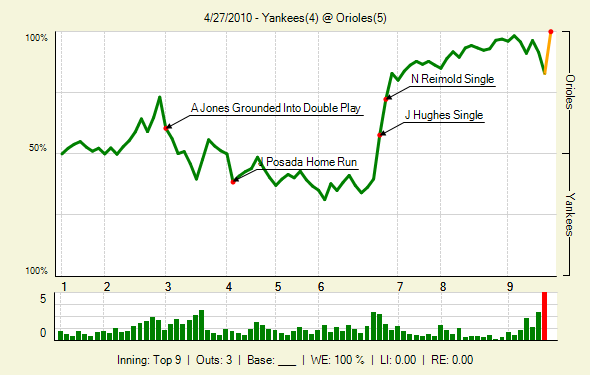 Up Next
They'll play again tomorrow night, this time on YES. The Yanks try for a bit better turn through the rotation this time, as CC Sabathia makes his fifth start of the season. Jeremy Guthrie takes the ball for the Orioles.