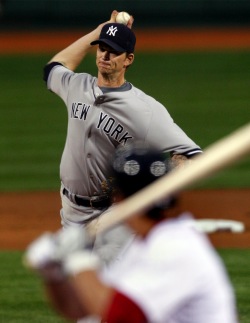 Last night was not one of A.J. Burnett's finest starts. He lasted just five innings, throwing 94 pitches along the way. He managed to limit the Red Sox to one walk, but he also allowed four runs, three earned, through those five innings, including a game-tying double just after the Yankees had given him the lead in the fifth. It took some excellent pitching by the Yankees' bullpen to set up the late-inning win.
One thing did stand out to me about Burnett's outing. Perhaps it's a narrative infused by the media, but I was impressed that Burnett came back to get the next two batters after surrendering a two-run homer to Victor Martinez in the third. As the storyline goes, Burnett can't let go of bad pitches and he lets it affect him going forward. If that is, or was, indeed, the case, then he did a good job of bucking the trend last night, as he followed the home run with an excellent sequence to Kevin Youkilis, freezing him on a two-strike curveball, before getting David Ortiz to ground out for the second time.
Has this really been a problem for Burnett? Or has it been a narrative created because of a few notably frustrating situations in which Burnett fell apart after surrendering a long fly? Since I'm no good at database work, I did what I could, which was go through his 2009 game logs and record what happened after each home run. The results are a mixed bag of sorts.
Part of the problem is Burnett's performances against the Red Sox. In 2009 he surrendered five home runs against them, which is frustrating enough to begin with. After three of those home runs he allowed more runs to score in the inning. After the two biggest home runs, though, a three-run shot on August 22 and a grand slam on April 25, Burnett retired the very next batter to end the inning. It was of little consolation at that point, though, considering the damage, so perhaps that's why it gets glossed over.
It looks like Burnett had the most trouble after surrendering a home run with none or one out. He allowed 10 home runs with two outs in the inning and in six of those instances he retired the next batter to end the inning. Again, small consolation, and we tend to forget when he does something like that because of the home run's effect. He had the most trouble with leadoff home runs. He allowed eight of them, and then allowed 16 runners to reach base later in those innings.
What I'm not sure of is how Burnett compares to his peers in this regard. Surely a home run will frustrate any pitcher. Does it get to Burnett to a greater degree than other pitchers? I'm not sure. He did a good job of recovering from two-out home runs in 2009, and struggled after allowing a leadoff home run. Last night was a nice change of pace, as he recorded two quick outs, one in impressive fashion, after allowing a go-ahead two-run home run with one out. There are plenty of things that Burnett has to improve upon in 2010. His walks and his recovery from home runs rank among them, and he got off to a good start on both fronts.