Among backup catchers, Francisco Cervelli has been among the best in the league in this young season. He's gotten on base in more than half of his plate appearances, and it seems like everything he hits finds the outfield grass. It also seems like he gets the hits at just the right time. His eight hits have driven in six runs, even more impressive because he has just one extra base hit on the season.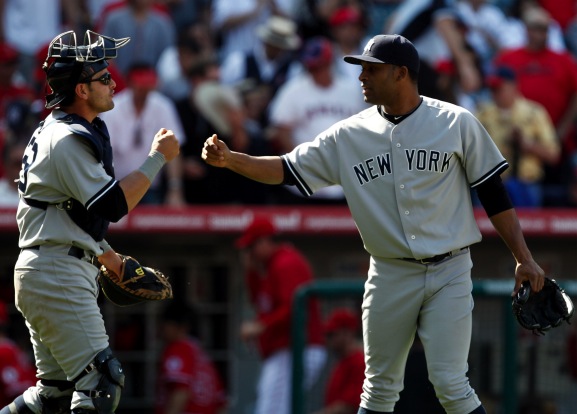 Cervelli will get at least one unexpected start in place of Jorge Posada, who will rest after getting hit in the knee with a fastball last night. Considering how well Cervelli has been hitting — he went 2 for 4 last night — this isn't necessarily a bad thing. While Posada's superiority is clear, the Yanks will get a chance to squeeze more production out of Cervelli while he's hot. It's not going to last all season.
April BABIPs bring May regressions. We'll see that positively affect slumping hitters like Mark Teixeira and Nick Johnson — both of whom picked up hits last night — but we'll also see it negatively affect streaking hitters. Cervelli will not keep up his .471 BABIP, and so we'll see his numbers drop a bit. What's even more ridiculous is his BA on ground balls. The AL as a whole is hitting .208 on ground balls, but Cervelli is hitting .400. The league mark will come up, and Cervelli's will come down, but for now Cervelli's ground balls have eyes.
Cervelli's walk and strikeout rates are also likely unsustainable. He has struck out just once this season, mostly because he has avoided pitches outside the strike zone. When he has swung at pitches outside the zone he has made contact every time, another unsustainable rate. It helps, then, that he's seen more pitches in the zone this year than he has in the past. He's been a bit more discerning, though, swinging at fewer of them overall.
What we don't know is how Cervelli will adjust. We know he won't hit this well all season, but where he ends up remains a mystery. We do know that he has hits and walks in the bank. He has walked three times already this season, so he's already above his 2009 total. To reach his 2009 total in batting average he'd have to go 20 for his next 76, .263, something we know he can do. Even if he does that without drawing even one more walk, he'd still have a higher OBP than last season.
Any positive offensive contribution Cervelli makes is a bonus. It's gravy. Icing on the cake. House money. However you want to describe his offensive production, it's not why he got the backup catcher job. He's outstanding defensively and has already established, at least among Yankees fans, a reputation for working well with pitchers. That is his primary task, and as long as he performs that well all he needs to do is hit better than Wil Nieves. Given what we saw last year and what we've seen so far this year, I think that's a safe assumption.