Today at ESPN's TMI blog, I looked at Kosuke Fukudome's hot starts. During his first two seasons in America he has set a high bar for himself in April, but then has failed to live up to those lofty marks. Part of the reason relates to his ground ball percentage. In his two (now three) Aprils he holds a 41 percent ground ball rate, while that jumps to 50 percent from May through September. To show why this was a problem I cited some ground ball and fly ball numbers for the National League. Rather than quote, I'll look at those numbers for American League hitters.
We often hear, and sometimes repeat, the adage that ground balls go for hits more frequently than fly balls. While that is true, the difference isn't as pronounced as you might think. In 2009 the American League as a whole hit .239 on ground balls. That mark dropped to just .224 on fly balls. Fly balls, of course, bring many more advantages, including a much higher slugging percentage. To wit, the slugging percentage on ground balls was .259, while it was .821 on fly balls. Furthermore, keeping the ball on the ground also precludes line drives, the best of all hit types. AL hitters batted .739 with a 1.015 SLG when hitting the ball on a line.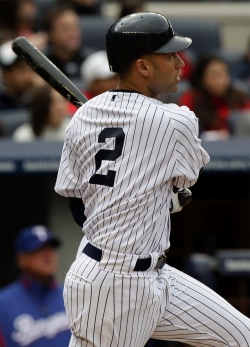 During the season's first dozen games, it seems as though Derek Jeter has hit a ground ball to shortstop in nearly every at-bat — that is, except the two doubles and three homers he has hit so far. Whether it's a single up the middle or just a routine grounder to the left side, it seems like he's always hitting it there. His groundball rate does bear this out. Of the 45 balls he has put in play so far, 33 have been on the ground. Yet, despite this high ground ball rate, Jeter's ISO sits at .220, which rates higher than any full year of his career. Unsurprisingly, so does his 73.3 percent ground ball rate.
As we learned last night, these numbers do not hold predictive value for Jeter at their current sample sizes. He has come to the plate just 52 times, so the only statistic that might have stabilized is his Swing% — and even then I expect it will come down from its 54.6 percent rate, which would rank by far the highest in Jeter's career. We can't expect his ground ball rate to tell us anything for another 150 PA, and you can forget about his ISO until August. These stats have a tendency to fluctuate in small samples, and that's just what we're seeing right now.
Most of the discrepancy in Jeter's numbers comes from extremely good luck on his fly balls and liners. Of the five balls he has hit on a line, four have gone for hits, including one of his three home runs. Of the seven balls he has lifted enough to be considered flies, he has collected another four hits, including two doubles and the other two home runs. In other words, when Jeter lifts the ball he's hitting .667 with a 1.333 SLG. This will not remain consistent throughout 2010, of course, but it's quite a nice start. Even as Jeter hasn't looked his best at the plate he has still produced excellent results.