Last night the Yankees returned home from a 12-game, three-city road trip that Curtis Granderson would probably like to forget as quickly as possible. After picking up a hit in the first game, he went 0 for his next 17, though he did walk four times in that span. On Wednesday night he went 2 for 5, but then last night he put up a zero, capping a 3 for 29 road trip.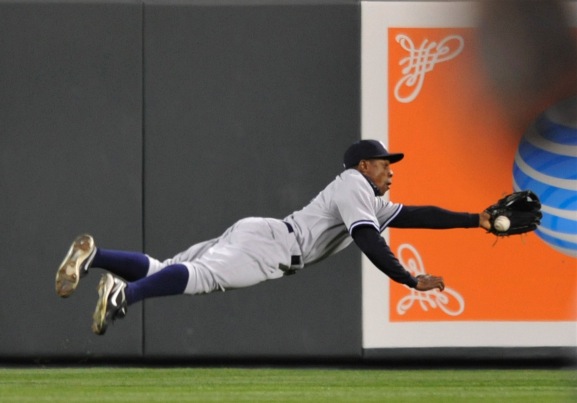 This came as quite a disappointment, considering how hot Granderson started the season. In fact, he might have warded off criticism for a bit after his first at-bat home run, and then game-winning home run, in Boston. He cruised after that, too, and through the first 12 games he was 14 for 45 with two doubles, two triples, two homers, and five walks to just nine strikeouts.
It is difficult, at this point in the season, to draw any conclusions from a player's performance, even if he has appeared in every game. As we've seen from a number of Yankees hitters, slumps show up in the numbers a bit more emphatically than later in the season. What we can examine is what the player has done so far, with the knowledge that it doesn't necessarily mean that he'll continue these trends.
For Granderson there are both positives and negatives. The biggest negative, as many of us feared, is his production against lefties. He has appeared 30 times against a left-handed pitcher, and has struck out a third of the time. That's significantly worse than his career mark, a 25 percent strikeout rate against lefties. He has drawn one walk, so has put the ball in play 19 times. Five have dropped for hits, a .278 BABIP, which is actually a bit higher than his career BABIP against lefties.
Those poor numbers against lefties, though, mean that he's been hitting righties just fine. Yet he has still been a relative disappointment there. His .368 wOBA against righties looks good, but ranks below any mark he has produced since 2006. Again, this is likely to change. His BABIP against righties is just .263, and even in his younger years he produced far, far better marks. I expect that, along with his power, will increase as he gets more at-bats against opposite handed pitchers.
Another encouraging sign: he's putting the ball on the ground a bit more frequently than he did last season. In 2009 he produced a career-low 29.5 percent ground ball rate. This went along with a career-high fly-ball rate, though a career-high infield fly ball rate also tagged along. To put it in perspective, last year Granderson hit 21.2 percent line drives, 29.5 percent ground balls, 42.9 percent outfield fly balls, and 6.4 percent infield flies. This year he has hit 22.4 percent line drives, 37.9 percent ground balls, 36.2 percent outfield flies, and 3.4 percent infield flies. In his best year, 2007, he hit 21 percent line drives, 34.2 percent ground balls, 41.6 percent outfield flies, and 3.2 percent infield flies. I think he's well on his way to a season perhaps not as good as 2007, but certainly better than 2009.
It's easy to get discourage by early season numbers. Slumps bring them down, and Granderson's numbers certainly don't look pretty right now. I do think, though, that there are enough positive signs of a turnaround. He'll hit righties better, and while he might not hit lefties better I think his numbers, especially his strikeout numbers, will move towards his career totals. Again, the Red Sox series has kept him shielded from most criticism, so I hope that he gets things started during this home stand to keep the critics at bay.