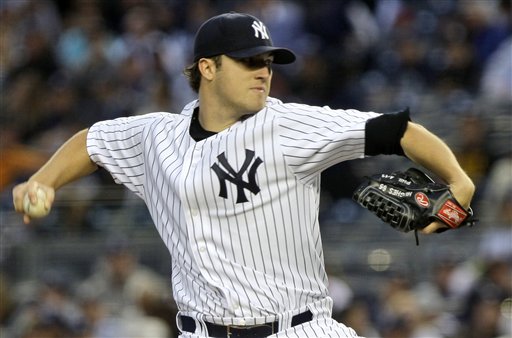 The Yankees have won their last five games coming into tonight, outscoring their opponents 30-11 in the process. They're off to their best start in what seems like an eternity, and there are times that it looks like the only thing that can stop them is disaster of biblical proportions. Even when their number four starter has a poor outing, he was still pretty good. Everything's clicking right now, and they're looking to keep this winning streak alive.
Phil Hughes gets the ball for his second start of the season this evening, facing a pitcher with a very similar style to himself: Ben Sheets. Both work primarily in the low-90's with their fastball and back it up with a big overhand curveball, though Sheets doesn't throw a cutter as far as I know. Should be a very fun matchup, definitely worth staying up late for. Here's the lineup…
Jeter, SS
Johnson, DH
Teixeira, 1B
A-Rod, 3B
Cano, 2B
Posada, C
Granderson, CF
Winn, RF
Gardner, LF
And on the mound, the patron saint Phil Hughes.
First pitch is scheduled for 10:05pm ET tonight, and can be seen on YES. Enjoy.
Oh, and make sure you scroll down for tonight's DotF.