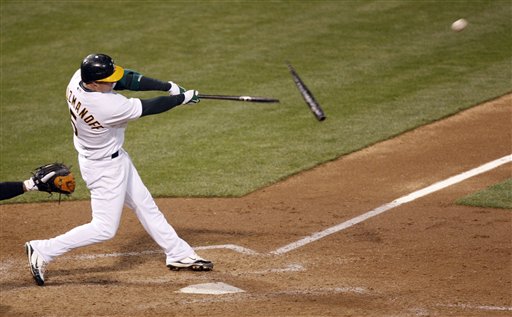 It would be tough for anyone to top Phil Hughes' masterful performance from last night, but if there's one guy on the Yankees' staff can do it, it's CC Sabathia. I'm sure the A's must love having to go out and face this guy after getting nearly no-hit less than 24 hours ago. The vast majority of Oakland's hitters are lefthanded (Ryan Sweeney, Eric Chavez, Daric Barton, Travis Buck, Gabe Gross), so hopefully CC holds it down, because Joe Girardi said both Joba Chamberlain and Mariano Rivera are unavailable of heavy workloads of late.
Going to the A's is lefty Dallas Braden, who sports one of the best changeups you'll ever see. You can see it in action here, it looks like it stops in mid-air. He doesn't throw hard at all, but that change is the equalizer. Here's the lineup Braden will have to deal with…
Jeter, SS
Johnson, 1B
Teixeira, DH
A-Rod, 3B
Cano, 2B
Swisher, RF
Thames, LF
Cervelli, C
Gardner, CF
And on the mound, the hometown kid, CC Sabathia.
Also, I'd be remiss if I didn't point out that Matt Carson is in the lineup for Oaktown. He spent six years as a organizational soldier in the Yanks' system after being drafted in the 5th round of the 2002 draft, and joined the A's as a minor league free agent last year. He received my 2008 Lifetime Achievement Award. Great to see him in the show.
It's a get-away day, so first pitch is scheduled for 3:35pm ET and can be seen on YES. We're also having our weekly game chat today, so make sure you come back around 3:30ish and join the chat after the jump.