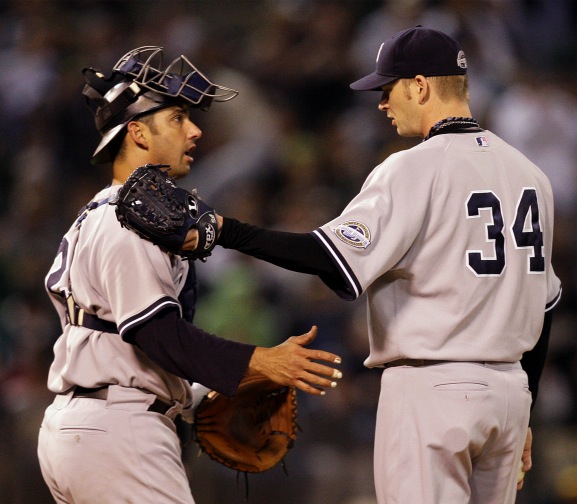 When the Yankees signed A.J. Burnett in December, 2008, they knew what they were getting into. They had seen him pitch 71.2 innings against them as a member of the Blue Jays from 2006 through 2008, striking out 72 along the way. His ERA, 2.39, dazzled, and it looked somewhat in line with his FIP, 3.03. It's no wonder that the Yankees players lobbied Brian Cashman to pursue him that off-season.
Not only did Burnett dominate the Yankees as a Blue Jay, but he also had a fine time with the Red Sox. He threw only 56.1 innings against them, but produced excellent results, a 2.56 ERA. His FIP was a bit higher, mostly due to the 13 walks the Red Sox drew in 27.2 innings during the 2008 season. Burnett managed to avoid trouble with those, though.
Last year, however, Burnett fared worst against the Sox than any other team*, allowing 22 runs, 20 earned, over 20.1 innings. The six homers he allowed matched his total from the past three years against the Sox. He also struck out 16 to 16 walks, the dreaded 1:1 ratio. It certainly left a sour taste in Yanks fans' mouths. Wasn't this guy supposed to kill the Sox?
*Excluding the other Sox, against whom he pitched just 4.2 innings.
Burnett gets his chance at redemption tonight. There's plenty of perceived pressure on him in this one. Not only does he have the weight of his poor performances against the Sox last season, but he's also coming off something of a rough spring, in which he tried out a changeup, and then couldn't find his curveball. Chances of him throwing a single change tonight? I'd say pretty close to zero. Also, he'll be working with Jorge Posada, his apparent nemesis last season.
Opposite Burnett is Jon Lester. The 2008 breakout lefty struggled to open the 2009 season, but recovered to post another excellent season. He faced the Yankees four times, and save for the final outing he pitched pretty well, allowing just six runs over 20 innings before giving up five in 2.1 on September 25. He also pitched very well against the Yankees in 2008, something I'm sure endears him to Red Sox fans. Well, that and his really awesome pitching against other teams.
Lester actually improved last year despite a slight uptick in his ERA. Most notable was his strikeout rate, which went from 6.50 per nine in 2008 to 9.96 per nine in 2009. In better analytical terms, Lester struck out 17.4 percent of batters faced in 2008 and 26.7 percent in 2009. That's an astronomical jump, and perhaps Lester can't sustain it. But from what I've seen, he's just that good. He also has decent ground ball rates, which bode well for a lefty at Fenway Park. In an early season prediction regarding Lester, I bet he finishes top five in the Cy voting.
We get our first taste of a platoon tonight, as Marcus Thames gets the start in left over Brett Gardner. It's too early to determine how Girardi will handle this going forward. Lester is, after all, one of the premier lefties in the AL, so this arrangement might just be for the tougher lefties. Also, having the small left field at Fenway might have influenced his decision. Granderson moves all the way down to last in the lineup as Swisher moves up a peg.
Lineup:
1. Derek Jeter, SS
2. Nick Johnson, DH
3. Mark Teixeira, 1B
4. Alex Rodriguez, 3B
5. Robinson Cano, 2B
6. Jorge Posada, C
7. Nick Swisher, RF
8. Marcus Thames, LF
9. Curtis Granderson, CF
And on the mound, number thirty-four, A.J. Burnett.