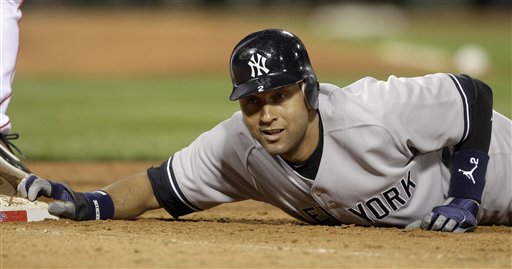 The season is just three games old, but the Yankees' new additions are already paying huge dividends. Nick Johnson and Curtis Granderson have driven in the go-ahead runs in the team's two wins, albeit with methods found on opposite ends of the offensive spectrum, and Chan Ho Park delivered three shutout innings of work Wednesday night.  The team's' fourth big offseason pickup will take the field tonight, when new-old Yankee Javy Vazquez takes the mound in Tampa for his first start of the season.
As Joe reminded us this morning, Javy's first first start in pinstripes went as well as possible. Six years later, the Yankees hope from more of the same from the guy no longer being counted on as a front-end arm, but a back-of-the-rotation workhorse who only has to soak up innings and keep the team in the game. This older and wiser version of Vazquez is more than qualified to do just that, but for now he just has to go out and prove his inability to handle New York is nothing more than narrative.
With another lefty on the mound tonight, Joe Girardi goes with the same lineup that faced Jon Lester on Tuesday. That means Marcus Thames in left and Granderson in the nine-hole. Of course, David Price has a long way to go before he's in Lester's class, but he's got just as much talent and is capable of going into Beast Mode on any given day.
Will Nick Johnson get his first hit of the year? Will Mark Teixeira? Will Derek Jeter hit a ball in the air? Answers to all that and more, tonight in Tampa.
Jeter, SS
Johnson, DH
Teixeira, 1B
A-Rod, 3B
Cano, 2B
Posada, C
Swisher, RF
Thames, LF
Granderson, CF
And on the mound, the best fourth starter in the business, Javy Vazquez.
First pitch is scheduled for 7:10pm ET and can be seen on YES. Enjoy the game.