We've seen this movie before. Three years ago, in a road game against an AL West club, a 20-year-old Phil Hughes flirted with a no-hitter in his second start of the season before having to exit the game with a hamstring injury. It was the mother of all letdowns, because not only was the no-no gone, but the best young Yankee in years was going to spend a significant chunk of time on the shelf.
Wednesday night, a now 23-year-old Hughes again flirted with a no-hitter in his second start of a different season in a different road game against a different AL West club, and even though he wasn't able to finish it off, the young righthander turned in the best start of his career and reminded everyone who thought he was only the second best option for the fifth starter's job just what he is capable of.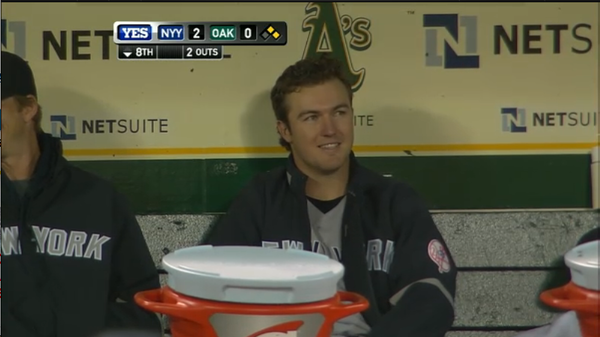 Hughes the man?
The night started out in rather ordinary fashion. Hughes was having trouble with his fastball early, as it was flying high and away to lefties, but he managed to get leadoff man Cliff Pennington to swing through a cutter for the first of what would be many strikeouts on the night. Daric Barton reached base when Hughes threw four straight pitches out of the zone, but that was pretty much all they would get off him the rest of the game.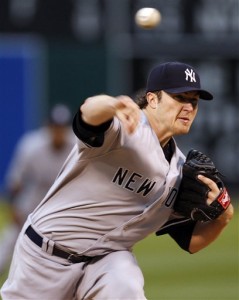 Down went Ryan Sweeney on a broken bat ground out to short, down went Kurt Suzuki swinging at strike three. The A's wouldn't get much else off of Hughes, who sat down 18 consecutive batters from the 2nd through 7th inning. He struck out a career high ten along the way, eight of them swinging. The no-hit bid came to an end on the first pitch of the 8th inning, when Zombie Eric Chavez took a fastball right back through the box, ricocheting off Hughes' left arm and landing on the grass in the front of the mound. It was an uncommon way to end a no-hitter, but Hughes knows all too well about that.
Hughes threw 101 pitches on the night, a whopping 70 for strikes. Oakland batters swung and missed at 13 fastballs, which were averaging 92.55 mph on the gun. Barton was the only batter to face a three ball count before Gabe Gross walked to end Hughes' evening, and frankly there weren't even that many balls put into play that threatened to fall in. There was no great defensive play, no bang-bang plays at first, nothing. The 12 non-strikeout outs were all very routine.
The Yankees' young righthander was very much in control Wednesday night, spotting his fastball(s) to all quadrants of the strike zone, and dropping his curve in for strikes seemingly at will. The front four starters in the Yanks' rotation are pulling in a combined $62.75M this season, but it's the dirt cheap 23-year-old that was seemingly a forgotten man at this time last year that has become the must-see every five days. Hughes was simply incredible all night. Bravo young man.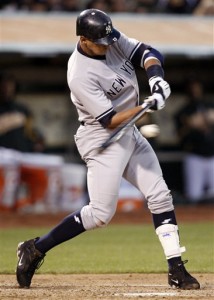 Biggest Hit: Alex Rodriguez's triple
As good as Hughes was, Ben Sheets matched him zero for zero for the first few innings of this one. A-Rod stepped to the plate to lead off the 4th inning, and started off his at-bat with a half-hearted swing over the top of one of Sheets' patented eyes-to-toes curveball. Two fastballs missed inside for a 2-1 count, but the fourth pitch of the at-bat was a curveball that didn't fall far enough, hanging up long enough for Alex to drive it into rightfield. Sweeney dove after it but fell just short, and the ball scooted by him and back to the wall.
Running hard as usual, A-Rod chugged around first and second, and slid into third with a leadoff triple, setting up the Yankees to get on the board first just perfectly.
Biggest Out: Cliff Pennington's ground out
Once Hughes was out of the game, the A's threatened the Yanks' long-standing two run lead when Jake Fox singled in a run to cut the lead in half and put the tying run in scoring position. Joba Chamberlain, now officially the 8th inning guy, had replaced Hughes earlier in the inning, and instead of talking about no-hitters we were suddenly worrying about maintaining the lead. These things tend to happen all at once, you know. No hitter gone, shutout gone, lead gone. Or at least almost gone.
Joba started Pennington off with a 92 mph piece of cheese that just missed on the outer half for ball one, and things looked to be going from bad to worse. After a failed pickoff attempt, Joba went to his trademark slider, catching Pennington out in front. He rolled the ball over to first, to the Yanks' surest handed defender in Mark Teixeira, who took it to the bag himself to end the inning. Threat: neutralized.
Happy Moments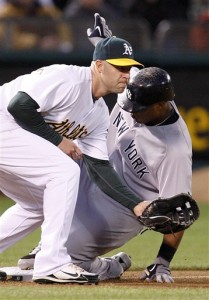 Back to back triples. How can you not love that? Is it just me, or does it seem like the Yanks are hitting far more three-baggers this season? It's probably just a sample size thing, but it sure is fun. Also, congrats to Brett Gardner for slapping a ball into left in the 9th, I can't remember the last time he hit a ball out of the infield before that. Sarcasm aside, it was a big insurance run. It also kept the Yanks' streak alive of scoring at least three runs in every game this season.
Oh, and Phil Hughes. He was pretty good tonight.
Annoying Moments
I'm not sure what was going on with all those runners being sent on 3-2 counts in the first two innings, but it was rather annoying. On the other side of the coin, why didn't Gardner tag up on that fly ball to the wall by Nick Johnson in the 5th? A runner that fast needs to be on third after a ball is hit that deep, no excuses.
Derek Jeter needs to stop swinging at so many first pitches. I know he had a .483 wOBA on the the first pitch last year, but damn dude. It's okay to take something once in a while, especially as the leadoff hitter.
Randy Winn. The dude is toast. Greg Golson can provide the same (or better) defense and baserunning, and at least offers a chance at being a non-zero with the bat for close to one-third of the cost.
After throwing 26 pitches in this game and working for the third time in four days, Mariano Rivera won't be available tomorrow and maybe not Friday either.
WPA Graph
The individual batter breakdowns are available at FanGraphs' box score.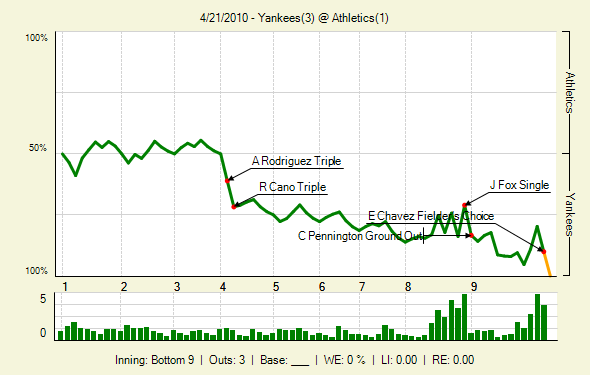 Next Up
These same two teams finish up the series with a get away day tomorrow. First pitch is scheduled for 3:35pm ET, CC Sabathia vs. Dallas Braden. We're going to have our weekly game chat for that one.