The Yankees' bullpen has cost them a few games over the last week or so, which really isn't anything new in April. However, this year we were privy to an added bonus, some revisionist history pieces written about a trade the Yankees and Nationals consummated way back in December of 2007. That's because over the last ten months or so, former Yankee Tyler Clippard has emerged as a bullpen force for the Nationals while the player he was traded for – Jon Albaladejo – toils away in Triple-A after being unable to make a positive impression in his many call-ups over the last two-plus seasons.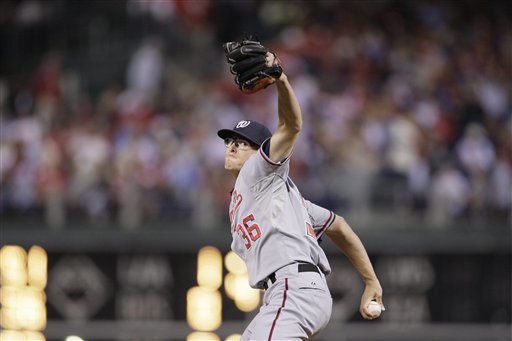 As I'm sure you remember, Clippard was a darling on the interwebs because of his gaudy minor league stats, and make no mistake, they were superb. He struck out 501 batters in 450.2 innings from 2004-2006, finishing among the top five in strikeouts per nine innings in all of minor league baseball each season. If you've followed me long enough, then you know that I was never a big T-Clip fan because the scouting report never matched the results, and I took a lot of heat for it. He relied on deception too much for my liking (look at this freaking delivery), and the stuff was merely good, not holy crap good. I acknowledged on more than one occasion that he was probably a back-end starter or reliever in the long run, and not for a team like the Yankees, which is pretty much what he is.
While Albaladejo was busy not missing bats during his many chances with the big league team (including two Opening Day roster assignments), Clippard struggled as a starter in Triple-A before the Nats made the decision to move him to the bullpen full time before last season. Without a doubt, Clippard has been tremendous for the Nationals since resurfacing as a reliever last June. He's struck out 87 in 77 innings with just 43 hits allowed since, good for a rock solid 3.98 FIP. The ERA looks even better at 2.22, and he's emerged as the team's 8th inning setup man in recent weeks. However, there's a little bit of luck fueling that performance.
Just as he was in the minors, Clippard is an extreme fly ball pitcher, getting nearly two outs in the air for every one he records on the ground (0.53 GB/FB ratio), and because of this he's pretty homer prone, again just like he was in the minors. In those 77 innings since being called up, he's given up nine long balls, or one for every 8.2 innings pitched or so. Furthermore, his batting average on balls in play during that time is … wait for it … an unsustainably low .204. Point two oh four! Clippard's expected BABIP (xBABIP) based on the types of batted balls he gives up (line drives, fly balls, etc) over the same time is a still low .283, but it's much more in the realm of normalcy. Essentially, he has allowed one fewer hit than expected out of every 11 balls put into play, so we're talking about 16 hits that should have been charged to Clippard over those 77 innings that somehow ended up being turned into outs.
In addition to the BABIP luck, the percentage of runners that Clippard has stranded is a ridiculous 88.01%. The league average is right around 70-72%. If that were to ever regress back to the mean, his ERA would climb something like a run, a run and a quarter. Stranding runners is not a repeatable skill, though it is somewhat influenced by groundball rates because of the double play potential. However, we've already noted that Clippard is an extreme fly ball pitcher, so this does not compute.
Does this mean the Yankees are better off with Albaladejo than they would be with Clippard? No, of course not. They'd like to have him back just like the Mets would like to have Heath Bell back and the Brewers would like to have Nelson Cruz back. There's no denying that Brian Cashman would like a do-over on that one, but let's not act like the Yanks let a young John Smoltz get away here. Relievers are very volatile, and signs point to Clippard's success having a lot more to do with straight up good great luck than true talent.
I've seen more than one person say recently that the Yankees screwed up by making the trade, but that's incredibly easy to say nearly three years after the fact. They traded a surplus prospect with a less than stellar track record at Triple-A and above for a young reliever with a slightly better track record at the higher levels. The Yanks needed help for their beleaguered bullpen, the Nats needed anyone that offered some kind of promise. It really was a swap of spare parts, and Washington got the better of it. To claim the Yankees should have seen Clippard having such immense (luck fueled) success is weaksauce.
* * *
As an aside, take a quick gander at this sample of core peripheral stats dating back to last season…

Pitcher A is Clippard. Pitcher B is a reliever in the Yanks' bullpen. His name rhymes with Ravid Dobertson. Considering the environment (league and division) each set was compiled in, who would you rather have?